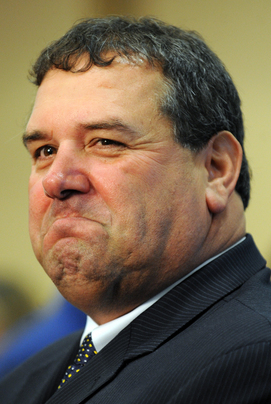 Three years ago, Rich Rodriguez was going to take one of college football's greatest brands and infuse it with his neoteric offensive blueprints while stocking its roster with the superior athletes that it required. 
It was widely anticipated that Rodriguez would quickly revolutionize stodgy Big Ten football by marrying his West Virginia offense with the superior talent and tradition more readily accessible in Ann Arbor, forcing everyone else to follow suit just to stay competitive. 
And the most impetuous threat: He would be bringing strength coach Mike Barwis with him to revolutionize the Michigan football player into a bigger, faster and stronger athlete that would create an on-field physical disparity not seen since Fielding Yost's Point-a-Minute squads from a century earlier.
It was a pendulum shot to a Michigan program that had grown apathetic and entitled in Lloyd Carr's final years, falling short on recruiting and allowing the residual fruits of the early 2000s to produce and matriculate without adequate succession planning. 
By the time the Mike Hart/Jake Long/Chad Henne contingent was exhausting its eligibility, it was apparent that there was not much in the way of traditional gritty, annoyingly competent Michigan talent parading in behind it to take the baton.  In terms of timing for such a dramatic shift in program culture, it was as clean of a break as could have been planned.
While there were obvious organizational fit issues in slotting Rodriguez into Michigan - not to mention the messy divorce from his former employer and alma mater - there were understandably high expectations from the maize and blue illuminati, which had grown increasingly frustrated with Carr's inability to maintain what had defined Michigan during the previous decade: Winning the Big Ten.  Beating Ohio State.  Producing Heisman Trophy winners.  At least flirting with a title shot. 
A plateau at the championship level is referred to as a dynasty, whereas a plateau anywhere beneath that can threaten your job security (ask Earle Bruce; he can confirm this is true).  Michigan was ready for a change even before the rumors of Carr's last game in 2007 and in Rodriguez, they believed they were getting what they wanted: That proven rainmaker who would elevate Michigan to that more desirable plateau.
That tricky organizational fit albatross never allowed Rodriguez to gain acceptance from those by whom he had to be accepted, and Carr himself may have been guilty of tampering with that failed process.  The empty cupboard of 2008 spawned a 2009 fire baptismal for the first generation of the new Wolverines and 2010 ended with a gruesome New Year's Day slaughter at the hands of a middling SEC team; a conference against whom Michigan has historically feasted.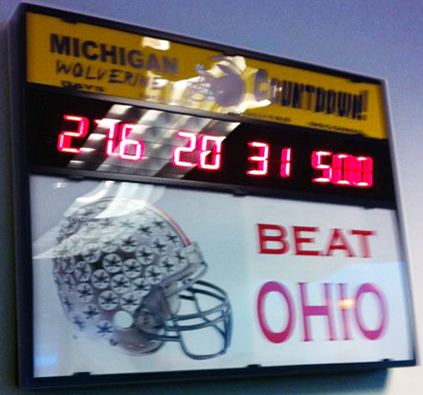 There were two lines of thinking when Rodriguez was hired: Either he would clash too hard with Michigan's culture to succeed, or his eventual success would win the good graces of the old guard in due time.  It was hard to believe that Rodriguez would not achieve some measure of success in the Big Ten or that the Michigan establishment would never accept him.  All told, Rodriguez won six conference games in three years.  Six.
The immense frustration was understandable; Michigan had taken a calculated risk in shifting its football identity away from the existing (declining) personnel on its roster, and that risk was not supposed to produce the worst three-year stretch in school history.  It was supposed to be transformational, but not like that - especially with the offense and the strength program that Barwis had installed.
With the litany of coaches who at the time had recently won BCS titles in Year Two (Stoops, Tressel, Meyer) and since (Saban, Chizik) it was not beyond wild expectations for a team that had almost run the table in 2006 and played for the outright Big Ten title in 2007 to philander with similar expedient immortality.  The ever-reasonable MGoBlog, during Rodriguez's honeymoon summer:
Over time, everything in your program is shaped by the attitude you bring. Michigan recruits are committing in the full knowledge Barwis is going to kill them, and they are eager to be killed. In time, this will manifest itself and the only things separating Michigan from national title games will be blind luck and Jim Tressel.
Barwis, then college football's highest paid athletic trainer, is now a consultant for the New York Mets.  You were probably familiar with if not fearful of Barwis back when Rodriguez was hired.  Chances are you have no idea who the current Michigan strength coach is.
Rodriguez spent the past three years filling the Michigan roster with players suited for his system.  He delegated his defense to Greg Robinson, who gained notoriety as an unremarkable defensive coordinator with the Denver Broncos who benefited as much from John Elway and Terrelle Davis as Elway and Davis themselves did.
The aftermath is now afoot: It's 2008 all over again and Michigan has personnel for a different system, although the quarterback situation is far better than it was back when Steven Threat or Nick Sheridan were the only options and death wasn't on the table.  Robinson and the equally-culpable Rodriguez left the defense in unacceptable condition. 
Any Michigan team not possessing an incontinence-inducing defense is as bad of a crime against college football as any non-BCS-related transgression.  It doesn't matter if you hate the Wolverines with every fiber of your being: When Michigan stops teams like Indiana does, the entire sport suffers.  This is the case with all of the traditional powers.  If you're under 25, just watch how much better college football is going to be once Notre Dame becomes an unpleasant opponent again.
There is good reason to recap Rodriguez's disastrous tenure at Michigan: Understanding why he failed so badly provides a glimpse into why Brady Hoke will make Michigan great again.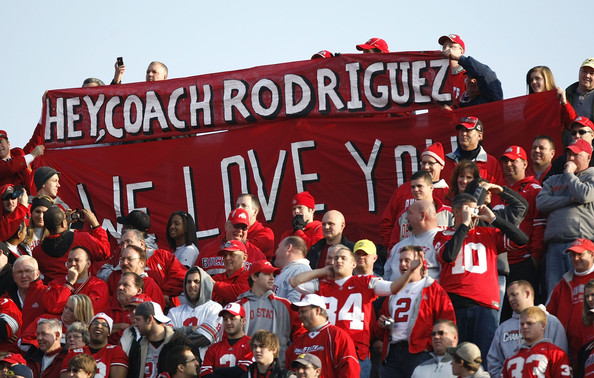 Hoke was brought in with significantly less fanfare than Rodriguez.  The media, as well as most of the fans, were fixated on non-candidates Jim Harbaugh and Les Miles.  Whether they fully realize it or not, Hoke represents exactly what Michigan wants: A capable, tireless Michigan guy who isn't bigger than the program.
Under Carr, Michigan had its culture intact; it was its football infrastructure, dismal facilities and languid recruiting later on that betrayed it.  Rodriguez's tenure at Michigan ran in parallel with a much-needed and long-overdue upgrade to its facilities.  Once Hoke finishes cleaning up the Rodriguez experiment, his Wolverines should be regularly winning ten games a year.
Michigan football never needed to be reinvented; it just needed a tune-up.  Half of being successful at any job is just showing up, and as he slogged through his twilight coaching years, Carr's succession planning failed the program; both in terms of players and coaches.  Rodriguez's disastrous results with defensive personnel, defensive coaching, defensive schemes and, well, absolutely everything to do with defense only exacerbated the precipitous decline that began prior to his watch.
The cornerstone of Michigan football is an intimidating defense that can impose its will upon any offense.  That has been the axiom in Ann Arbor since Bo rightly lifted it directly from the gospel of Woody.  Hoke will not "forget" to recruit linebackers as his predecessor did.  Hoke was a linebacker himself; that would be both a personal and vocational betrayal.
It also cannot be overstated that Hoke has relevant experience and success in the area of disaster recovery, having taken over for both Bill Lynch at Ball State and Chuck Long at San Diego State.  Lynch had assumed the duties of Paul Schudel, who had gone an impressive 60-48 over ten seasons at Hoke's alma mater.  He guided Schudel's refugees to a MAC title, but then his own recruits began arriving on campus.  Ball State went 1-10 in Lynch's fourth year and followed that up with a perfect 0-11 season in his fifth.
Incredulously, Ball State kept Lynch around for three more seasons with the high watermark coming in 2002 when the Cardinals made it to 6-6.  Only at that point did Ball State part ways with Lynch in order to hire Hoke.  (By the way, Indiana eventually giving the late Terry Hoeppner's resurgent program to Lynch to destroy was the most Hoosier football thing ever).
Hoke not only took over a bad football team, he inherited a culture of losing.  He dug Ball State out, though it to several years to decontaminate the program.  Under Hoke the Cardinals steadily rose from the MAC West cellar to third, second and then first in 2008 with perfect regular season.  Even Ball State homers realize that Muncie is not a destination, and Hoke left for the smoldering ruins of San Diego State which was coming off of double-digit losses, most of which came by double digits. 
The Aztecs had one season better than .500 over the prior decade and hadn't sniffed a postseason invitation in longer than that.  Two years later, Hoke's Aztecs won nine games and the Poinsettia Bowl.  Then they lost their miracle-working coach to his dream job.
---
If it isn't already obvious, I really admire Hoke.  As a defensive coach, he developed too many players at Michigan that I grew to hate like Rob Renes and Glen Steele and is the kind of hands-on maven I like to see trudging the sidelines of my beloved conference. 
I also love that Hoke claims to have never worn red as a head coach despite his tenures at two red schools just to please Michigan's least sophisticated fans, as if his fashion decisions across multiple jobs were deliberate, unwavering swipes at Ohio State.  In reality, red would make him look like a giant tomato and both he and his wife know it.  Hoke probably doesn't wear horizontal stripes or cardigans either. 
Understanding that we as Buckeye fans have our own variations on what we'd like to see at Michigan in any given year (it ranges from NEVER WIN EVER to GO UNDEFEATED AND LOSE IN AGONIZING FASHION TO OHIO STATE) I personally want to respect Michigan's coaches as much as I hate them. 
Hoke didn't show up in Ann Arbor and immediately dangle his sausage fingers at the cameras to insist he had championship pedigree like South Bend's most recent spectacular failure did.  He simply announced that he was finally home and went to work.  He didn't crap all over Rodriguez and when he eventually wins some of the recruits that Ohio State is also pursuing, it won't be because he trashed Ohio State to do so.  It will be because he successfully sold Michigan better than Ohio State sold Ohio State, i.e. the reciprocal manner that Tressel has used for years to beat Michigan for players.
Don't believe for a second that my Hoke admiration is born from sympathy out of too many November ass-kickings that have been delivered as of late.  That Ohio State can only beat Michigan once a year in football - pre-B1G title game - is a minor tragedy.  Michigan simply cannot be allowed to be Purdue with winged helmets. It's terrible for the conference and it's worse for Ohio State.  Some of you enjoy seeing them suck so mightily.  I'll admit it was fun in 2008, but one year was enough.
At 9-1 against Michigan over his first ten seasons, Tressel has been forced recently to create an artificial measuring stick in the place where a worthy adversary from Ann Arbor should have been.  That practice should be going organic again over the next couple of seasons.
The fates of Michigan and Ohio State football are appropriately intertwined, and once Hoke finds success with attracting Ohioans that Ohio State is also recruiting that will force Ohio State to get better, whether it is in Ohio or elsewhere.  The same can be said for when the teams meet each other on the field every November.  You shouldn't be afraid of what's going to be redeveloping in Ann Arbor over the next few seasons.  Just don't be surprised.