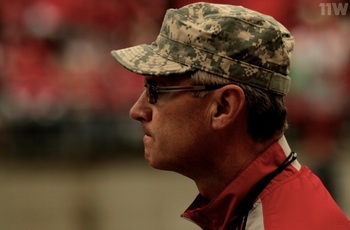 If you took the time to read the NCAA's rejection of the final appeal from former USC running backs coach Todd McNair on Friday, your stomach likely settled somewhere under your bladder. The first attempt to appeal any part of the sanctions levied against USC last summer was met with a kind GTFO, locking in McNair's show-cause, and the language used in the NCAA's response (PDF) gives us a pretty good indicator of what we'll see later this fall when the NCAA makes a decision.
McNair, like Tressel, was found in violation of 10.1:
Further, the assistant football coach knew or should have known that studentathlete 1 and agency partners A and B were engaged in violations that negatively affected student-athlete 1's amateurism status. The assistant football coach provided false and misleading information to the enforcement staff concerning his knowledge of agency partner A's and B's activity and also violated NCAA legislation by signing a document certifying that he had no knowledge of NCAA violations.
Sound familiar?
Aside from the 10.1, both coaches were hit with additional infractions. Tressel was slapped with a 14.11.1 for permitting players to participate while ineligible, while McNair was served up several 12.X violations and one for a 30.3.5 for failure to report knowledge to the NCAA.
If you're a rational fan, there's no way you can parse that in any other way than "not good" when applying it to Tressel's situation. How "not good"? We'll have to find out, but let's hold off on any Jim Tressel as Todd McNair talk.
McNair was accused of being aware of the player-agent relationship between Reggie Bush and the partnership of Lloyd Lake and Michael Michaels. Specifically, the NCAA said McNair was involved in a phone call with Lake "during which agency partner A attempted to get the assistant football coach to convince studentathlete 1 either to adhere to the agency agreement or reimburse agency partners A and B for money provided to student-athlete 1 and his family." That's NCAA-speak for "get Reggie to start returning our calls or we want our money (and house) back."
Jim Tressel, for his part, tried to put an end to behavior that would jeopardize the eligibility of his players. He'll regret the cover-up for the rest of his life, but there's no evidence (amongst mountains of it) that suggests he encouraged or played an active role in ongoing violations beyond said cover-up.
In a perfect world, these cases are handled in a vacuum, but since this is real life we're dealing with, reputations come into play. Jim Tressel is loved by his players, his peers, and millions of Ohioans at home and abroad. Todd McNair was twice convicted on charges related to dogfighting.
Jim Tressel was accused of not reporting the sale of personal items by his players. Todd McNair was found to have been aware of a six-figure relationship between a player and an agency.
In LA, McNair had a head coach that booked town the first time the clouds darkened and an athletic director that turned a blind eye to what was happening in his own house before declaring the NCAA's initial report was "nothing but a lot of envy" and then for an encore, tossed gasoline napalm on the whole mess by hiring Lane Kiffin to replace Pete Carroll.
Ohio State self reported.
When it's all said and done, the dreaded show-cause could very well still end up in Tressel's lap. No matter how you try to spin that, it's not a good thing™. But unlike what McNair experienced at USC, Tressel has a competent athletic department that's in good standing with the NCAA backing him up. Barring a new revelation, there's no chance they bail on him this year.