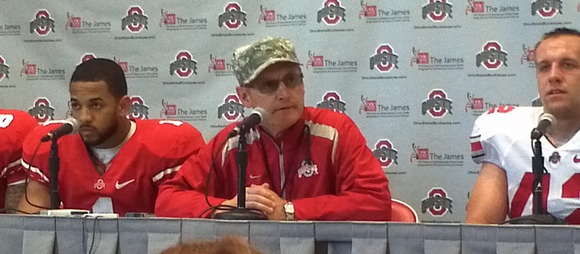 An overcast sky and a dominating defense brought fears on two fronts as the Jesse Owens Spring Game got underway in Ohio Stadium this afternoon, but in the end, the rain held off (just barely) and a young and inexperienced offense came to life as the Scarlet (offense) defeated the Gray (defense) 59-27 in a "game" played under one of those unique scoring systems that seem to surface every few years or so.
Longtime backup Joe Bauserman earned the start with Terrelle Pryor on the sidelines in a headset still recovering from postseason surgery and through the first couple of series, the script followed what we saw at last weekend's closed scrimmage when the defense completely dominated a young and banged-up offense. Things started with an incomplete pass to tight end Jake Stoneburner and then a one yard run from fullback Zach Boren. A false start setup a 3rd and 14 leading to a Nathan Williams sack of Bauserman and groans from the crowd.
On the next series, running back Boom Herron busted loose for a 17 yard gain, but again, Bauserman was sacked -- this time for a loss of nine yards by Dominic Clarke and before you could say "Oh Brutus", the first team offense found themselves in a 2nd-and-34 situation (there's a play for that on the card, right?) thanks to the awesome holding+delay of game combo on back-to-back plays.
Redshirt freshman Taylor Graham came out on the next series to try his luck with the first team offense and didn't fare much better. An 8 yard completion to Verlon Reed and two Carlos Hyde runs led to a first down, but that was quickly followed up by an 8 yard sack of Graham out of linebacker Jordan Whiting. Graham would find freshman tight end Jeff Heuerman for a 7 yard gain on 2nd-and-18, but would overthrow Carlos Hyde out of the backfield to kill the possession.
Ken Guiton was in next and it was more of the same. A first down on the opening two plays thanks to a 4 yard run from Jordan Hall and a 7 yard completion to T.Y. Williams, but three quick incompletions led to another stop for the defense and another change at quarterback for the offense.
Hyped freshman Braxton Miller got the next crack and handed off twice to Rod Smith to move the chains before a series of incompletions led to another stall. Miller, in his first action in front of Ohio State fans, was elusive early and just narrowly missed overthrowing DeVier Posey on a scrambling attempt, but clearly had a case of the nerves, causing him to tuck the ball and move when he probably had a little bit more time to work in the pocket.
Bauserman would enter to lead the next offensive series, which started at the defense's 25 as the team got in some situational work to practice for overtime ball placement. After 3 yard Jordan Hall run, Bauserman found Chris Fields on a nice pass to the left sideline for 15 yards, setting up a a first-and-goal. A 22 yard completion to Heuerman and then two incompletions would follow, setting up the first real scoring of the day, a 22 yard field goal from Drew Basil.
Offense
Rushing
No
Gain
Loss
Net
TD
Lg
Avg
Hall, Jordan
8
37
0
37
1
9
4.6
Herron, Daniel
6
40
3
37
0
17
6.2
Smith, Rod
7
36
0
36
0
11
5.1
Miller, Braxton
4
19
0
19
0
6
4.8
Berry, Jaamal
2
16
0
16
0
12
8.0
Hyde, Carlos
6
11
4
7
0
4
1.2
DeLande, Spencer
1
7
0
7
0
7
7.0
Boren, Zach
1
1
0
1
0
1
1.0
Bauserman, Joe
3
5
15
-10
0
5
-3.3
Graham, Taylor
5
0
30
-30
0
0
-6.0
Passing
Comp
Att
Int
Yds
TD
Lg
Sack
Miller, Braxton
7
12
0
73
1
20
0
Guiton, Kenny
5
11
0
43
1
17
0
Bauserman, Joe
4
11
0
42
1
16
2
Graham, Taylor
4
9
0
91
1
68
5
Receiving
No
Yds
TD
Lg
Williams, T.Y.
3
83
1
68
Heuerman, Jeff
3
14
0
7
Posey, DeVier
2
26
0
20
Reed, Verlon
2
25
1
17
Hall, Jordan
2
21
0
17
Berry, Jaamal
2
14
0
8
Stoneburner, Jake
2
11
0
6
Ross, Ryan
1
16
1
16
Fields, Chris
1
15
0
15
Brown, Corey
1
15
1
15
DeLande, Spencer
1
9
0
9
Graham would would be up again with a chance to punch it in from the 25, but he was sacked by Joel Hale on first down for a loss of six. Boom ripped off a 13-yarder on 2nd down to setup a 3rd-and-3, but a low pass led to an incompletion to Corey Brown. Ben Buchanan entered to try a 35 yard field goal, but missed "wide low" and it was time for another quarterback.
Miller showed more quicks in his appearance, following up a 4 yard run from Jaamal Berry with a 6 yard keeper setting up a first down at the 15. An option to Boom netted a loss of one and two incompletions brought Basil back in to attempt and make a 27 yard field goal.
Guiton, made quick work of his opportunity from the 25, connecting with Berry for an 8 yard gain on first down and then quickly following it up with a nicely thrown pass and catch to Verlon Reed from 17 yards out for the first touchdown of the afternoon. As good as Guiton looked, it's worth pointing out that he was going against a 2nd team back seven.
After the simulated overtime possessions, the quarterbacks were given a chance to show what they could do on a long field, starting their drives at their own 8 yard line. Bauserman was in first, but his appearance didn't last long as two quick three-and-outs sent him to the bench in favor of Miller.
Three straight Jordan Hall rushes moved the chains to the 24 before the freshman quarterback found Hall out of the backfield for a 17 yard gain, thanks to a missed tackle near the line. Rod Smith would follow with a bruising 11 yard run and then Miller would find Hall for 4 more before hitting Posey on a nice 20 yard completion over the middle to setup a 1st-and-10 at the Gray's 24. After a couple of runs netted just four yards, Stoneburner plucked a Miller dart out of the air with one hand to keep the drive alive and then Jordan Hall put the finishing touches on it by rushing three times for the remaining 14 yards, the last a five-yarder into the endzone following a killer Boren block on freshman safety Jeremy Cash. This was clearly the best drive of the afternoon with Miller using his feet and arm to keep plays alive and the chains moving.
Guiton would enter next and would see his series sputter, despite a nice 9 yard run out of Boom and a 12-yarder from Berry. Graham, in next and also taking over at his own three, would have better luck. Rod Smith, who looked great all afternoon, cranked off 14 yards on three carries to start the possession before Graham found T.Y. Williams for 8 yards. After a 7 yard run from Spencer DeLande moved the chains, Graham would throw to incompletions before hitting T.Y. Williams beautifully in stride for a 68 yard touchdown down the right sideline. Williams had created separation between his man and himself, leaving Graham to just throw it up for the 6-5 redshirt frosh.
The offense was spotted the ball at the defense's 25 again and Braxton Miller wasted little time on his next possession, finding Corey Brown on a 15 yard out for six in his final appearance of the afternoon. After a bumpy, but by no means horrible start, he would end the day with touchdowns on his final two possessions, the first a 14-play, 92 yard masterpiece.
Graham and Guiton were unable to do much with their final possessions from the 25. Graham, in particular, was sacked on three straight plays, reinforcing the notion that he has a nice arm, but can be a statue in the pocket. Bauserman would wrap things up by converting a 4th-and-1 for a 16 yard touchdown pass to Ryan Ross on the final series of the game.
With that, the players sang Carmen Ohio to the fans remaining in the south stands before making a beeline to the locker room to avoid the rain.
In the end, it's hard to take too much out of these games. Braxton Miller certainly looked good (7/12 for 73 and a TD) as did Rod Smith and a few other players (in addition to the defensive front, which looked solid). I don't think we're any closer to finding out who will start game one in Pryor's absence, though it was nice to see what each of the four quarterbacks could do under simulated conditions.
Here is Jim Tressel's thoughts on the afternoon: