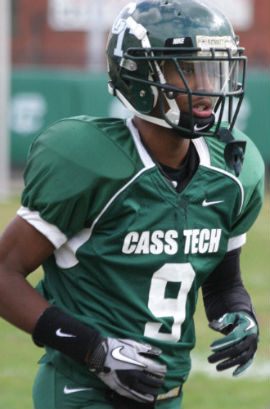 Despite the fact that the forecast calls for some rain storms and that Easter is on Sunday, the Ohio State coaching staff is still expecting a crop of very good players to come visit The Horseshoe for today's Spring Game. In year's past, the game has brought some big time recruits from all over the country to campus, and by day's end there are usually a few players joining the Buckeye family. This year should be no different other than the fact that there are less out of state visitors, but with the talent in the state of Ohio and Midwest region for the class of 2012, that's not neccessarily a bad thing.
Taking a look at the out of state talent, we'd have to start with a tremendous duo from the state up north. Defensive back Terry Richardson is coming down with his family and is bringing along his good friend in linebacker James Ross. Richardson is an Under Armour All-American from Cass Tech High School, the program that has produced many fine UM players, but also gave the Bucks one beast of a college player in Vernon Gholston. It is said T-Rich favors the Wolverines and USC slightly over the Bucks as of now, but this could be a case of the Spring Game working it's magic. Ross attends Orchard Lake St. Mary's, the school that has sent Aaron Gant, Taurian Washington, and now Dionte Allen to Columbus. Ross likes Michigan and Penn State a lot, but the Bucks are right there and I think OSU is the perfect fit for what the star linebacker is looking for. While their other childhood friend, Royce Jenkins-Stone, has already committed to UM, I think this weekend's visit will go a long way in telling where thing stand with these two fine athletes.
The other out of stater making the trip to Columbus this weekend is Fort Meyers (FL) Bishop Verot safety Jordan Diggs. Diggs holds offers from Auburn, Boston College, UConn, Kentucky, Ole Miss, Nebraska, South Carolina, Tennessee, USF, Vanderbilt, West Virginia, and others in addition to the Bucks, but the fact that he iis paying his own way for the long trip from Florida to Ohio on Easter weekend is certainly telling of his interest. While there are many star Floridians on the OSU radar this year, their best shot is with Diggs and the staff is certain to roll out the red carpet for him while he is in town.
Looking at the in state visitors, it is only natural to start with the players already committed in this class. OT Kyle Kalis, RB Warren Ball, LB Josh Perry, and OL Jacoby Boren will all be in attendance today. Missing from this group is Brionte Dunn, who is unable to attend, and has been rumored to want to take other visits to "make sure OSU is the right choice". I think having these four "solid" verbals at the game will definitely help, as they can actively recruit the other visitors in a way thr staff can't.
If there is one visitor who I think has a chance to be the next to pledge his commitment to the Bucks, it is Frank Epitropoulos. The Upper Arlington super athlete has a final four of OSU, Wisconsin, Stanford, and Michigan State, and is fresh off visits to Madison and Paolo Alto. Now that he has been to all four schools, the Buckeye legacy could be ready to make his decision and I think that will be to announce he will play receiver and possibly some punter just a few minutes down the road from his home. Keep a close tab on the news on Epitropoulos, as we could have a new Buckeye on our hands in the near future.
Other players that have offers and will be in the stadium this afternoon are DE Greg McMullen, DE Se'Von Pittman, and DB Devan Bogard. McMullen will likely decide between the Buckeyes and Nebraska, where he just visited and it appears the Cornhuskers are closing the gap. Pittman has been thought to be a Buckeye lean for a long time, and it wouldn't shock me to see him commit in the near future as well. Finally, Bogard is a Glenville guy who will likely play the long, drawn-out recruitment game, but in the end is expected to pick Ohio State. These three are absolute studs and I expect all of them to be Buckeyes come signing day next year.
Finally, the players without offers that will be in attendance are OT Kyle Dodson, DE/TE Pharaoh Brown, ATH Demtrious Davis, WR Chris Davis, QB Austin Appleby, and 2013 ATH De'Niro Laster. Dodson is just a qualifying score away from an offer from the Bucks, but pretty much everyone else in the nation has offered. I think the long-time OSU fan will take some time to get that ACT score up and will definitely peruse around a bit before choosing to play in Columbus. Pharaoh Brown would love an OSU offer, but I think he is a "plan B" right now for the Buckeyes. Look for him to possibly end up in the Maize and Blue, although the chances of that may be less likely if he wants to play tight end, being that Brady Hoke got verbals from two players at that position yesterday. The Davis's are twins from Austintown Fitch and it's nice for the coaches to extend them an offer to come down, but you're likely looking at two players who will end up in the MAC or a lower tier power conference program. While there may not be a need for a 2012 quarterback with Cardale Jones on track to enroll next January, Appleby may just be the best Ohio has to offer and the Bucks will continue to recruit him in case there's room or things fall through with Jones. Appleby (6-5/225) has offers from some lower level schools right now, but has garnered interest from Florida, Louisville, Michigan, Northwestern, Pittsburgh, and others. He would not flinch in committing to OSU if an offer came his way. Finally, Laster (6-2/200) is definitely one to watch for 2013 and is an absolute stud. He has been tearing up camps so far this spring and will could play on either side of the ball at the next level. Alabama, Michigan, UNC, Oregon, Pitt, Syracuse, and Tennessee are the other schools recruiting him right now, but the fact that he is from Shaker Heights will definitely help Jim Tressel's cause.
Other than the potential rain, it should be a great day in the 'Shoe once again. Between the new Spring Game format, getting a look at the offense and defense one last time before the summer, and all these outstanding recruits checking out OSU, there is a lot to look forward to this afternoon. Remember to come back and join us on the site for the live chat during the Spring Game, and be sure to check out the great coverage we will bring you following today's scrimmage, as both Jason and Chris will be bringing the goods from the press box.