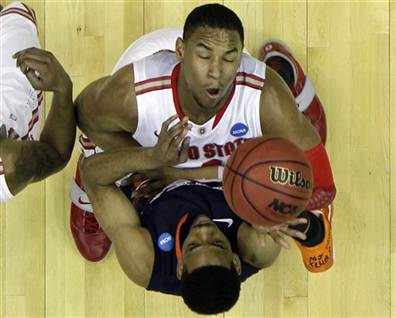 I guess it's a good thing Texas-San Antonio head coach Brooks Thompson played stall ball for over half the game.
Despite Thompson's efforts to set back college basketball by running the four corners, Ohio State capitalized on their possessions early and often, running away with a 75-46 blowout victory over UTSA this afternoon in Cleveland's friendly confines.
The Buckeyes bottomed 12 triples and shot a red-hot 57% overall behind strong efforts from William Buford (18 pts, 7/12 FG), Jon Diebler (14 pts, 4/8 3's), Deshaun Thomas (13 pts, 5/7 FG) and Jared Sullinger (11pts, 5/6 FG).
Looking to deliver the knockout blow early, Ohio State countered UTSA's miserable stall tactics with blistering shooting during a 31-8 run that turned a 9-5 deficit into a 36-17 bulge with 1:42 left in the half.
Buford had little trouble finding spots in UTSA's 3-2 zone draining 6/10 shots in the opening half, good for 15 points as Diebler and Sullinger added nine each on a combined 7/10 from the floor. Buford's drive and dunk down the baseline ignited the run and Diebler capped it with his third trey of the half.
The offensively focused Buckeyes shot 65% in the opening 20 minutes creating 14 assists on 15 total field goals.
Aaron Craft watched most of the 1st half from the pine after picking up his 2nd foul with just over 10 minutes left. Even with UTSA's deliberate pace, Craft's defensive effort was missed as the Buckeyes napped nap on a few switches allowing the Roadrunners to shoot a respectable 46% though they hit just one of eight 3FGA.
Holding a commanding 37-21 lead at the break, Ohio State allowed the Roadrunners to open the 2nd half with five straight points before a 15-1 haymaker gave the Buckeyes a 52-27 cushion that closed the door on UTSA's season.
Diebler started the run with a nice feed to Sullinger for a dunk and after a Buford tip-in, Thompson was whistled for a technical foul leading to two free throws from Diebler before a David Lighty "rise and fire" from distance to make it 46-26 good guys.
After the teams traded one free throw apiece, Lighty was back at it splashing another triple off a steal, then a putback in traffic before Diebler polished off the blitz with another trey pushing the lead to 55-30 with 13:05 left in regulation.
The DeShaun Thomas Show commenced shortly thereafter as Thad let the bench play extended minutes.
Impressively, the Buckeyes assisted on 26 of their 29 field goals with Buford, Diebler and Lighty picking up five each in support of Craft's seven dimes.
The Buckeyes also won the glass 33-24 with 14 turnovers showing as the only blemish on an easy win over a bad team. The victory sets up a Sunday tilt with George Mason, 61-57 winners over Villanova.
Time for me to hit the 'book and collect my winnings. Word.