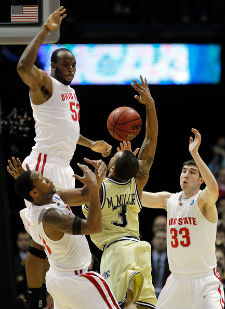 One of the great aspects of college basketball is if you lose a game or even 2 of your last 3, the season is not lost and you don't have to wait a full week to get back into the action. Luckily for Ohio State, they didn't have time to dwell on the Purdue loss, but they hopefully learned from it in the brief 48 hour span before tonight's tip.
Illinois comes to Cbus losers in 7 of their last 11 games, including the 61-57 setback in East Lansing Saturday night. In fact, Illinois won their first 3 B1G games and haven't won consecutive games since then, but have managed to lose 2 straight on a couple of occassions.
In the first matchup, Ohio State rode Jared Sullinger's 27 and 16 to a 73-68 win in Champaign. The Buckeyes only put 2 players in double figures that game, but got some big minutes from DeShaun Thomas off the pine, including a couple of 3balls in the second half.
| # | Name | PTS | REB | ASST | POS | # | Name | PTS | REB | ASST |
| --- | --- | --- | --- | --- | --- | --- | --- | --- | --- | --- |
| 44 | William Buford | 14.0 | 3.8 | 3.1 | G | 32 | Demetri McCamey | 14.5 | 3.3 | 6.2 |
| 33 | Jon Diebler | 11.1 | 2.3 | 2.4 | G | 1 | D.J. Richardson | 9.0 | 1.9 | 2.1 |
| 23 | David Lighty | 12.2 | 4.1 | 3.4 | F | 22 | Jereme Richmond | 7.6 | 5.2 | 1.8 |
| 0 | Jared Sullinger | 18.0 | 9.9 | 1.4 | F | 24 | Mike Davis | 11.6 | 6.9 | 1.6 |
| 52 | Dallas Lauderdale | 4.4 | 3.6 | 0.1 | C | 54 | Mike Tisdale | 9.5 | 6.5 | 1.1 |
Opponent
Illinois is one of four teams that have a positive scoring margin in conference play, scoring 67.4, while giving up 64.2. It's a wonder they sit at 7-7, as they are tops in the conference holding teams to just 38.7 percent shooting overall and a staggering 28.7 percent from downtown. They also sit near the top in each shooting category; third in FG (45.7%), third in 3PT (38%) and second in FT (76.8%), while also leading the conference in assists with almost 16 per game.
Bruce Weber primarily plays 7 guys, with Bill Cole and Brandon Paul leading the way off the bench, while freshman Meyers Leornard will also see some action. Cole is a 6'9" senior who plays about 20 minutes a game, chipping in 5 points and 2.5 boards. Paul is a 6'4" sophomore who scores about 10 points and dishes out 2 assists per game, but has averaged 14.6 points over his last five games.
Of course this team is lead by McCamey, who was harassed by Aaron Craft into 2/11 shooting and 4 turnovers in the first meeting, but with 7 assists tonight can become only the 2nd player in B1G history (Gary Grant) to record 1,600 points and 700 assists in a career. Another hot player coming into tonight is Mike Davis, who has averaged 13.4 points and 7.7 rebounds over his last nine games.
The key tonight for Illinois will be holding OSU to a less than stellar shooting game. The Illini have held 37 straight opponents to less than 50% shooting, but the Buckeyes always shoot well in the Schott, including 49% this year. Illinois is one of the few teams that can match Ohio State's length and if they can limit the Bucks shooting and turn that into a win on the boards, they might have a chance to pull an upset on the road.
Buckeye Breakdown:
Though Illinois leads the overall series, 99-63, Ohio State has won the last 4 and 9 of the last 11. I do expect the Buckeyes to make it five straight tonight, though it's going to be another close one. OSU has their quickest turnaround of the season, which is the same scenario they'll face next week and in tournament play. Luckily, 3 of the last 4 are at home, as the Bucks hold on to that 1 game lead for the conference crown.
OSU is the top shooting team during league play, connecting on 48.2% of their shots overall and 41.6 percent from deep. Ohio State has raised their FT percentage up to 70.1, but that is only good for ninth in B1G play. Ohio State has gone 23/29 from the line in each of their last 2 games and they'll need to keep that trend going tonight.
There hasn't been many areas of concern for Thad's squad and if anyone would have told you before the season started that they would be 25-2 with their only losses coming in Madison and West Lafayette, you would have signed up. However, one area of growing concern for me personally is the confusion that has crept into their defense when it comes to switching screens, especially at the top of the key. OSU has had a tendency lately to lose guys as the play develops and more screens are set, recovering late and not using the hedge effectively. You know this will be a point of emphasis for Thad in the coming weeks, but if the Bucks don't tighten it up, I hate to see what the conference tourney brings.
Another area of concern is the play of the seniors. Lighty has gone for double digits in just 5 of the last 10 games, while Diebler has done it only 6 of the last 12. I didn't expect too much scoring from Dallas this season, but in the 2 losses this past week, he is a combined 1/1 with 4 rebounds in 18 minutes and he didn't have a single rebound against Sparty. If Ohio State is going to continue this magical season and make some noise in both the B1G and NCAA tourney, these 3 have to dig deep and give better contributions.
Etc
Sullinger needs 13 points to become the 4th Buckeye freshman to reach the 500 point plateau in a season.
Thad Matta is 116-10 in Columbus, including 34-1 over the last 2 seasons.
Brent Musberger and Dan Dakich have the call tonight, with Jill Montgomery "manning" the sidelines.