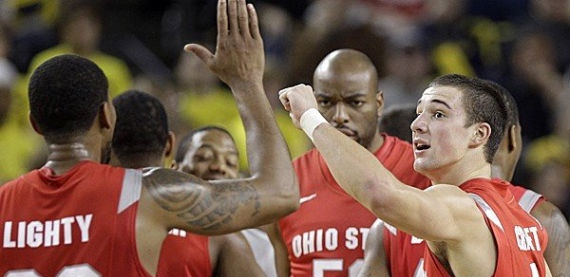 Happy Thursday Buckeye fans. Welcome to your almost-weekend edition of Skull Session, where it seems that the nation is still abuzz about Ohio State's domination and sports writers everywhere appear to be giddy to have found a clear cut number one team in the land.....for now.
Paul Daugherty is one of those writers giving great praise to the Scarlet and Gray and is wondering if anyone can stop Jared Sullinger and the Buckeyes. He is right in that the thing that makes this team so good is that on any given night there are six different players who can rise above the occasion to win a game for the team. When I was thinking about this squad while day dreaming at work today, I actually thought they were very comparable to the two Florida teams that won back to back championships a few years ago, and was glad to see I'm not alone on that sentiment.
While nobody is ready to go as far as to put them up there with the Jerry Lucas-led squad that won the only championship in the history of the program, this team does have a special aura around it that screams Final Four at the very least. No matter what unfolds the rest of the way, it is certain to be an exciting ride, and maybe, just maybe, we'll be able to all enjoy watching Eddie Days cut down the nets in early April.
 Buckeyes may be pro-worthy. As good as the Ohio State hoops team is playing, do you believe they can beat the NBA-worst Cleveland Cavaliers? It's certainly something to think about and with 4-6 players on the team that could end up on NBA rosters one day, it's certainly not out of the question. I personally think there's a much bigger gap between the college and professional ranks than most thinks and would give the Buckeyes a victory in maybe 1 out of 10 games against the Cavs. What do you think?
Holy bowl money. In a year where non-AQ teams put up quite an argument to have a playoff, it appears the bowl system is serving the financial needs of schools all over just fine. The 2010-2011 bowl season brought in a record $170 million for the conferences to share. Even more impressive is that while there's no playoff, those non-AQ teams took in the most money they ever have, at $24.7 million. They can sure thank TCU for that one!
 Indian giver. While many big Ohio State donors may whine about Jim Tressel's conservative play calling or ask that he be fired after losing at home to USC, they would never pull the stunt that Robert Burton did. Burton, UConn's largest donor to the football program, asked for his $3 million donation back after his opinions were "ignored" in the search for the new coach. While I feel that people like this are very important to success at the Division I level, I don't think just because you give money to a school that you should be involved in the decision to hire it's football coach. The athletic director and other members in the department were hired for their jobs for things like this and I'm just glad that at OSU the people trust Gene Smith to do his thing.
Big Ten bits. Here is a breakdown of recruiting in the Big Ten for the class of 2011... If you missed it in Buckshots, VOTE FOR DAVID LIGHTY! Michigan is gaining some recruiting momentum (and raiding Purdue's cookie jar again) under Brady Hoke... Despite a "down" year, Penn State turned a decent profit in 2010... Black Heart Gold Pants wonders what can possibly happen to the Iowa football team next... Finally, we give you the infamous "Mendenhump".