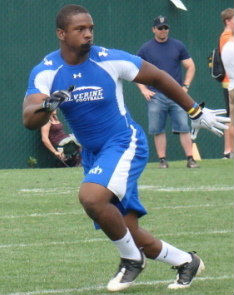 The Buckeyes recruiting class was sitting at 20 solid commitments heading into this week with just five or six players left on the board that could live up to the caliber of talent Jim Tressel had already secured for the class of 2011. Ejuan Price was one of those players and decided to become the 21st member to hop on the Scarlet and Gray train earlier this week, making his commitment to Ohio State known to the public shortly after his in-home visit with The Vest and Luke Fickell.
Price, a 6-0/235 linebacker from Pittsburgh, is the third linebacker in a class that was in danger of having zero players at the position a few months back. Displaying excellent closing speed, great tackling ability, and a knack for finding the ball, Price is a great fit for Ohio State on the field. Off the field, he already knows something about the Buckeye family, as he is cousins with Dorian Bell and has taken numerous visits to Columbus throughout his recruitment.
We were fortunate enough to sit down with the newest member of the Buckeye family to discuss how it feels to finally end his recruitment, find out why he chose Ohio State, discover what he expects in year one in Columbus, and much, much more.
Now that your recruitment is over, how does it finally feel to officially be a Buckeye?
It just feels good to finally know where I'm going--like a weight is lifted off my chest. So now I can just focus on preparing myself.
What was the biggest deciding factor in your decision? Was it OSU the whole way or were you thinking you'd be somewhere else for a while?
It was probably just Coach Fickell himself as the biggest factor. It was close between them [OSU] and a couple of other schools, but that's kind of always where I figured I'd go.
The Bucks now have 3 elite LB prospects in yourself, Ryan Shazier, and Conner Crowell. How does it feel to be part of such a special group?
It feels good. They'll provide good competition to make me better and vice versa.
Did any of the current players (like your cousin Dorian Bell or other Western PA guys) push hard for you to come to OSU? Have you spoken to any of the other commitments during the recruiting process?
Not really. Everyone kind of understood that it would be my decision, and my decision only. They really respected that.
What is your relationship like with Coach Fickell and how did that impact your decision?
Well he's my main recruiter so our relationship is very good. If he wasn't at Ohio State, I probably wouldn't have went there.
What position will you play at OSU and what do you expect to accomplish in year one?
Will linebacker is where I'm thinking to start out. I just want to get on top of everything, learning the plays and all that, but hopefully I can push for a starting role or a backup spot as a freshman.
What will you major in while in school?
Right now I'm going in undecided.
What do you do really well? What do you need to improve on for the next level?
I think I'm very strong, I stay low, I'm aggressive, and I can cover the pass better than some people think. I just want to polish all my technique to perfection, and get through my reads quicker.
I know Coach Tressel is big on goals both on and off the field. What are going to be some of your goals in the 3-5 years you'll be calling Columbus home?
I want to be All-Big Ten, All-American, win a National Championship. I want to get bigger, stronger, faster and bigger, stronger, faster again. [laughs]
Finally, if you could send Buckeye Nation any message, what would it be?
Thanks for having me and you're going to be be really surprised. I won't let ya'll down.
Highlights? Highlights: