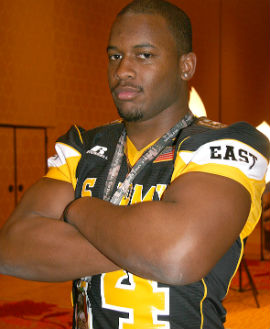 Since we last met, the Buckeyes extended their recruiting class of 2011 to 22 members, thanks to long snapper Bryce Haynes jumping on board the Jim Tressel train. With National Signing Day coming up on Wednesday there is potentially room for two to three more prospects to join the fold and a handful of players still left on the board. If this class ended without another player committing, it would already be a great haul for the Buckeyes. Any more additions are just icing on the cake, and would certainly continue to help the Buckeyes in the coming four to five seasons on the football field.
The undecided players left on the radar that currently hold scholarship offers from Ohio State include former Buckeye DE Keith Wells, Cleveland Glenville stars OL Aundrey Walker and QB Cardale Jones, Richmond (VA) Hermitage LB Curtis Grant, Rock Hill (SC) South Pointe DE Jadeveon Clowney, Baltimore (MD) Gilman ATH Darius Jennings, and Brooksville (FL) Nature Coast Tech WR Ja'Juan Story. Other players that don't have an offer yet, but remain in the mix are two other Glenville Tarblooders in WR Shane Wynn and DE/LB Andre Sturdivant, Walsh Jesuit P Drew Kaser, Coffeyville (KS) Community College WR Duron Carter, and Interlachen (FL) RB Kion Williams. 
While nobody except the players themselves know which way we are leaning, we have spoken to some people "in the know" with some of the situations involved with each prospect, and, well, we still have no clue where these super athletes will end up. Some will choose Ohio State and some will bring their talent elsewhere, but with just two days until decision time, we can use our knowledge to make some educated guesses at who may be the next to call Columbus home. Here's our breakdown and final predictions of who will end up where come the college football season of 2011. 
Aundrey Walker, OL, 6-6/350: Walker has Ohio State, Michigan State, USC, Florida State, and Wisconsin as his finalists and has "loved" every single one of his visits thus far. This monster of a teenager has had Sparty and the Bucks on top the whole way, but the "chatter" has been that he will pick the Trojans after Kiffykins and the boys Hollywooded him up on his trip out west. Sometimes where there's smoke there's fire, and he did say his mom would move to wherever he chooses to go, but I'm not buying this. I've said Buckeye the whole way and I think he sports the "Block O" hat on Wednesday.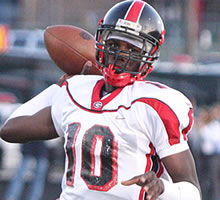 Cardale Jones, QB, 6-5/230: Jones  (pictured right) visited Ohio State this weekend and came away with the offer he has coveted throughout this entire process. He told Bucknuts' Bill Kurelic that OSU and Toledo are "neck and neck" and he wouldn't decide until Signing Day on Wednesday, but make no mistakes, this kid wants to be a Buckeye. The question for Jones will be if he is academically eligible. If he is, expect him to end up in Scarlet and Gray. If he isn't, he can choose to go to prep school for a year before finding his way to Columbus, or he can sign on with Toledo, as the MAC can take on non-qualifiers. I think on Wednesday he will sign with Ohio State, but there is a good chance his journey to Columbus will be delayed for a year due to academics.
Curtis Grant, LB, 6-3/215: Grant has the Buckeyes, Florida, Virginia, and UNC as his final four, but if things ended today the Buckeyes would come out on top. I really think he had a special connection when he was on campus for his visit and got that special feeling of knowing where he wanted to go. He continues to play things close to the vest and I can definitely see him choosing Florida, but if nothing funky happens I think he begins his journey to becoming the next great Buckeye linebacker on Wednesday.
Jadeveon Clowney, DE, 6-5/235: At one point it looked like Clowney would give coming north a shot, but it appears his heart is in the south. An OSU official visit never happens and I think this is still a Florida State-South Carolina-Alabama race. I think the in-state Gamecocks come out on top and get a player who is by far the best high school prospect I have ever seen.
Darius Jennings, WR/CB/QB, 5-11/175: Jennings is down to Ohio State, Virginia, and Wake Forest and all three schools want him for different positions. OSU thinks Jennings can excel at corner back, UVA likes him at wide receiver, and Wake thinks he can be their next quarterback. It appears Jennings prefers to stay on the offensive side of the ball, giving UVA and WFU the slight edge there, but I think in his head he knows that coming to Columbus is his best chance at playing in the NFL. I think he gives the Bucks a very hard look, but right now I think the comfort of staying close to home and playing wide receiver leads him to join the Virginia Cavaliers.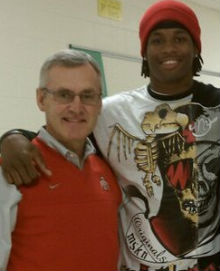 Ja'Juan Story, WR, 6-4/195: After his official visit to Ohio State it really looked like Story (pictured right with Tress) could end up in Columbus. A week later things aren't looking so bright, as Story reportedly didn't like the fact that the Buckeyes hired a running backs coach to handle the receivers and went up to Gainesville to hang out with Jeff Driskell on the same day that Jim Tressel was in his school. Wait for the fax on Signing Day, but if I had to call things today, I would say Story stays with his original commitment to Florida. 
Shane Wynn, WR, 5-8/155: Hawaii, Penn State, Indiana, Toledo, and are all in the mix, but the one thing I know is that Ohio State is not. I think it's a smart move by the Bucks to take a pass on the undersized Wynn and for now I'll call him to Toledo where he'll be a star in the MAC for Tim Beckman.
Andre "Tank" Sturdivant, DL/LB, 6-3/245: Tank is academically eligible and in any other year OSU would have offered, but I think this one will come down to Michigan State, Penn State, and Toledo. OSU could offer if there is room on Wednesday, but I don't think that will be the case and I'll pick Sturdivant to have a very successful career at Penn State.
Drew Kaser, P, 6-3/185: Kaser had an offer to be a preferred walk-on at Ohio State, but recently accepted a scholarship from Texas A&M. If there is room and Kaser is offered, he would flip to Ohio State in half a second, but come Wednesday I think he signs on the dotted line with the Aggies.
Kion Williams, RB, 5-11/195: Williamswas supposed to visit OSU officially this past weekend and I'm really curious to see what the staff was thinking in trying to bring him in. With tons of running backs in the fold, do Jim Tressel and the staff think Williams can be a receiver or defensive back? Was this a move spear-headed by Stan Drayton who knows Florida very well? I really don't know what to think and until I hear more I say Williams will stay firm to his current commitment and sign with UCF.
Keith Wells, DE, 6-5/230: Wells couldn't cut it academically the first time around at OSU, but left the team and got his act in order at Columbus State during the last year. It appears that as long as he is qualified academically that he will be back with the team come spring quarter and could provide some quality play on the defensive line next season. I think things work out the way Keith has been planning and he ends up back in the Buckeye family.
Duron Carter, WR, 6-4/210: Ah, our good friend Duron. When he left OSU it was a no-brainer that he would be back, but it seemed apparent that things drifted apart as his JuCo season was underway. It looked like the door was closed for a return to the Buckeyes next year and that Jim Tressel was ready to move on. Carter popped in on Oregon, LSU, Oklahoma, and Miami to check things out before selecting another school, but then the tables turned again. Carter withdrew from Coffeyville and enrolled at Palm Beach Community College after the football season, where he is set up to receive his Associate's Degree this summer. With that degree in hand, Carter would be able to enroll at any school with enough credits to play in the fall per NCAA rules and can sign a National Letter of Intent on Wednesday to the school he wants to join. Again, this is where things get tricky.
While Carter can sign a binding agreement this week, he can also wait as long as he wants and make a decision when determining his academic standing at the schools on his short list. If he goes to any other school besides OSU, he only needs a 2.0 to be eligible and play football. Easy choice right? Wrong, as Ohio State is really in Duron's heart, but he would have to get a much higher GPA than 2.0 if he wants to come back, as his grades that he recorded his freshman year would be factored into the average. 
Where does this bring us you all ask? Making a long story short, it appears Miami is willing to roll the dice that Duron finishes what he needs to do at Palm Beach and has extended a scholarship offer before receiving his Associate's Degree. Ohio State wants to wait to see how things shake out before bringing Duron back into the fold. It's a really tough decision to choose between taking the sure thing scholarship offer now or waiting to go back to your dream school and a place you know and love so much. I think in the end the latter wins out and I'm going to go out on a limb here and say at some point you will see Duron back in Scarlet and Gray.
Wrapping-Up: To summarize, I think the Buckeyes bring in Curtis Grant, Cardale Jones and Aundrey Walker on Wednesday, closing off another excellent recruiting class for Ohio State. I think Keith Wells rejoins the team in the spring and I also think Duron Carter makes his way back into the fold after receiving his AD from Palm Beach Community College this summer. Will I be right? I sure hope so, but in the world of recruiting anything can happen. As I mentioned before, this class is already excellent as is, so it will be interesting to see what kind of cherry on top Signing Day will bring Buckeye Nation.