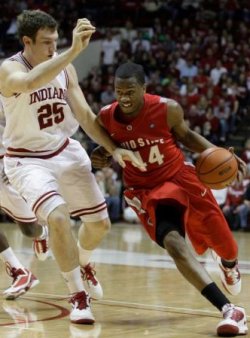 William Buford led four Buckeyes in double figures with 24 points thanks to a blistering 5/7 night from distance as Ohio State used hot shooting to bury Indiana 85-67 tonight in Assembly Hall.
Jared Sullinger frustrated the IU front line earning 12 trips to the stripe (9/12) on his way to a 19 point, nine rebound effort. Jon Diebler had a perfect night from beyond the arc (5/5) leading to 15 points and David Lighty added 11 points and five dimes in 25 minutes.
Ohio State once again came out the gate strong busting Indiana's zone with 5/6 from downtown including 3/3 from Buford to build a 22-8 lead with 13:55 to play. The Hoosiers wisely switched to man and responded with a 9-2 run trimming the deficit to 24-17 but Diebler knocked down a triple from the top of the key, his second of the half, triggering a modest 7-2 run capped by a Jared Sullinger bull move in the paint to make it 31-19 good guys with 6:45 to play.
With Ed Hightower leading a whistle happy crew, Buford and Lighty were forced to the pine with two fouls each causing Thad to play four freshmen for a roughly five minute stretch. Sensing the need to shoulder the load, Sullinger scored the final six OSU points of the half as the Buckeyes took a 46-33 lead to the locker room.
The red hot Buckeyes shot 71% from the floor in the opening 20 minutes including a scorching 64% from distance led by 5/6 FG (3/4 3FG) from Buford (14 points) and 3/4 FG (3/3 3FG) from Diebler while Sullinger hit a perfect 4/4 FG (11 pts). To their credit, IU stayed relatively close shooting 52% themselves.
The teams essentially traded buckets for the first seven minutes and change of the 2nd half before Ohio State used a 12-4 run against a mostly IU zone started by a Lighty triple and capped with another trey from Buford giving OSU a comfortable 72-52 lead with 8:42 left in regulation. After a Verdell Jones duece cut the lead to 18, Diebler amazingly hit Ohio State's last field goal of the game, a triple, at the 8:08 mark pushing the Buckeyes in front 75-54.
Minutes later, Sullinger picked up his 3rd and 4th fouls 30 seconds apart and Thad's troops subsequently lost a bit of intensity allowing a Hoosier 7-0 run cutting the lead to 75-61 with 4:54 to play. Having seen enough, Thad reinserted Sullinger and and he promptly buried four straight free throws as the Buckeyes scored their final 10 points from the stripe on 10/14 shooting.
Certainly, Sullinger proved too much for IU to handle leading to numerous "surrender fouls" but the zebras - led by Hightower - were absolutely brutal both ways. Clearly the agressors, OSU benefitted the most from the crew shooting a ridiculous 38 free throws, connecting on 26 (68%), while Indiana shot 8/14 on the night.
Going on the road in the Big Ten is never easy but the Buckeyes had little trouble eyeing up the rim in Assembly Hall shooting 61% on the night featuring an aboslutely blistering 68% (13/19) from downtown. The Hoosiers tried to keep pace shooting 50% from the floor but they could only muster 38% from deep (9/24) while the Buckeyes won the glass 26-20. Ohio State coughed it up an uncharacteristic 14 times and supposedly committed 20 fouls but forced 14 IU miscues and 30 fouls.
Deshaun Thomas chipped in eight points (6/7 FT), Dallas Lauderdale grabbed five rebounds and Aaron Craft put up four assists and three rebounds in support of the big four.
Christian Watford paced Indiana with 17 points and Victor Olapido scored 14 while Jordan Hulls chipped in 12.
The win improved Ohio State to 14-0 overall and 1-0 in Big Ten play and marks the first time in school history the Bucks have won three straight in Assembly Hall. Next up, a Tuesday night trip to Iowa while most of Buckeye Nation will be watching the Sugar Bowl.