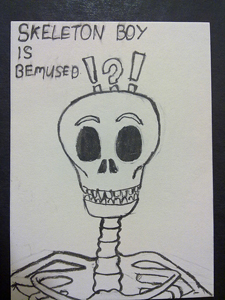 Good Morning everybody, and welcome to your case of the Mondays Skull Session. I hope your Holiday break (regardless of faith, creed, background, or amount of familial interaction) was fruitful and relaxing. If you worked these last several days? Big ups to you; being away from family isn't easy, but in the long run, sometimes it can pay off.
From an Ohio State standpoint, this weekend was full of some painful, painful stupid. We'll address all that in due time, but let's quickly touch on a few of the things you missed this weekend while you were busy shooting your eye out:
 While you were playing with that new Kinnect... Episode two of Eleven Warriors' longest running solo produced and operated podcast, the Eleven Dubcast, reached episode two. Guests include 11W's own Alex, former Deadspin contributor Chris Driver, and editor of Arkansas' best sports news hub The Slophouse, Mr. Matt Jones, got on the horn with Johnny and yours truly to dish on The Sugar Bowl. Tastes just as fresh now as it did when it launched Friday. Plus with the suspensions for a few notable Buckeyes not taking effect until next season, no harm no foul on essentially 100% of the topics discussed. Go listen (or re-listen), because work let's not kid ourselves, doing work without at least a soundtrack of some type is pretty much the worst.
Our very own Kyle also had a few hundred words worth digesting on Ryan Mallett finally having his shot at the Buckeyes. While he never had a shot of his very own under center for the Maize and Blue, his window of opportunity will likely be closing with his NFL stock likely never being higher than it is right now. Here's hoping he winds up more on the 'never' than 'now' side of the ledger when everything's said and done.
 Tab. Your sources. Woof.  Now onto the DERP'dom: Something called Tab Bamford (potentially either a mild mannered alter ego of a "Kick Ass" style super hero without any actual powers or maybe the human incarnate cancer causing diet drink popular in the 70's/80's) ran with a completely unqualified "report" that per his "sources" Jim Tressel would be out as Ohio State coach following the Sugar Bowl. We won't link the original report both out of respect to your intelligence but also to deprive an attention starved turd mongerer the page views he so sorely craves to validate himself. While the story's roots were completely devoid of logic and being in touch with reality, John Taylor over at CFTalk none the less did a fine job of debunking the poop chute:
For what it's worth, we spoke to one potential recruit and he's heard nothing of what's being reported, either Tressel stepping down or recruits being told that they are "allowed" to look for other options. Of course, until a Letter of Intent is signed, football players are allowed to look around regardless, so this is yet another data point that makes this "report" smell of something you pull out of a pond.

The "report" also mentions numerous violations committed during Tressel's time in Columbus — including the most recent one in which Terrelle Pryor and four other players were suspended for the first five games of 2011 for impermissible benefits — intimating that was the impetus for his alleged decision to part ways with the school.

A source close to the football program we spoke to a couple of minutes ago called word of Tressel stepping down "complete (really bad word) (bad word)", however. 
That's to say nothing of the report's claim that 2-15 ex-Arena Football coach Chris Spielman would inexplicably be "a leading candidate" to replace Tressel. While we love Spielman as the legend of the Shoe that he is and feel that his work as a TV analyst has improved leaps and bounds from his first year, to think that he'd have a shot at any job on any Buckeye staff outside of maybe a position coach is a bit of a stretch. Still concerned this is just some hyper elaborate smoke screen? Athletic director Smith has a few words for you:

STILL a doubting Thomas? How about the writer's Chicago Now colleague raising serious reservations about its veracity?
So for now, the rumors are inherently discredited. There could very well be a spark of fire behind the smoke somewhere. But if anything were to happen regarding this situation, it's not going to come out until after the Sugar Bowl. So take anything you hear about Tressel leaving these days with a grain of salt.
...And that just happened. When your fellow bloggers are openly debating your credibility, it's more likely than not that you have none. 
And that's to say nothing of 'Bamford' 's Michigan fandom, his affiliation with the least credible, hackiest sports organization in the universe, or the Occam's razor of it all: the matter of fact that a Chicago based Joe sportsfan with no remotely formal ties to Ohio State leadership or the football program would inexplicably out scoop the entire Ohio State beat, every pay site, every traditional media outlet in the state (we're talking print, television, and radio), blogs, and all national writers far more connected than he is would be anything but the simplest explanation.
Jim Tressel isn't going anywhere, folks. He'll coach out the remaining seasons on his contract and fade out gracefully. Move along. And next time let Shelly Poe and co. enjoy their Christmas in peace for a change.
 Hey look! Something shiny! While it was such a slow news weekend (for obvious reasons) that pure dung like the aforementioned was all the rage, some folks out there were still doing the lord's work and encouraging us to focus on, you know, tangible sports'ish things:
Arkansas' offense, which got off to a slow start, has put together an impressive run in 2010. Bobby Petrino's attack stands as one of the best in the nation — and among the best in school history — averaging 37.3 points and 489.3 yards a game.

But its production will be put to one more tantalizing test when the Razorbacks (10-2) meet Ohio State (11-1) in the Sugar Bowl. The Arkansas-Ohio State matchup has been regarded as one of the most intriguing games in this bowl season and the reason is simple: the Razorbacks' top-flight attack will go head-to-head with one of the nation's best defenses.

Arkansas is eager for the test. It's one the Hogs are confident they'll pass, too, after what they've accomplished.

"We've played a lot of top-ranked defenses," offensive tackle DeMarcus Love said. "We look forward to it. We're not going to back down from a challenge. Not with the way we're rolling right now. Not with a guy like Knile Davis. Not with the receivers and the offensive line we've got. We're up for it."

Ohio State has been tough to crack this season, slowing opponents with a group ranked in the top five in the nation in every major statistical category on defense. The Buckeyes are ranked third in scoring (13.3 points) and second in total defense (250.6 yards). They are fourth in the nation against both the run (94.3) and the pass (156.2). 
While Arkansas' been cooking with gas all season, the fact of the matter remains that at least statistically, this should be the highest caliber defense the Razorbacks have seen all season. As we've touched on a few times in a few different in a few different mediums, Ryan Mallett hasn't exactly been at his best against the highest caliber D's on Arky's slate having racked up massive amounts of yards but thrown just 7 TDs to a somewhat damning 5 INTs. Hopefully Chekwa, Torrence, Howard, et al. can join that list of benefactors.