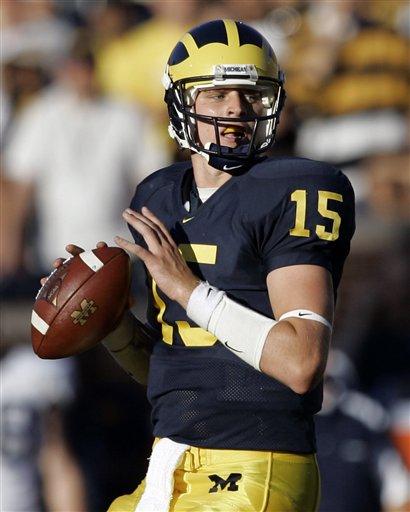 When Ryan Mallett committed to the University of Michigan in 2007, he knew his legacy would be dictated on his success (or lack thereof) against Ohio State. How ironic that Mallett, now a junior at Arkansas, is in that position once again.
Call it a poetic twist of fate.
Coming out of high school in Texarkana, Texas (border of Arkansas and Texas), Mallett was one of the most sought after recruits in the country. He grew up a die-hard Arkansas fan, attended Houston Nutt's football camp and also dreamed of playing for the Hogs. When it came time to make his college announcement, though, he spurned the local Razorbacks for Lloyd Carr and the Wolverines.
Mallett appeared in 11 games his freshman season and compiled a 3-0 record as a starter. Two of those wins came against Notre Dame and Penn State. He was even a part of the longest offensive play in school history. Against Wisconsin, Mallett connected with Mario Manningham on a 97-yard touchdown pass. Mallett replaced the oft-injured Chad Henne that November in a 14-3 loss to Ohio State. Protecting him from a ferocious Buckeye defense that day: Justin Boren. 
Weeks later, Carr retired and Rich Rodriguez was hired and brought his spread offense to Ann Arbor.
So after throwing for 892 yards and seven touchdowns, Mallett was back on the market. Soon thereafter he came home to his roots.
After sitting out one season due to NCAA transfer rules, Mallett lit up defenses in the Southeastern Conference in 2009. In Bobby Petrino's pass-happy offense, Mallett completed 56 percent of his passes for 3,624 yards, while throwing 30 touchdowns and just seven interceptions.
That production led many people to believe he would enter the NFL Draft. Mallett, though, stayed for his junior season even though he was a surefire first round pick and a probable Top 10-15 selection.
You can't fault him after leading Arkansas to a 10-win season and the Sugar Bowl. Mallett increased his completion percentage (66 percent) and threw for just under 3,600 yards with 30 touchdowns and 11 interceptions. His per game passing yard average is fifth in the nation.
Andrew Luck, of Stanford, is more than likely going to be picked No. 1 in April's draft, but Mallett figures to be the second quarterback taken. That is, if he comes out. Chances are he won't stay in school 
Once again, he is back at square one: Beat Ohio State.
While he has put up gaudy numbers, the Razorbacks' victory against LSU this season his arguably his only big win. Arkansas squandered a two score lead against then-No. 1 Alabama in September. They also had a near upset of top-ranked Florida in 2009. Closing out his career with a win in a BCS bowl (Arkansas' first appearance) and against the Buckeyes would go a long way in defining Mallett's legacy.
On the other side of the field will be Terrelle Pryor, who, after this past week's NCAA investigation, is at a crossroads. Despite his 31-4 record, Rose Bowl MVP performance and three Big Ten titles and three victories over Michigan, if Ohio State fails to beat Arkansas and Pryor bolts to the NFL, he could be a pariah forever in Columbus.
Interestingly, while Mallett transferred largely due to the fact that Rodriguez was hired at Michigan, it also was done with an assumption that Pryor would go to Michigan and be the starter immediately. Now they face-off with legacies on the line. 
He's was born in Arkansas and raised to yell Woo Pig Sooie. On Jan. 4, Ryan Mallett will likely run off the Louisiana Superdome turf for the last time as a member of the Arkansas Razorbacks. As a former Michigan Man, there is no doubt the most fitting end to a record-setting career is to beat those dastardly Buckeyes.