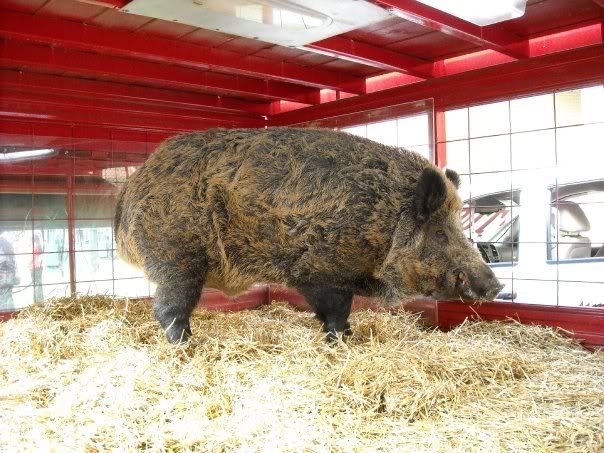 The University of Arkansas and Ohio State University have more in common that one might think. Both universities were founded under the Morrill Act, which created many of the land-grant colleges and universities throughout the country. In 1871, one year after Ohio State University's founding, Arkansas Industrial University, which would later become the University of Arkansas, first held classes in the city of Fayetteville. Like most colleges today, Arkansas has its highest enrollment in the university's history, over 21,000 students.
The University of Arkansas is known to have very good programs in architecture, agriculture, business, creative writing, history and Middle Eastern studies. The university received the largest gift ever given to a public university in the United States. The Walton Family, made uber-rich by Wal-Mart, donated a whopping $300 million.
One of the coolest and neatest traditions at any university in the country originated at the University of Arkansas in 1905. The name of every student, starting with the first graduating class of 1876, is carved into one of the sidewalks on campus. One superstition around campus states that its bad luck to step on the Class of 1900. Students also claim that stepping on the names of the class of 1876 will result in flunking out of the university. How would you like to explain that one to your parents?
The tradition that most Ohio State fans are probably familiar with is the "Calling of the Hogs." Legend has it that a group of farmers created the cheer in the 1920s. Like the OH-IO cheer, you are likely to hear the Calling of the Hogs in a football stadium, golf course, mall, etc. The hog call, as Arkansas fans refer to it, starts with a "Woo!" which gets louder as fans raise their arms with their fingers wiggling. You can't make this stuff up. During the lowering of your arms, you shout "Pig!" before "Sooie!" with a fist pump. After the third so-called hog call, "Razorbacks!" is added to the end. That cheer won't get annoying or anything.
FAMOUS ALUMNI 
Jimmy Dykes - ESPN basketball analyst
Charles Portis - Author of True Grit
Edward Durell Stone - Architect who helped create Radio City Music Hall and the Kennedy Center for the Performing Arts
Pat Summerall - Legendary sports broadcaster
William T. Dillard - Founder of Dillard's department store
Joe T. Ford - Founder and CEO of Alltel
Jerry Jones - Oil tycoon; owner of the Dallas Cowboys
Walter Keller - Inventor of the pacemaker
Robert Mauer - Inventor of fiber optic technology
S. Robson Walton - Chairman of Wal-Mart
Ed Wilson - President of Fox Broadcasting
Lance Alworth - Hall of Fame WR for San Diego Chargers
Veronica Campbell - Five-time Olympic Gold Medalist (sprinter)
Mike Conley, Sr. - Olympic silver and gold medalist in triple jump
John Daly - PGA Tour golfer; winner of British Open and PGA Championship
Butch Davis - Head football coach at North Carolina; formerly the coach at Miami and the Cleveland Browns
Peyton Hillis – Arguably the greatest football player of all-time
Jimmy Johnson - Won two Super Bowls as head coach of Dallas Cowboys and one national title as head coach at Miami
Joe Johnson - NBA All-Star for the Atlanta Hawks
Felix Jones – Dallas Cowboys RB
Cliff Lee – Cy Young winner
Darren McFadden - Oakland Raiders RB; two-time Heisman Trophy runner-up
Sidney Moncrief – former NBA player
Barry Switzer – Won three national championships as Oklahoma head coach and one Super Bowl as Dallas Cowboys head coach
Corliss Williamson – MOP of 1994 Final Four
J. William Fulbright – U.S. Senator, U.S. Representative, creator of the Fulbright Scholar Program and president of the University of Arkansas
Ricardo Martinelli – President of the Republic of Panama
DISTINGUISHED PROFESSORS
Bill Clinton – Faculty in the School of Law 1973–1976
Hillary Clinton – Faculty in the School of Law 1974–1976 
While Arkansas usually has solid athletic programs, one might be surprised to hear that no SEC school has won more national titles and only four schools nationwide (UCLA, USC, Stanford and Oklahoma State) have won more national title than the Arkansas Razorbacks. Forty-two of those championships have come in track and field. Until 2007, Arkansas had separate athletic departments for men and women. Tennessee is now the only Division I school with separate departments. 
The Razorbacks have a rich football history, winning the 1964 national championship under legendary coach Frank Broyles. Prior to joining the SEC, Arkansas was a member of the Southwest Conferences where they won nine conference titles. They have since won three SEC West division titles. Like Alabama of yesteryear, Arkansas plays home game at two different stadiums, their on-campus digs in Fayetteville and War Memorial Stadium in Little Rock. In the program's history, Arkansas has won 13 conference titles and had 45 All-Americans. From the late 50's to the late 80's, the Razorbacks were consistently one of the best teams in the country. They only won one national title in that span (32 years), but Broyles, Lou Holtz and Ken Hatfield combined to win 71 percent of their games (259-96-8). Despite its rich history, Arkansas has never had a player win the Heisman Trophy.  
Unbeknownst to many college football fans, Arkansas actually has a live mascot. Everyone sees and hears about Uga, Ralphie and Mike, but I don't think I have heard a peep about Tusk. He actually dates back to the 60s, though. The current mascot is Tusk III. He is a Russian boar and lives on a farm in Fayetteville.
The following are actual facts about the history of Tusk:
Tusk III occupies a 9,000-square-foot indoor facility and a 7,000-square-foot fenced outdoor area. He uses the indoor facility to escape the heat and sun, and the outdoor facility provides him the opportunity to slop in several mud holes. One of the first things that Tusk III does each day is to go straight to his mud hole for a mud bath. 
Doesn't a mud bath sound like a great way to start the day?
Tusk II signed autographs. An actual hoof print of Tusk II was taken and applied to an ink stamp that can be used on paper or T-shirts. Kids and Razorback fans could request the stamp where ever Tusk II made an appearance.
I'm sure Tusk autographs are all over eBay.
Big Red III, the name of the mascot before Tusk was introduced, escaped from an animal exhibit near Eureka Springs in the summer of 1977 and ravaged the countryside before an irate farmer gunned him down. Ragnar, a wild hog captured in south Arkansas, killed a coyote, a 450-pound domestic pig, and seven rattlesnakes. Ragnar died in 1978 of unknown causes.
That might be the single funniest thing I have ever read. Wow.
The city of Fayetteville, which at one time was known as Washington, is home to over 73,000 people. It is the third-most populous city in the state behind Little Rock and Fort Smith. Located in Northwest Arkansas, the metropolitan area encompasses part of Missouri. Fayetteville is very well regarded as a place to live. It is the state's second-most educated city leading Forbes to rank it No. 8 in the category "Best Places in America for Business and Careers" while Kiplinger had it pegged seventh on its list of "Best Cities to Work, Live and Play." In the past 40 years, the population has more than tripled.  During the Civil War the municipal government was suspended and was not reinstated until 1867.