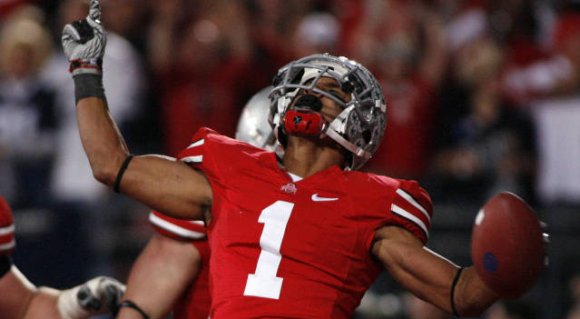 It looked like another game-after-a-bye-week disaster might be brewing as Penn State held the Buckeyes to a field goal on five 1st half possessions while freshman walk-on QB Matt McGloin had his way with a lax secondary in buliding a 14-3 hafltime lead.
Just in time, a halftime verbal assault from Tressel, adjusted coverages resulting in a couple pick six's and Boom's continued march toward team MVP honors with 190 yards on the ground and a score combined to provide a 38-14 victory.
Now I understand why McGloin and Royster were so upset about the 17 point spread - they thought it should've been 24. My bad. Lesson learned, fellas.
From Much maligned to mvp
What a day for Boom Herron. Fresh off his first 100 yard (half-)game as a Buckeye, Boom again carried the offensive load rushing for a career high 190 yards on 21 carries (9.0 ypc) and even threw in two catches for 13 yards, one a clutch 11 yard catch/run screen on 3rd and 6 keeping alive a critical drive that would culminate with Boom's five yard TD run to open the 2nd half, cutting the PSU lead to 14-10. The 96 yard drive saw Boom carry four times for 30 yards including a sick 19 yard run designed to go up the gut that Herron bounced outside on the 1st and 10 play following his smooth 3rd down conversion allowing momentum to finally shift Ohio State's way for good.
Later, after Howard's pick six put the Buckeyes up 31-14 and McGloin followed it up with a 3 and out, Boom allowed the Buckeyes to officially salt away the game carrying five times chewing up 70 yards on a seven play, 78 yard TD drive capped by a Pryor rollout connection to Stoneburner in the back of the endzone pushing the final score to 38-14. Though the kill shot was unnecessary, Boom gashed the Lions for 10 yards on the first play then dashed 47 yards down the left sideline on the second before adding another 11 yard run.
Showing his upperclassman ilk, Boom was also one of the few offensive Buckeyes who bothered to show up the first half carrying seven times for 69 yards including three for 20 on OSU's lone scoring drive in a decidly lackluster opening 30 minutes. For the game, Boom's 203 total yards accounted for 45% of OSU's 453 total yards on the day. Not bad for a guy widely considered to be the team's 2nd best RB entering the season, and 3rd or 4th best by some fans after the first month. Now, he's not only the clear cut starter, he has scored at least one TD in nine straight games and has proven himself to be the team's MVP through 10 games. Do work, son. Three games to go.
The state of things in state college
While the Lions were certainly game and punched OSU in the mouth during the opening half, don't you get the feeling this program is teetering on thin ice? I guess I'm just not used to (or admittedly can't remember) the classy Paterno bringing in a team with a few guys flapping their gums leading up to kickoff. McGloin's act was embarassing especially the part about how Pryor's lengthy process in determining which school to attend supposedly caused the kid not to get any legit FBS scholarship offers. Me thinks the "West Scranton Gunslinger" is a little separated from reality. To watch the kid's gestures toward the OSU sideline during his impressive half (against a timid "cover soft" defense), it's just not what I've come to expect from a Paterno team.
Then, after hearing Paterno's post game interview, I was reminded why I shouldn't be surprised. The fact is, Joe Pa is so detached from this team and the in-game coaching/managing process that it's no wonder the team doesn't carry his stamp to the same degree it once did. Did you happen to catch the Paterno/reporter volley about the poor decision to pass up a 37 yard FG that would've given PSU a 17-3 lead with less than two minutes left in the half? I honestly felt sad for him as he talked about how the decision was easy because the FGA attempt would've been too long, calling it nearly 50 yards, only to backpedal a little when challenged on that blatant inaccuracy but still calling the kick too long. I was again embarassed for the guy as he obvioulsy had no idea what he was talking about. Further, if Joe Pa does have anything to do with playcalling and decision making, I'd be curious to know why, if you are going to go for it there, why you wouldn't give the ball to the more powerful Royster than Silas Redd. The decision killed what was then a 12 play drive - you have to get points there.
Bottom line, it might be fun to crack on Paterno because he's grown into such an easy target but he's quickly becoming Evander Holyfield in floods and that's not the way I want to remember him. From my seat, admittedly a few hundred miles away from State College, there's no way he's going to go out on top so he needs to consider simply going out to avoid taking any more luster off his legacy as one of the greatest college football coaches of all time. I mean, the guy doesn't even wear a headset. This figure-head stuff is getting old - whether it's his right or not - isn't it?
Oh, line
Boom's big day was again buoyed by an impressive run blocking performance, specifically Adams, Boren and Brewster opening up huge holes on the left side. Highly critical of Adams for chunks of the season, I feel compelled to give him some love especially for a few seal blocks allowing Boom, Saine and TP to get wide and do some damage.
The end result was an outrageous 314 yards rushing on 43 carries, or a stout 7.3 yards per, as the line imposed their will on Penn State's defensive line. Without question, nobody is mistaking the PSU front four with the Fearsome Foursome, but the line did what they had to do, helping the Buckeyes complete the largest comeback in the Tressel Era.
The 314 yards increased OSU's rushing yards per game average to 222, good for 13th nationally. The unit wasn't called upon to do much pass blocking but though PSU did register one sack, Pryor often had plenty of time to throw. The TD pass intended for Posey that Dane scooped up was the result of Pryor having all day to let Posey get deep before unleashing the throw.
With Clayborn and company highly pissed off after losing to Northwestern, at least the offensive line should be a confident group. How well they perform next week will obviously be a huge factor as to whether or not this team is BCS bowl bound. What's your take - will the line pass the test next week in Iowa City?
second chance for the secondary
It looked like our worst nightmares were coming true in the first half as McGloin had his way with the OSU secondary completing 13/18 for 141 and two touchdowns. The cocky kid was delivering strikes underneath, taking advantage of OSU's very soft cover-3 look, specifically targeting Devon Torrence. Having already taken a 7-3 lead on a 23 yard TD pass to Justin Brown, PSU's first passing TD against OSU since 1963, McGloin's second possession saw him pick on Torrence, completing a 16 yard slant to Brett Brackett as Torrence trailed the play on 2nd and 12. Five plays later, McGloin hit Moye for 10 yards with Torrence again slow to recover. On the next snap, Torrence was flagged for pass interference giving the Lions 1st and Goal at the OSU eight yard line setting up a TD pass to Moye on a slant in front of Chekwa, as he was beaten off the line of scrimmage. To cap his pitiful half, Torrence was again beat by Moye, this time for 14 yards, on Penn State's final drive of the half that would've likely resulted in points if not for Joe Pa and company's poor decision to forgo a 37 yard field goal try.
Needing to regroup at intermission, Torrence and his mates took their verbal lashing, crowded the receivers a little more at the line of scrimmage and switched to a cover-2 in hopes of stemming the tide. The plan worked to perfection withe the aid of some well timed blitzes. On PSU's opening drive the 2nd half, McGloin was forced into attempting two incomplete bomb's with the underneath stuff covered and probably should've been flagged for intentional grounding before Jermale Hines limited a 3rd and 10 pitch and catch to five yards.
After Boom's five yard run capped a TD drive cutting PSU's lead to 14-10, Torrence conned McGloin into throwing an out route as he first dropped in a deeper coverage before closing on intended receiver Mike Zordich to first bobble the interception before racing 34 yards to the house. 17-14 Buckeyes. Flood gates watch moves to Defcon 3.
His confidence reduced from arrogant gunslinger to confused freshman, McGloin then engineered back to back 3 and outs with Travis Howard killing one possession with nice coverage on 3rd and 12 before Chekwa's tight coverage on a 3rd and 6 slant stopped the next. The offense took full advantage as Pryor's tipped bomb to Posey fell into Dane's anticipating arms for a 58 yard score and a 24-14 lead putting even more pressure on McGloin.
Looking for the knockout punch, Howard played a 3rd and 8 rollout similar to Torrence, first rolling to cover one route in his zone before flashing up to grab the interception then racing 30 yards to paydirt making it 31-14 Buckeyes. The Bullets then forced the still reeling McGloin into two incompletions for another 3 and out, euthanizing his 2nd half stat line of 2/12 for 18 yards and two INT for touchdowns.
Pryor's uneven performance
Terrelle was hard on himself in the post-game, saying he played terrible, in looking back on his 8/13, 139 yard, 2 TD, 1 INT passing day. I'm not sure it was a "terrible" performance, he did carry the ball nine times for 49 yards and had another 40 yards wiped out by a Browning holding penalty (though the penalty seemed to spring the run), but it certainly wasn't his best day under center.
He simply couldn't find a rhythm early, completing just 4/8 in the first half with 49 yards coming on one connection with Posey. He tossed a poor screen intended for Saine on the second offensive series, badly missed Posey on a 2nd and 9 out route on the third, and took a sack on 3rd and 5, missing a wide open Dane over the middle, on the fourth before Tresselball killed the fifth and final possession of the half.
Pryor did manage to go 4/5 for 81 yards and 2 TD in the 2nd half but one of the TD's and 58 of the yards occurred on the fluky deep ball intended for Posey; hardly the product of Pryor's doing. He did, however, carry the ball five times for 36 yards in the 2nd half and made some good decisions on the read/option, including three times on the scoring drive cutting PSU's lead to 14-10 midway through the 3rd quarter.
Leading just 17-14 and marching all the way down to the PSU 25, Pryor's worst play of the day occurred as he was picked off on 2nd and 12, rolling left after waiting too long to hit Dane on a 23 yard out route. That's simply a throw you cannot force, especially with the offense already in field goal range.
I know one game seldom has much to do with the next but with Pryor's big game resume, I'd feel a little better if he was coming off a nice game heading into the matchup with Iowa. They sport the #4 rush defense in the country so it's highly likely Pryor's arm will go a long way in determining the outcome. What about you - any huge concerns with what we might get from TP next weekend?