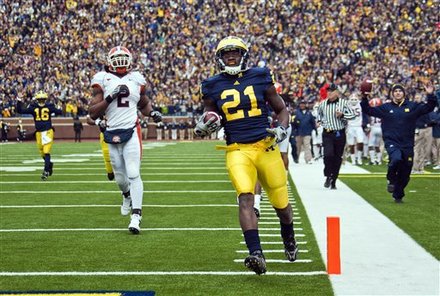 It was supposed to be a fairly pedestrian set of noon games, none of which had major implications for the Big Ten title race barring massive, massive upsets. But those upsets looked very possible in the early going, with the Upset Watch seismometer measuring a few early rumblings in West Lafayette, followed by an apocalyptic, potentially season-redefining temblor in Bloomington over the course of the day's initial three hours. In the end, both Iowa and Wisconsin emerged from their road dates against the Big Ten's cellar dwellers unscathed, while Michigan and Illinois played arguably the game of the year so far in Ann Arbor.
Michigan State 31, Minnesota 8
It was a giant group therapy session in East Lansing yesterday, as the Michigan State team, coaches and fans sought an easy rebound from the crushing defeat at Iowa the week before. Minnesota was more than happy to oblige. Edwin Baker made the bulk of the progress for everyone, running for four touchdowns and 179 yards on 27 carries. Kirk Cousins was a shaky-but-not-disastrous 9/20 for 131 yards and a pick. Minnesota remains on the warpath Trail of Tears for 1-11, while Sparty is 9-1 on the season and heading into their bye week. 
Wisconsin 34, Purdue 13
This game was 10-6 Purdue after a half, with the Badgers looking generally out of sorts and Purdue apparently rallying to save their season with their fourth-string quarterback. But alas, it was not to be. The Badgers, who probably need to lose if Ohio State wants to make a BCS bowl game without beating Iowa, meant business in the second half, racking up three straight touchdowns, then forced a pick six to seal the deal with 8 minutes left. John Clay was banged up, so Montee Ball picked up the slack and ran for two second-half scores and 127 yards on 21 carries. Scott Tolzien wasn't asked to do much, completing 13 passes on just 19 attempts for 130 yards, one touchdown and one interception. The Badgers get Indiana at home next week, while Purdue hosts Michigan.
Iowa 18, Indiana 13
This was very nearly the most shocking upset in Big Ten play since, well, Ohio State's collapse at Purdue last October. Indiana led 13-12 with just over three minutes to play, having forced four field goals in five red zone trips for the Hawkeyes. But when Iowa got the ball back, QB Ricky Stanzi hit Marvin McNutt over the middle for a 52-yard catch-and-run TD to go ahead 18-13 with 2:50 left, before failing on the ensuing two-point attempt. Indiana got the ball back and actually drove all the way to the Hawkeye 18 before Ben Chappell threw three straight incompletions. Facing fourth-and-10, Chappell seemingly hit wideout Damarlo Belcher for the game-winning touchdown, but it was ruled incomplete. The ruling was upheld following review, allowing the Hawkeyes to escape Bloomington with a far-closer-than-expected win. The Hawkeyes get another trip against a similarly feisty Northwestern squad next week, and the Wildcats have actually beaten the Hawkeyes in three of the last four seasons.
Michigan 67, Illinois 65
Where to start with a game like this? Well, Denard Robinson started it appropriately, throwing a 75-yard touchdown to Roy Roundtree on the first play from scrimmage. The Illini's Derek Dimke then hit two field goals given short fields by Michigan mistakes, and the first quarter ended at a hum-drum, typical Big Ten score of 7-6. Then, the 2nd quarter happened. The teams traded 6 touchdowns over the course of 13 minutes. Denard Robinson hit Roundtree for another score and Junior Hemingway for another, that one coming on a comeback route in which Hemingway broke a tackle, danced around a couple more and raced up the sideline for six. Nathan Scheelhaase wasn't bad himself, throwing for a touchdown and rushing for another in the frantic scoring outburst, also tossing an option pitch to tailback Jason Ford, who took it 62 yards for a score of his own. The teams then traded field goals to close the half, heading to the locker rooms with a 31-31 tie on the scoreboard.
The scoring subsided in the 3rd quarter, with Michigan adding a Mike Shaw touchdown for a tenuous 7-point lead. At some point late in the third Denard Robinson sustained an injury, throwing Tate Forcier into a tie ball game. Forcier fumbled on his first play, giving the Illini yet another short field and yet another touchdown to make it 45-38. The Force rebounded and tied the game with a scoring toss to (surprise, surprise) Roy Roundtree, the final score in regulation. 
It wouldn't take a genius to figure out this game would go into multiple overtimes, since neither defense was going to stop either offense. The teams traded touchdowns in the first two overtimes, and in the third were forced by rule to take 2-pt conversions following the inevitable scores. Michigan scored on a 1-yard Mike Shaw run in the third overtime, and the 2-point conversion on a pass to Junior Hemingway was successful. The Michigan defense could not, of course, hold the Illini out of the end zone, but on the 2-pt conversion attempt, a rare Michigan blitz got through, nearly getting a sack and forcing true freshman Scheelhaase to make an errant toss that flew out of bounds. More good news for Rich Rod, as his job is safe, for now. The Wolverines are bowl eligible and travel to Purdue next week. The hard part of the season is over for Illinois, who close the season against Minnesota, Northwestern and Fresno State, and still have a very realistic shot at 8 wins despite this heartbreaking loss. 
Penn State 35, Northwestern 21
Pat Fitzgerald's Wildcats seemed to be playing spoiler in the first half to the 400 Wins for JoePa Party against Penn State in Happy Valley, rolling out to a 21-0 lead with little resistance. It was thusly that Penn State was offered the chance of choking big time at home against another conference opponent in front of a booing, embarrassed home crowd, but this time, they politely declined. Matt McGloin directed a timely drive to close the half with a touchdown to make it 21-7. The Nits opened the second half with another scoring drive to close the gap to 21-14, and the comeback was on. The NW offense flailed, the PSU offense flourished, and before NW knew what hit them, it was 35-21. Matt McGloin threw for four touchdowns and 225 yards, a week after ripping through Michigan for 250 yards and a score. It'll be a bit of a step up for him next week, as he goes from facing the country's 117th and 99th ranked pass defenses (Michigan and NW, respectively) to the 5th, and that'll come on the road in Columbus. Northwestern, meanwhile is already bowl eligible and hosts Iowa next week.