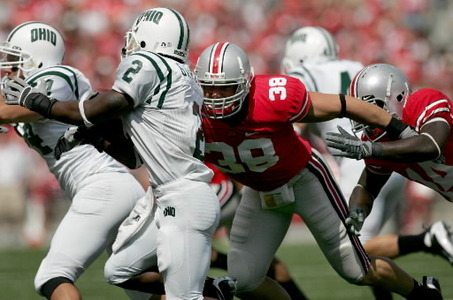 It's hard to believe, but we've already reached the midpoint in the 2010 Ohio State football season. In what seems like eons ago, in early September, we entered into this season with wild dreams of the future: Heismans, flying cars, national championships, competent running backs, entire meals in pill form, and a comforting and surely soon to be broken promise of an increased role for the tight end in the offense.
I think going into this fall most of us felt like this team was capable, but certainly not guaranteed of a shot at a championship. There were holes to be filled and questions to be answered, to be sure, but the phrase "most talented Jim Tressel team" was thrown around quite a bit. So, six games in, it's time to evaluate just how well the various offensive and defensive units have lived to to the hype given to them at the beginning of the year, starting with one of the most maligned units over the years: the offensive line.
Offensive line
Before the season even started, it became known that the OL would be tested in terms of depth due to Marcus Hall being out with some grade problems. There were also some concerns over the left tackle spot, as Mike Adams continued to be possibly the most talented member of the LT candidates, but maybe not the most motivated. In any case, the OL entered into the season with a reputation as running game road graders, but with the struggles of the running game this notion has been flipped on its head; pass protection (typically the more difficult technique for young O-linemen to learn) is where this unit has done fairly well, but even then they've allowed a staggering 13 sacks. Most of those are more on Pryor than anyone, however, and generally he has had an incredible amount of time to stay in the pocket. The next six games will be a huge test for the OL, but as of now they have done their job very well in the passing game, and perhaps not as well in the running game.
GRADE: B-
Wide Recievers and Tight Ends
Posey was the player expected to be OSU's first 1000 yard receiving threat in a long time at the beginning of the year, but instead it's been the captain, Dane Sanzenbacher, who has stepped up and become possibly the most dangerous WR on the team. Both Dane and Posey have similar stats (respectively: 27 vs 26 receptions, 411 vs 364 yards receiving), but the primary difference between the two is touchdowns. Dane has 7, three more than anyone on the team not named Terrelle Pryor. Though Posey has had some trouble with the dropsies, both him and Dane have been very, very solid and have helped Pryor immeasurably. Most people were pretty confident of the WRs' ability, but on the other hand I think the emergence of the TE in the offense was something that almost none of us expected. Hell, even I, who wrote an article saying it would happen, was pretty surprised when it actually did. But Jake Stoneburner silenced the doubters, and before he got injured he had 9 catches for 110 yards. Even after missing two games with injury he's still 4th on the team in receptions, and when he comes back he will continue to be a huge factor in the passing game. Consistency has been the word with these guys, and Pryor is extremely lucky to have them to pass to.
GRADE: A
Running Backs/Fullbacks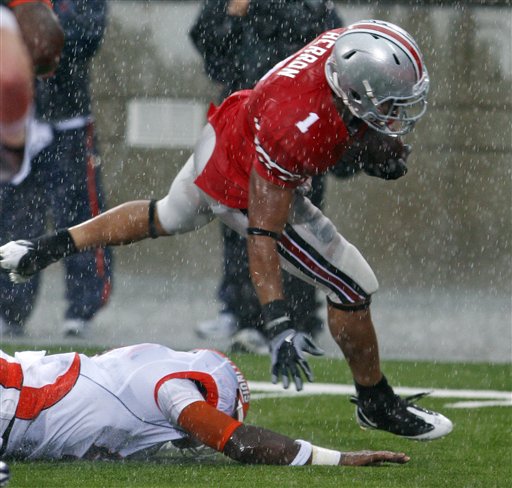 Maybe the hardest unit to evaluate, especially given how excited people were about the amount of viable backs before the season started. Brandon Saine earned top billing by having a pretty successful 2009 season (and seniorirty), but so far he has only rushed for 183 yards and 4.2 yards per carry. Take out his performance against Marshall in the first game of the year and those numbers go down to 80 yards and 2.3 ypc. Those kind of numbers would be pretty unacceptable anywhere, and at Ohio State they are almost comically bad, leading the coaches to move Saine to more of a pass catching role. Boom Herron initially started just as poorly, but I think he's shown that with consistent carries, he will improve (218 yards in the last three games, 4.6 ypc). He probably won't ever be able to be the kind of consistent running threat Tressel wants in a balanced offense, but he's a tough runner who can get yards in crunchtime and, maybe surprisingly, is the current rushing leader on the team with 355 yards. Many people have clamored for either Jamaal Berry or Jordan Hall to get more carries, and I think the coaching staff is finally starting to listen, but I also think people should be aware that neither of these guys is likely to be The Answer that everyone is looking for. For the conceivable future Pryor will remain the most effective runner on the team, and this could spell trouble, and soon, unless something changes quickly. What does raise the grade for these guys is the continued stellar play of fullback Zach Boren, who is an utter wrecking ball and maybe the most underused offensive threat on the team.
GRADE: C-
QUARTERBACKS
We got a glimpse of what this offense is like without Terrelle Pryor leading it and to say it was ugly is like saying Joey Chestnut is only kind of good at eating hot dogs. That dude will make or break the season for the entire team, and so far he has been terrific. 15 touchdowns, only 3 interceptions, 1349 passing yards, and a 68% completion rate combined with 354 rushing yards means Pryor is playing about as well as anyone could have possibly hoped so far. What really jumps out at me is his decision making, which seems to have improved immensely in the offseason, in addition to a better sense of timing. With that said, it should be noted that he played his worst game against team on the schedule as of yet, and upcoming games will determine if this new TP is here for good or if he's simply learned to beat up on the EMUs of the world. The main backups, Bauserman and Guiton, have not been terrible in garbage duty, but Bauserman did throw an ugly interception and Guiton has only one pass attempt total. If Pryor goes down for good at some point, "screwed" probably isn't a strong enough word.
GRADE: A
Defensive Line
Like the RBs, there was a lot of hype with this unit, particularly centered around one Cam Heyward. Heyward unfortunately has not had the Suh-like season we hoped he might've, and although he does have 4.5 tackles for loss, so far he's only notched a half of a sack. With that said, it would be wrong to say the d-line is doing a poor job. They're currently allowing only 78 yards rushing per game, and in the last few games have stepped up their pass rush as Nate Williams has become a force (1.5 sacks, 4 tackles for loss, 1 interception). The interior of the line remains strong, as Simon, Larimore, Goebel and Hankins will not likely be anything less than very good throughout the year. The ends need to become more consistent, especially Heyward, but despite not being as good as last year's line, the DL is anything but a liability and continue to do a good job up front.
GRADE: B+
Linebackers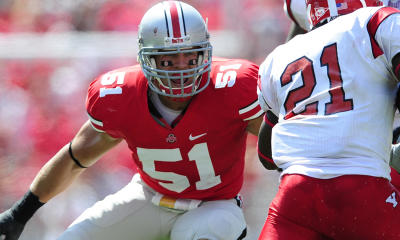 The combo of Homan and Rolle is just straight up spectacular, no bones about it. Both of these guys are smart, savy, and fast, lead the team in tackles with 37 for Homan and 30 for Rolle, and they both make tons of big plays. Andrew Sweat has also been playing well when he rotates in, and truthfully there isn't a lot to say about these guys other than they do a consistently terrific job. Rolle occasionally gets lost in the flow of the game, but that's rare. Overall this might be the most complete unit on the team.
GRADE: A
Defensive Backs
A M*A*S*H unit. So many players have gone down and dramatically changed the face of the DBs; CJ Barnett and Tyler Moeller are both out for the season, and various nicks and bruises have caused almost everyone else to miss at least some time. As a whole I think there has been more skepticism about the DBs than any other unit than the RBs, but two things need to be pointed out: this is still a group that is very, very good at taking the ball away from the other team (4 different guys have at least one interception), and despite the injuries, players have stepped up and competed when they needed to. Two very good passing attacks in the form of Miami and Indiana were more or less taken care of, and despite some lapses against lesser opponents, Christian Bryant and Jermale Hines have stepped up their games in their new increased roles. Chekwa and Torrence continue to play well, and overall I think the DBs have done remarkably well considering the losses they've had to deal with.
GRADE: B/B+
Special Teams
This one is weird. Everybody and their mother would've given these guys an F through the first three games this year due to poor coverage and blocked punts/field goals, but during the last three games the team seems to have turned things around somewhat and are allowing fewer yards per return and flying to the ball much better. In kick returns, the Buckeyes are averaging a pretty decent 26.8 yards, and a lot of this is due to Jamaal Berry, who has been electric. Another thing that has been overlooked in the hoopla surrounding the coverage problems is the very steady play of Devin Barclay, who is now 34/34 on extra points and 11/12 on field goals. The placekicking spot was a huge area of concern in the offseason, and it is pretty nice that we haven't had to worry about it. Overall, I wouldn't say that we can call the special teams "fixed," but there has been a ton of improvement in a few short games, and there's no reason to think that won't continue.
GRADE: B-
Offensive MVP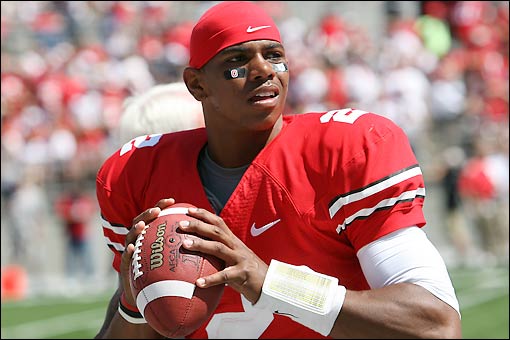 No-brainer here. Terrelle Pryor has literally accounted for 60% of the teams' total offense, 1703 yards out of 2795. He has cut down on the number of poor decisions, has displayed the ability to keep the team in games with both his feet and his arm, and showed last week against Indiana that has can be just as dangerous as a pocket passer as he can be rolling out or improvising. This year he seems to be much more mature and confident in his abilities, and if this team is going to win a national championship, it is going to be on his back.
Defensive MVP
This one is much harder. Before the season most people would've said that Heyward would have this one locked up, but that hasn't been the case. Truthfully, Tyler Moeller was probably having the best year out of anyone before he got hurt (19 tackles, an interception, a sack, 3.5 tackles for loss, 2 forced fumbles), but in his absence I think the award has to go to maybe the quietest guy on the team, Ross Homan. Homan is a rock, and exactly the kind of guy that can hold the defense together no matter what happens with the personnel. He leads the team in tackles, has a sack, an interception, a forced fumble, and 2 tackles for loss. He's smart, almost never out of position, and a terrific leader on the field. Definitely deserving of the midseason defensive MVP.