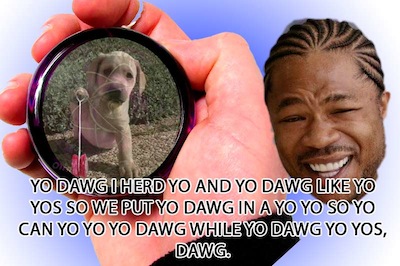 Things go up and then they come back down. Unfortunately, as has been the case the vast majority of the 2010 picking-against-the-spread college football season, things have gone down and then just sort of stayed there. Last week provided a third consecutive opportunity to swing wildly in the batting cages and get made fun of by all your friends on the slow pitch softball machine, as I finished by registering a paltry 3-5 overall week for the third consecutive week. For those keeping score at home, the season long tally is now a sub-mediocre 19-21 on the year. Ouch. What will happen next for our hero as he continues to hopelessly spin out of orbit into the oblivion? Tune in, same batsh** awful gambling performance time, same batsh** awful gambling performance channel.
National Games
#1 Alabama at #19 South Carolina (+6.5), 3:30 - CBS (HD)
Rammer Jammer Yellow Hammer, we just beat the hell out of math. Alabama exposed Florida as being the team we saw against Miami University, the first three quarters of USF, and parts of really every game except their horsewhipping of Kentucky, and catapulted themselves so firmly into first place that they actually totaled an incalculable 108 of out the 107 possible first place votes and finished with more total points than is actually mathematically possible. Good show. The OBC and his boys have had an extra week to get right for the number one team coming to town, but with still relatively uncertainty at the quarterback position (what else is new in Spurrier Land?), it's pretty unlikely they put much of a scare into the Tide unless Alabama completely sleepwalks into Columbia. Alabama beat the snot out of the spread (and firmly delivered yours truly an L last week), so we'll reciprocate by paying homage justly: 'Bama 31 - South Carolina 17.
#11 LSU at #17 Florida (-6.5), 7:30 - ESPN (HD)
A truly baffling game between a sloppy side UF and a mentally sloppy one. Both teams have worlds of talent, but have had their fair share of baffling football sludge in the early goings of 2K10. John Brantley's some level of hurt (OR IS HE?!?!) but Blue Bell ice cream HQ product Jarrett Lee is widely expected to assume the reins for LSU. I'm fully expecting an ugly, Big Ten pride worthy defensive game of sack tapping, but if you enjoy the perverse and the possibility for "Charlie Kaufman presents: LSU/Florida", you won't want to miss this one. You'll also be remiss if you don't take the Gators: go Gator 13, LSU 6.
#24 Florida State at #13 Miami (-6.5), 8:00 - ABC (HD) (Regional)
I've picked against Miami two consecutive weeks. What's to stop me now? Well, the matter of fact that they made my orange crush (and made future minor league baseball player Kyle Parker look like not much of a football quarterback) Clemson look a constant 10-points worse than them throughout last Saturday afternoon's game. In full disclosure, Mr. Jason and I have a standing gentlemanly wager on Miami's success going forward; I contest they'll still drop another contest at some point this season, but it won't be this one. While Florida State's offense should have the potential to give Randy Shannon's D some frustration, it won't be enough if Jacory Harris can minimize the turnovers and that Hurricane running game does their thing. Take the Canes, 27-20.
USC at #14 Stanford (-9.5), 8:00 - ABC (HD) (Regional)
Remember when Stanford shocked the world as 40 point underdogs stopping the then juggernaut level USC that rolled Big Ten after Big Ten teams in Rose Bowls for almost half a decade? My how the tables have turned. Lane "Hypnoderp" Kiffin leads a decimated USC secondary into the line of fire against Andrew Luck and the Stanford Cardinal. Certainly didn't seem plausible during the Walt Harris years that we'd ever be looking at a two score favored SU team, now did it? Stepfan Taylor and co. should look to get back into the physical swing of things after stumbling in the second half against Oregon. Matt Barkley will have to be almost perfect if SC is going to steal this one. While I like Stanford to ultimately prevail, I still like SC to keep this one closer than the spread would otherwise indicate. Bet Kiffykins, 24-31.
Big Ten Games
Minnesota at #22 Wisconsin (-22), 12:00 - Big Ten Network (HD)
The Battle for the Axe. The Battle for Wisconsin to buck their usual early October self-inflicted while-still-holstered pistol misfire. The Battle for Tim Brewster to say Minnesota "could be 6-0." The most experienced starting quarterback in the Big Ten (lulz) Adam Webber leads the Golden Gophers into Madison to take on Scott Tolzien and Bucky Badger. Two headed running behemoth Johnes Clite (or is it Jahn Whay?) still got theirs, putting up 178 yards and 2 TDs in the underwhelming stumble against Sparty. They even won the turnover battle 3-0, yet were outgained by almost 150 yards and lost by two scores (wtg Brolema). 22 points is an awful lot, however. While Minnesota is pretty unquestionably awful, I have a hard time not seeing Wiscy keep things more "dramatic" than perhaps on paper they need to be. Take the Brew Crew to cover, 17-35.
Illinois at Penn State (-7.5), 12:00 - ESPN2 (HD)
A week after nearly executing a fairly brilliant game plan against Ohio State (but still flustering late as it is written in the Book of Zook), the Illini take their hustle to Happy Valley to do battle with the Baby Nittany Lions. Evan Royster continues his slow dance through the 2010 season and Rob Bolden wasn't quite as immaculate as he needed to be in order to keep Penn State in last week's game against Iowa (especially with no help on the part of the feet-for-hands Lions receiving corp). Nathan "Schnounhouse" certainly showed promise against the Bucks but will have to play an even keel, mistake minimized, complete game if the Illini are to play spoilers. While this one is far more of a tossup in my mind than in that of the Vegas experts, I still imagine PSU has enough to win (and cover). PSU 21 - Illinois 10.
#15 Michigan State at #18 Michigan (-4.5), 3:30 - ABC (HD) / ESPN (HD) (Regional)
The Big Ten's game of the week, Michigan State (and back from heart surgery Coach Mark Dantonio) and the Spartans head to Ann Arbor to avoid getting Denarded against their biggest rival, the Michigan Wolverines. Robinson showed that the early season ridiculousness wasn't restricted to out-of-conference play with more magic against Indiana last week. Kirk Cousins and co., on the other hand, continued to prove that this year might be the year of Sparty with an impressive victory over Wisconsin thus keeping their unbeaten streak alive. One of these teams' season will be derailed (at least a bit) though choosing which that'll be is one of the biggest mind puzzles of the young season. I suspect Michigan prevails, but by more than a field goal? In fact, given how my gut has faired me so far, I'm intentionally going against it. Take Sparty and the points: Michigan State 31 - Michigan 24.
Purdue at Northwestern (-9.5), 7:30 - Big Ten Network (HD)
Purdue (sans Robert Marve, who's done for the season)! Nerdwestern! What should've been a potential high scoring shootout instead turns into a near double digit expected margin of victory for Fitz' 'Cats. Dan Persa has looked every bit the prototypical QB for the Wildcats' system in the early going. The former Liberty quarterback (good lord, can I think of no place more different from Liberty than NU) has completed over 79% of his passes and possesses an unheard of 184.61 QB rating through 5 games. While his intereception free streak ended two weeks back against the Chippewas, what better time to stat a new one than against an overmatched Purdue secondary? Take the Nerds -9.5, 30-14.