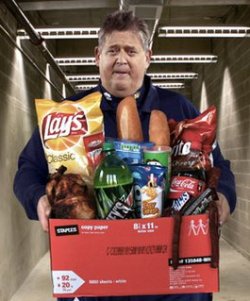 The "Double Scoop" on Fat Charlie. You've probably heard by now that Charlie Weis, the former Notre Dame head coach who used his decidedly superior offensive mind to guide the Irish to a pitiful 35-27 record during a five year tenure, recently underwent emergency gall bladder surgery.
Props, I guess, to the big fella for finding out about the need for surgery on a Friday but putting off the procedure until Monday morning so he could offensively coordinate the surprising Kansas City Chiefs 31-10 spanking of the 49ers. By all accounts, dude went through some legit pain for two days to stay with the team.
Already a medical marvel for surviving this long, the medical community was further amazed after opening up Charlie's gut and digging through the depths of his underbelly to find a gall bladder that was reported to be heavily seasoned while containing distinct grill marks. Impressive.
The Buckeye RB Conundrum. With all the debate about how Jim Tressel should distribute the carries amongst his talented backfield, yesterday's poll question asked you to give us your #1 back. Through 11pm Eastern, the 421 votes shook out like this:
Saine - 27%
Hall - 24%
Berry - 23%
Herron - 22%
(Ghost of Derek Combs - 4%)
As you can see, there's no clear cut choice amongst you crazies, which poses an interesting question - is that a good or bad thing? I mean, obviously it's great to feel like you've got depth but can't it also be viewed as an issue since none of them seized the job of "go-to back" nor are they currently regarded on a national level as truly great backs (at least not yet)? On one hand, I like having the depth allowing the position to better absorb injuries especially with the fact Pryor is still the team's most dangerous rusher. On the other, it sure is nice to have a stud tailback that you know will consistently produce and can assuredly handle 25+ carries per week. Of course, those guys don't grow on trees and even some that have elite talent can't always stay healthy.
Trick Play Timing an Issue? I personally didn't have an issue with it but these two from the News-Herald didn't think Tressel's use of a few trick plays against lowly EMU was a strong coaching move. Their obvious concern is that a "gadget play" such as Hall's pass to Pryor could've been better utilized in a tight game versus a then 45-20 cushion and now "the Badgers and the rest of the Big Ten knows the Buckeyes have a throwback pass to Pryor in their playbook."
Again, I may not agree with their thought process but I can certainly understand the argument. The element of surprise is somewhat eliminated since the play is now on film but it's still tough for me to believe that the fact its been run once before will mean opposing defenses can easily identify when it might come again. Plus, backside pursuit on plays when Pryor rolls away from the ball carrier will be slowed as defenses are reminded to key on TP's movement. What's your take - any issue with the timing of the play?
Now, the article also references other trick plays and I do take issue with that because I hardly think Boom lining up in the Wildcat or Dane taking an end around qualify as "trick plays", even in Tressel's playbook.
Illini Injury Report and Police Blotter on Swole. There's plenty of happenings with the Illini roster this week and some decisions likely won't be made until game time. Starting offensive lineman Hugh Thornton was arrested last weekend following his involvement in a bar brawl. Reports indicate he wasn't rung up for the fight but for entering the bar using someone else's ID. Thornton is practicing and Ron Zook said yesterday that he plans to meet with AD Ron Guenther to determine if Thornton will play. Better news for the Zooker is that he may get defensive lineman Michael Buchanan back during the same meeting with the AD. Buchanan was busted for DUI following the season opening loss to Mizzou. Fellow D-liner Nate Palmer is also expected back Saturday after injuring his toe during fall camp. Finally, wide receiver and backup QB Eddie McGee's sprained left ankle is healing enough to where Zook expects him to play though he's not yet been cleared medically.
Early Season Eye Catcher. One of the many great things about the first month of the college football season is seeing new faces emerge around the country. Going in, the hype is already there for guys like Pryor and Ingram but September is the time for newcomers to gain notoriety and turn some heads. Thus far, the most exciting player I've seen not sporting the Scarlet and Gray is Auburn's 6'6", 250 lb. freak QB Cameron Newton.
He's not a true newcomer in that he arrived in Gainesville back in '07 and won the backup QB job behind Tebow but during his redshirt sophomore year, he was pinched for ganking a laptop then attempting to hide it from police by throwing it out of a dorm window. It was later discovered he didn't steal the laptop but knew it was hot when he bought it from the thief. After that drama, he transferred to Blinn juco and led them to the 2009 national title. The big year, bigger size and unlimited potential made him the #1 juco prospect and he eventually signed with Auburn. He immediately took the starting job and he has blown up leading the Tigers to a 4-0 start. He's got a lot of Pryor's characteristics both physically and on the field making him an incredibly exciting player. Week one saw him rush for 171 yards and 2 TD. The following week he led a win at Mississippi State with 206 total yards and 2 TD before pacing the overtime win over Clemson with 271 total yards and 2 TD with 2 INT. Finally, last week he took over the game against South Carolina racking up 334 yards and 5 TD including a 54 yard run in the 1st quarter and 2 TD passes in the 4th quarter to secure the comeback win. Dude is fun to watch. Which non-Buckeyes have kept you tuned into a game so far this year?