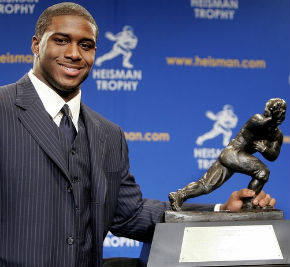 Swagger is out at Miami, but apparently not at Ohio State, writes SI.com's Stewart Mandell. Mandell believes the Buckeyes' new found attitude or "swagger" if you will can help them get over the big game hump and potentially win them a national championship this season. I do agree with him that there is a different air about this team and the attitude feels very much like the 2006 regular season. I think if the Bucks take each game one at a time they will make the MNC, but after that it is a matter of focus and execution in beating Alabama or whoever else waits in Glendale.
If you want to read more on Ohio State, Ken Gordon has some good notes from the Dispatch on Andrew Sweat beating out Etienne Sabino at SAM, Sabino's redshirt, Jordan Hall making his pitch to fix the issues at special teams, and Nick Siciliano on Terrelle Pryor's play so far this season. Ken also has some criticism about the last drive of the first half on Saturday. I think we're all left scratching our heads on why Tress didn't call a time out and are even more confused after his quotes from the presser this week. And so forth.
On a national front, Reggie Bush has decided to give back his 2005 Heisman Trophy in what is called a "selfless" move. I'm not sure what the deal is here, but I have a feeling Reggie was pressured into giving back the bronze statue on his own terms instead of eventually being forced to turn over the hardware. The Heisman Trust has decided that the award will be vacated rather than given to runner-up Vince Young, who supposedly says he is ok with the decision after earlier in the week claiming he would gladly accept the award a solid four years later. The Sports Tomato pleads a strong case of why Bush's on-field play in that 2005 season should not have anything to do with his off-the-field disgressions, and while technically he should have been ineligible to play, I agree that the school (who turned their heads) and the agents (who paid the money) should really be the ones held accountable.
Finally, speaking of Heisman winners, Mark Ingram will make his return for Alabama this weekend as the Tide contine to roll on as defending champs against the Duke Blue Devils in Durham. Ingram won't be pressured into doing too much right away, not only because Duke is well, Duke, but also because his replacement, Trent Richardson, has been absolutely outstanding. Many belive Richardson will be even better than the defending Heisman winner, and the sophomore is backing that up so far, rushing for 210 yards and 3 touchdowns on 32 carries (6.6 ypc) against San Jose State and Penn State so far this season. It will be interesting to see how Nick Saban integrates both backs and what it will do to the Alabama offense. I personally think having both back as active as possible poses a bigger threat for opponents than just having Ingram carry a majority of the load, but one thing I do know is that wil Richardson's success and Ingram's injury that Archie's record will probably be preserved for at least another year. That is until TP wraps up his second bronze statue in December of 2011.