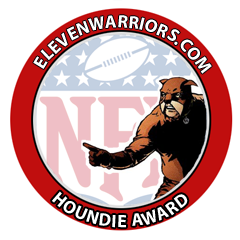 The Houndie is an award formerly known as the Buckeye NFLer of the Week.  After 2 years of existence, we searched for a catchier name, so with the help of a well placed typo and the ensuing 11W comments, the current title was created.
The defensive side of things dominated the Houndie in week 3, as injuries and Santonio's suspension still hinder progression on offense. Gonzo, Michael Jenkins, Teddy G. and Robiski are still on the shelf, but Beanie made his 2010 debut after sitting out the first 2 games with an injured knee. The team had been sketchy about his status and it was revealed this past week he had been recovering from arthroscopic knee surgery.
Beanie came off the bench and toted the rock 14 times for 75 yards, splitting time with Tim Hightower in Arizona's 24-23 win over Oakland. The Cardinals will ease Beanie back into things, but it's clear he'll be the starter within the next few weeks and if they can keep him healthy, that division looks to be up for grabs once again.
In the matchup that featured the most Buckeyes, Brian Hartline made an impressive showing with 5 catches for 84 yards and was targeted 11 times by Chad Henne in Miami's 23-31 loss to Nick Mangold and the Jets. Mangold was hampered by a bum shoulder, but was solid in leading the Jets to 400+ yards of offense and their second straight division win. After making news for riding shotgun with Braylon earlier in the week, Big Vern snuck in the box score once again with a solo stop.
Dick Lebeau and the Steelers got another win, holding Tampa to just 75 yards rushing in their 38-13 victory, with Will Allen posting his best game as a Steeler, making 4 total tackles. Trying to keep pace with a 20-7 win over Carolina, Mike Nugent of the Bengals hit both his XP and FG attempts (33, 50), while Chris Gamble recorded 3 tackles for the Panthers.
The biggest surprise thus far is the 3-0 start of Kansas City, who took down the 49ers at Camaro-head, 31-10. Mike Vrabel was credited with 2 tackles, while Nate Clements lead the disappointing Niners with 9 solo stops. Donte Whitner also paced his team in tackles during a losing effort, making 10 total tackles in Buffalo's unexpectedly close 30-38 loss to New England.  
Down in the Big Easy, Malcolm Jenkins had 5 solo stops and 2 assists, while Will Smith got his first sack of the season, to go along with 5 solo tackles and 1 assist, but the Saints went down in OT to Atlanta 24-27. Michael Jenkins began practicing again last week and might return to the field this Sunday, as the Falcons look to stay tied for the division lead.
The boys in St. Louis got their first win of the season, taking down Washington 30-16. Laurinaitis set the tone with 7 total tackles, while Diggs had a solo stop and assist, but also forced an early fumble that lead to a big return and TD two plays later. Joey Galloway didn't record any stats for Washington in the loss.
In Philadelphia, Kurt Coleman had another 2 tackles in the Eagle's 28-3 win over Jacksonville, giving him 7 in his young NFL career. And in Monday night's action, my beloved Bears took down the Packers 20-17 on a last second FG by Robbie Gould. AJ Hawk played significant minutes and was second on the team with 5 solo tackles, while Ryan Pickett didn't record any stats.
This week's decision might have been the toughest thus far in 2010, but Antoine Winfield help lead the Vikings over Detroit 24-10, in what was a must win situation for Minnesota before heading into their bye week. Still to this day one of my favorite Buckeyes of all-time, Winfield had 8 solo tackles, an assist and an INTin the end zone with just over a minute left in the game. Winfield currently sits 3rd in the NFC amongst corners with 22 tackles and after the bye week, the Vikings will take on the @Jets, Cowboys, @Green Bay and @New England.