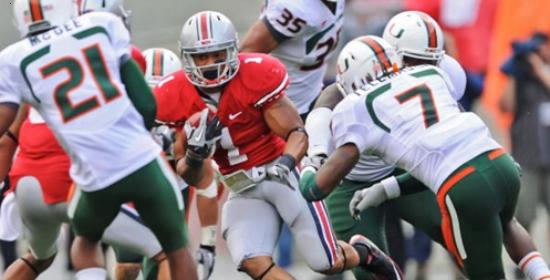 With four games in the books, the march to an undefeated season has gone to plan so far for Ohio State.   Other than special teams, it's difficult to find much to complain about at this point.  The defense is stout, the offense is scoring points in bunches and our main man under center is continuing to evolve into a very good quarterback.   But, there are always areas of improvement and one such growing concern among some is our running game. 
The angst seems to be legitimate on some levels.   While the rushing stats look positive, they are less so when you remove Terrelle Pryor from the equation.  For instance, against Ohio the running backs only had 8 of 21 carries, in the first three quarters, that gained more than three yards. Additionally, both Brandon Saine and Boom Herron are averaging less than 50 yards per game on the ground.  Even scarier, this has been accomplished against largely poor defensive teams.  These numbers draw critics, one of which is Big Ten Network anaylst Gary DiNardo.  His preference is to have a workhorse get the bulk of the carries because splitting the carries between two average backs is somehow not as good even if the overall numbers are relatively equal.   
Certainly, I think most Buckeyes would wish Boom or Zoom would distinguish themselves as the clear cut leader.  Unfortunately, that hasn't taken place yet.   In fact, an argument could be made that the clear cut leaders are the two youngsters in Jordan Hall and Jaamal Berry.   Hall brings the ability to start/stop and change directions as good as any of the backs and Berry just rips off chunks of yards almost every time he gets a carry to go along with his sprinter speed.  So, it shouldn't come as surprise some are making the case that it's time for a change insisting the younger backs are ready to be shoved to primetime.     
Whichever side you're on, there seems to be merit in both positions.  It really would be beneficial to have a back we can count on to get the tough yards and move the chains.  When we don't, the offense still produces music but with some chords of dissonance because consistency is fleeting when the back that was productive one week is inexplicably rendered hapless the next.   Plus, it's hard to ignore the turbo engines standing on the sidelines despite perhaps not having full trust of the staff or knowledge of the offense and pass protection.  
So what is the problem exactly and what should be done?  Well, the first order of business is to admit there is a problem which Tressel seems to indirectly do with this quote:
"I think (the running game) is going to be fine." 
I'm no grammar whiz but I think I have my tense down and that quote seems to suggest he's not completely thrilled with things as they stand now.   This would jive with the cacophony of recent questions bubbling to the surface about the running game from various outlets.  It would be easy and misguided to take the stance that all is fine just because we're winning and scoring points.  Yet, that doesn't take into account the loss of potential.  Thus, taking the stance that things should be better, what are the possible issues?  I whittle it down to three main areas. 
Offensive Line
The big uglies have been a whipping boy for the entire Tressel tenure.  This year's group is no different and although talented, there have been a few too many times where the line of scrimmage has moved backwards.   The running backs pick up on this and sometimes don't trust the gap the play is supposed to go through.   Still, it's not has if they are getting beat at the point of attack over and over.  A breakdown here and there is common amongst any team, top rated or not.   Many times the breakdown is simply a numbers game where there are simply more defenders than blockers which brings me to my next point. 
Playcalling Lacks Ingenuity
To be more specific, the running game may be a little too predictable.  When Ohio State lines up in a two back set (RB & FB), you can almost be assured the trusty 'Dave' play is coming.   We, as fans, know this so you can be assured the opposing staff knows it as well.  It's an easy formation for the defense to get going 'downhill', bring an extra defender (or two) in the box and attack the line of scrimmage.   The net result is either small gain or a large one.  There's usually not much middle ground.    However, the Dave play is a Buckeye staple and we need to run it a lot.  It setups up other areas of the offensive attack like the 'Fake Dave' play which has been so successful especially on third downs and when we are bleeding clock. 
Overall, I don't see the playcalling as much of an issue.   Even when the play may not work, often times it still needs to be run to setup later calls.  Checking out of the play will temporarily prevent a loss but it might also prevent a key first down pick up when we need it most.   
Talent Deficiency
Brandon Saine and Boom Herron will never been confused with Beanie Wells or even Antonio Pittman.   The latter two players could it get it done on their own with consistency.  Saine and Herron haven't shown that ability which is the most frustrating aspect to me.   And perhaps the frustration is unwarranted because maybe what we are getting from these two is all they can provide.   Both are one-cut backs with average acceleration, feet, vision and power.   Saine, in particular, has almost no wiggle and must come to a near stop in order to change direction.  He has tremendous straight line speed but below average ability to make a defender miss.  An odd collection of traits to say the least. 
Having said of all this, it would be foolish of me to totally ignore the contribution of Terrelle Pryor.  The fact of the matter is we have a quarterback who is supremely gifted at running the ball.   His prodigious talents help offset the pedestrian numbers of Saine and Herron.   He is also almost solely accountable for making the fake Dave play successful which, as we should all know by now, is a called running play intended to pick up yardage.  Who really cares it's a quarterback doing the yardage collection?  
The main issue is one I touched upon before: things could be much better.   Combine the offensive efficiency we see now with Pryor's legs and arms and match them with running backs who are doing consistent work on their own and you suddenly have an offense that is almost impossible to stop.   Teams then cannot spy Terrelle because they can't afford to give up a defender.  Teams who don't spy, then expose themselves to TP on the zone read and fake Dave.   
Keeping things status quo will probably get the job done against most of our opponents.  If you're comfortable with that, then your chips lay a little different than mine.  I'd prefer to see Boom get the starts, use Saine a bit more as a receiver and mix in the Hall and Berry more when games are still in doubt.  It's hard to ignore Hall's success in finding holes on punt return and Berry's 11.8 yard per carry.    What changes would you make, if any?