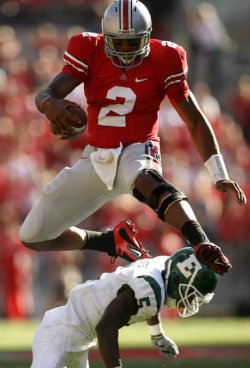 The HEartbeat
Another ho-hum performance, I'd say. Sure, it was Eastern Michigan - possibly the worst defensive team I've ever seen - but to see Terrelle Pryor once again come out blazing is just the latest reminder this isn't your average Ohio State offense. Realizing that the line won't be able to push around the top defensive lines in the country and that he's got what appears to be a fully mature Pryor at the controls, Jim Tressel seems compelled to repeatedly attack defenses with his best weapon, without mercy.
The final stat line was a little deceptive as it showed OSU throwing for 303 and rushing for 342 but in the first half, it was all Pryor, all the time. The apparent test tube creation with the fresh box top bullied EMU for 13/17 through the air, good for 164 yards and 3 TD with another 82 yards on the ground (4 carries) including a 53 yard dash to pay dirt steering the Buckeyes to a 38-14 halftime cushion. I'll do the math for you: Pryor's opening 30 minutes produced 246 of Ohio State's 306 total yards and four of their five touchdowns.
Oh, and then in third quarter Pryor trotted back out to lead the Buckeyes on a nine play, 67 yard march that saw him rush twice for 22 yards and hit 4/6 passes including his fourth TD strike of the day to Dane Sanzenbacher. That kinda had me thinking he might go ahead and call in sick the rest of the afternoon but two possessions later he was back at it slinging two straight lasers to Philly Brown and Boom Herron before himself becoming a receiver and hauling in a 20 yard TD toss from Jordan Hall - his sixth TD of the afternoon. With the score now at 52-20, Superman eventually decided to go back to the locker room, remove his cape, take a squirt and come back out to cheer on his teammates.
Again, not forgetting the opponent, this was still a day for Heisman voters and opposing teams to take notice. Not that there was ever a question that this is Pryor's team, but what keeps impressing me is how eagerly and aggressively he is putting his arms around his team. He's doing it on the field by standing in the pocket and delivering a perfectly thrown 31 yard post to Dane for a TD as a defender goes for his ankles and by stiff arming a defensive tackle to the turf on another scramble following a scan of his progressions - amongst other standout plays - plus he's doing it on the sideline staying in the ear of Kenny Guiton, cheering on his buddy Hall and screaming for the team to maintain their intensity. My, how far this kid has come.
holes in the pass defense
It's hard to be unhappy when your team wins 73-20 however the aftermath from Saturday has triggered some questions about the Silver Bullets, particulary the pass defense. The birth of the discussion came as EMU took possession for the fifth time, trailing 24-0 nearing the end of the first quarter. Starting from his own 27 yard line, QB Alex Gillett engineered a nine play, 75 yard TD drive connecting on 5/5 passes against a sieve-like defense. The notable plays on the drive started as Tyler Moeller was a little soft in coverage on a 3rd and 5 completion. After a 1st down run for no gain, Devon Torrence appeared to try and jump what he thought was a quick out route but when the receiver then cut upfield Torrence failed to look back and instead played bumper cars with the EMU receiver resulting in an easy PI call and an EMU 1st down at the OSU 48 yard line. On the next play, Gillett connected with his favorite target, tight end Ben Thayer, on a wide open quick toss to the right flat. John Simon tried to get down the line but found no help from the linebackers until Rolle and others finally converged after a 14 yard gain to the OSU 34 yard line. Gillett would further expose the linebackers on the next play when he again connected with Thayer, who found a seam down the middle after Rolle and more notably, Ross Homan, bit hard on play action, earning 20 yards to the Buckeye 14. No blaming the safeties or Pittsburgh Brown on that one. After a sack via a blitz from Jermale Hines coupled with a bull rush from Larimore backed EMU up to the OSU 21, Gillett went back to work picking on Rolle, who went into his drop with no problem but failed to rotate left as Donald Scott snagged a 19 yard reception just past Rolle's outstretched arms and in front of Hines at the 2 yard line. Dwayne Priest scored on the next play as the D went back to the bench to regroup leading 24-7. First, let me say that I have nothing but the utmost confidence in Rolle and Homan, probably ahead of any other Buckeye defenders, but they seemed most culpable for the scoring drive, not the secondary that would at first glance be deemed most responsible. What's most concerning here is that the tight end killed OSU today and that needs fixed because teams like Wisconsin and Iowa will exploit such an issue if not corrected.
Two EMU possessions later, the Buckeye D took the field up 38-7 with 4:18 left in the half. The drive started with a harmless four yard out in front of Homan setting up 2nd and 6 at the EMU 31. Rolle blitzed and just missed a sack but Gillett got off a nice throw to Kinsman Thomas who was running a post route and while Torrence had decent coverage, the perfectly thrown ball found its target, good for a 41 yard pickup. I can't say for sure what his responsibility was, but the completion seemed aided by Orhian Johnson's complete lack of anticipation. Watching the replay, Johnson initially cheated up a bit to spy a crossing route but with Gillett unleasing a throw down the middle, Johnson didn't recognize it nor back pedaled fast enough to give Torrence help over the top. Credit Gillett with a great throw but the play didn't appear to be Johnson's best effort of the day. After the next three plays chewed up 15 yards rushing, Gillett threw a 2nd and 8 incompletion that Moeller almost picked setting up 3rd and 8 from the OSU 13. The Buckeyes dialed up a linebacker blitz again but EMU had a well timed slant called and Thomas easily stepped in front of Dominic Clarke for the 13 yard TD reception. For me, the drive showed some flaws in Johnson's game and told us what we already knew, this team is thin on experience in the secondary. With Chekwa out, Clarke has to be skilled enough to anticipate a hot and/or slant route once the QB reads LB blitz exposing the middle of the field. He didn't. They scored. Not the end of the world unless Chekwa or Torrence get hurt for an extended period in a big game. Of course, right now whether or not Chekwa can stay healthy is becoming a concern I didn't anticipate.
Tip your hat to Gillett. He looked pretty good (13/22, 200yds, 2 TD) and was willing to stand in the pocket and take some shots. Unfortunately for OSU, those shots came just after the throw in many cases. Part of me wants to believe the lack of sacks (2) came as the result of quick passing while part of me is only slightly concerned that the Buckeyes don't consistently generate a heavy pass rush without the aid of a blitz. What's your take? Admittedly, that wasn't a focal point during my re-watch.
Evil Tressel behind statistical hilarity?
A couple days removed, I'm still stunned that Jim Tressel willingly scored 73 points. Pryor and the other first teamers played nearly a full three quarters capping the day with third team tailback Hall tossing a TD pass to Pryor putting the Buckeyes up 52-20. So was that Evil Tressel leaving TP in or no? I guess I'll say it wasn't ET, instead it was Gentleman Jim not wanting to remove his starting QB after a lackluster three and out on the previous drive with OSU up just 45-20 midway through the 3rd quarter. The abbreviated and/or no-huddle offense could've also been misconstrued as Evil Tressel wanting to blow up the scoreboard but I loved his postgame commentary as to why he employed the strategy:
Yeah, we thought it would be good to come in and go quick tempo. We felt we probably had more depth than they, and we thought if we could come out and really make them play fast, frequent, that it would give us an advantage. Plus I think it helps you, sometimes you're in a nonconference game and everyone's talking about maybe the challenge isn't as great as some challenges. If you're out there and you're just going, you don't have time to think about anything other than execution.
Maybe I'm overthinking it but that is a helluva coaching move. The team knows they are gonna stomp out a terrible team so as one more way to keep them focused, Tressel goes with a hurry up look to keep the offense on their executional toes.
Also, you can't fault the staff for calling pass plays with Bauserman as late as the beginning of the 4th quarter because we all know the kid needs excessive work plus Ron English was still throwing the ball at will. Lastly, it wasn't Tressel's fault his 4th string tailback got loose for a 67 yard score to make it 66-20 midway through the 4th quarter. Some hilarious notes from the beatdown:
The 73 points were the most since an 83-21 shucking of Iowa back in 1950 and OSU's most ever under Tressel. 
OSU held EMU to 40 yards rushing on 1.4 per carry while the Buckeyes rushed for 342 yards on 8.3 per carry.
Devin Barclay nailed all 10 extra points and threw in a FG taboot.
Ten different Buckeyes ran it, 12 different Buckeyes caught it, three different Buckeyes threw it.
Punts: EMU 10, OSU 1
OSU Redzone: 7 trips, 7 TD
Great dane
How 'bout Dane Sanzenbacher? The senior co-captain had a career day hauling in nine passes for 108 yards including 4 TD in a record setting afternoon. The classy Toledo native's 4 TD catches tied the school's single-game TD reception record (Terry Glenn '95, Bob Grimes '52) and showcased his value to an attack hitting its stride through the air.
After grabbing 36 balls for 570 yards and six TD a year ago, Dane is on pace to demolish those numbers. Through four games, Sanzenbacher is OSU's leading receiver with 20 receptions, 316 yards and 5 TD, good for 79 yards receiving per game and a 15.8 average per catch.
His value to Pryor hinges largely on the fact that he runs precise routes and is not afraid to come across the middle which, now that Pryor goes through progressions, means Dane catches his eyesight more frequently. Pryor's take on Sanz:
"He's a slick little sneaky guy. He's sharp at route-running. He reminds me a lot of Brian Hartline and Anthony Gonzalez. He runs very pure and perfect routes. Me and him and most of the guys are on the same page, but I really have a connection with Dane because I understand his routes and how he's running it. And I understand DeVier as well. It's a blessing to have those two guys with me."
dirty hit? Nope. Just Dirty protection
Due to my hate for virtually everything Michigan not named Derek Jeter, I first thought EMU defensive end Brad Ohrman's diving hit into the lower left leg of Pryor just as he connected wth Sanzenbacher for a 31 yard TD to make it 14-0 was dirty. It wasn't. Watching the replay, the problem was that Mike Adams got abused by Ohrman as he went with a basic upfield rush before cutting back inside. Adams could do nothing but watch as his man beat him with the most standard of pass rush moves. Adams took two backward jab steps to the left before getting beat and giving up on the play. Ohrman, maybe surprised at the lack of resistance, lost his balance and stumbled toward Pryor before diving into his lower left leg and for a split second I was scared to death that after showing Dane celebrate six, the camera would pan back to Pryor holding his ankle in agony. I've been reading it from tons of respected sources lately but I've yet to reserve a seat on the Adams-has-turned-the-corner bandwagon.