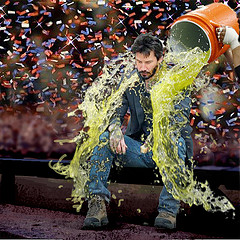 College football's irrational grips on our hearts and minds has reached its fourth week, thus qualifying it as a physical dependency. The first step in recovery at this point is punching anyone in the face who dare asserts you have a problem. Speaking of problems, the weekly ode du jour to Gamblor rages on, coming off the season's most paltry offering to date. 3-5 for a week marks my worst showing in the now nearly a year we've done this little blind dart throwing contest. The only solution? Trying to outfail myself yet again. 13-11 on the season is just barely greater than 50/50 (durr hurr MATH!!1!), so it's up to yours truly to destroy any credibility I once had further by getting things squarely under the neutrality mark. En garde, Week 4.
National Games
#19. Miami at Pitt (+3.5) 7:30 (Thursday) - ESPN
The U looks to bounce back from their special teams moral victory against Ohio State by traveling to pick to take on the Wannstache's plucky Panthers. Dion Lewis looks to run all over the Miami 2010 hopes and dreams while Jacory Harris looks to lead the suspender revolution another step towards greatness. Miami enters this puppy as the more talented and higher ranked side, while Pitt plays in their cavernous home stadium looking to get their BCS aspirations back in full gear. This one is almost a tossup in my mind, so in the face of failure, I'll go all in and give the victory to the Panthers outright 20-17.
#1. Alabama at #10. Arkansas (+7) 3:30 - CBS
The marquee matchup of the week, Unkie Verne (and turncoat ABC Big Ten coverage ex-pat turned bitter second cousin Gary) call the action as the defending national champs face their first for reals offense of the young season. The question as always will likely come down to Bobby Petrino's complete question mark of a defense. Can they curtail Alabama's vaunted rushing attack? The Razorback's best bet may to be to turn this thing into a track meet and see if they can simply outscore the Crimson Tide. Despite every fiber in my being wishing to will the upset, I've got a feeling this turns into the ol' #1 rolls into town amidst high expectations and rolls (tide. get it? /showsselfout): Alabama 37-24.
#13. Stanford at Notre Dame (+4.5) 3:30 - NBC
Brian Kelly may soon fine that's it's challenging to have 600 page odes to his greatness published after a 1-3 start if everything goes according to form against the Cardinal. Potential Heisman contender Andrew Luck, Jim Harbaugh, and Stanford head to South Bend to keep the Irish's defense on their toes in the battle for the Legends trophy (*snickers*). Dayne Crist will have to be at his absolute crispest and the Fighting Irish D will have to show up in the most of un-Brian Kelly Cincinnati-era ways if the Irish are to put their record at 2-2 on the 2010 season. While I'd love to crown Stanford, the Cardinal hit their first road trip block of 2K10, and fall at on the road 27-21.
#8. Oklahoma at Cincinnati (+13.5) 6:00 - ESPN2
A game listed solely for the thought that "Ohio's BCS Team TM" may start off 1-3, Butch "Krag 1N1 2.0" Jones hosts the Oklahoma Sooners. OU, coming off a surprisingly close call against the United States Air Force Academy, will be looking for blood (and style points more realistically) as the Bearcats just seek to save face. Zach Collaros will have to play less like Original Steubenville Pizza (see: Lunchables) and more like Adriatico's if UC will be able to keep this one close. Expect Landry Jones and OU to be too much too often as they cruise to a 35-20 W.
Oregon State at #5. Boise State (-17.5) 7:00 - ABC
As polarizing a game as they come, BCS darlings Boise State hosts Oregon State (and the traditionalists living vicariously through them). Oregon State looks to get in a bluish state of mind, having accepted an anonymous donation to the tune of $11,000 to paint one of their practice fields blue in anticipation for heading to the Smurf Turf. Boise State will simply look to keep the same rhythm going that's won them a silly amount of football games in the last 5-6 years. Heisman contender Kellen Moore and the Broncos offense will seek to do what TCU and Andy Dalton were unable to through the air against a hardly elite Beaver secondary. If the Beavers are able to get Jacquizz Rodgers rolling, this could be a contest, but expect Boise to win (though not cover) 28-17.
Big Ten GAMES
Bowling Green at Michigan (-25.5) 12:00 - ESPN2
The Clawfense seeks the ultimate prize as it descends upon the key janglin' Big House and Rich Rod's house of cards Wolverines. Denard Robinson will continue to tote the ball way too many times though probably won't need to against the Falcons. BGSU may not be able to take care of the battered and bruised UM secondary with Matt Schliz (one letter removed from being 'real gusto') having thrown four picks through their first three games. while the noise levels probably won't intidimate the Falcons much, expect UM's 3-stars to outlast BGSU's 2 as the Wolverines win 38-14.
Toledo at Purdue (-11.5) 12:300 - Big Ten Network
In one corner, we have a mustache. In the other, a former Ohio State secondary coach. Both secondaries have been known to give up points a plenty, plus Purdue sure has found ways to make MAC games feel closer than they should of late. It seems once a year, some MAC team swings the upset over a Big Ten side. Could this be the Rockets' year? With Robert Marve banged up, it might be a possibility, but expect Purdue Pete and co. to be too much for Beckman's bunch 20-7.
Temple at Penn State (-13.5) 3:30 - Big Ten Network
A potential upset in Happy Valley? Al Golden, perhaps in the short list for future successor to Joe Paterno, takes an undefeated Temple group to State College to take on true frosh QB Rob Bolden and the Nittany Lions. Evan Royster's long stretch in the witness protection program continued last week against Kent State, but he'll have to be more involved if PSU wants to control this one authoritatively. Temple QB Chester Stewart (who sounds more like a 1940's film star) has been mistake free in the early going, completing nearly 62% of his passes and throwing no picks in Temple's first three games. He'll have to continue embracing the efficient game manager role if Temple wants to escape with their biggest upset since Virginia Tech in 98. While a large part of me would want nothing more than to cap Saturday afternoon off with a delicious glass of Nittany fail, PSU's too much (though miss the cover) 17-6.