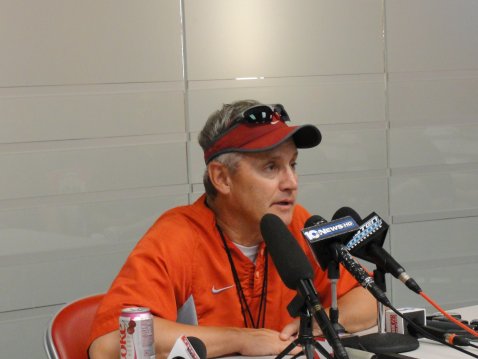 Saturday's jersey scrimmage pitted the offense versus the defense in a battle of wills that saw the offense come out on top on a gray day in Ohio Stadium, 53-48. None of that actually means anything, but as Chris and I sat in the stands we did learn several things about the team as it goes forward with camp. And with less than two weeks (!) before the first game, it is about damn time to start figuring out some certainties. We'll do a position by position breakdown to let you know what all is going on with each unit, and how they performed in the jersey scrimmage, along with some quotes by the players and Tressel in the media session following the practice, starting with the we all pretend not to worry about until the season actually starts and then we all go crazy, the quarterbacks.
Quarterbacks
Pryor's day throwing the ball was something of a mixed bag, as he made some poor decisions and but later also some terrific throws. Tressel would later say acknowledge that the black no-contact jersey that TP is forced to wear during camp "...is a nuisance" for him, but does not frustrate him per se. Which I agree with to an extent, but while discouraging Pryor to leave the pocket may force him to do more quarterbacky things like go through all of his reads and so on, it's also clear that there were several balls that he threw when he would've ran instead, if given the chance. This led to a few poorly thrown passes from his back foot.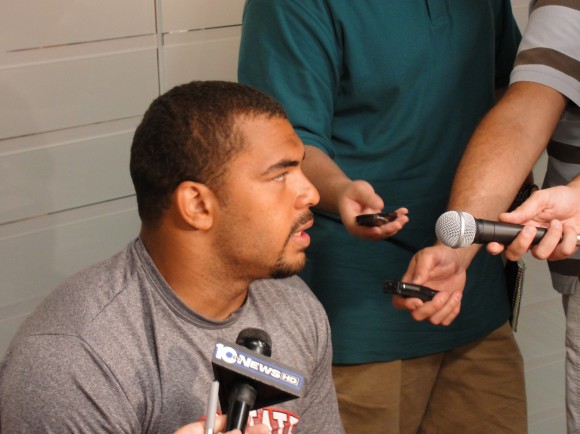 As far as the backups go, Bauserman looked about as average as he normally does. Kenny Guiton looked good again, with nice zip on his passes and good decisions on when to take off, and Taylor Graham also had some nice throws as well. Overall, I think Pryor still needs to shake some cobwebs out with live ball, and we probably won't get a real gauge on how much he can do until the Marshall game.
Receivers/Tight Ends
Sanzenbacher was out with an apparent minor shoulder malfunction (which a few days of grit and heart and other words they use to describe smallish football players should be able to fix), so the youth movement at WR was on. Corey "Philly" Brown was given a lot of love by both the players and Tressel after the game, with the Vest saying that he'll end up being a great player. Don't be surprised to see Corey as the 3rd WR if Taurian Washington doesn't look good in live ball; Tressel would later say that T-Wash has had a "solid preseason" but did acknowledge his propensity for the dropsies. Posey remained his beastly self, bailing out Pryor on a spectacular grab of an underthrown ball. Stoneburner also had an excellent catch right near the goal line with two defenders near him. However, like the QB situation, it is going to be hard to tell how good these guys can be until the regular season really gets going.
Running Backs/Fullbacks
All of the RBs had some terrific plays both on the ground and in the receiving game today. Boom Herron is still living up to his name  and laying the wood on defenders, including on a 19 yard run up the gut taken from Pryor under center and a nice screen pass later on. Saine had a few nice catches as well, but the two guys who really stood out were Jaamal Berry and Jordan Hall.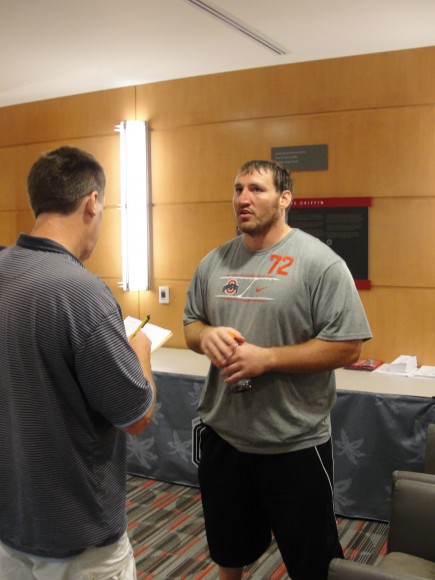 Both are smaller backs, but both also looked very tough and shifty running up the gut and on the edges. It's harder to tell if their success was due to playing against the 2s and 3s, but both looked very good.
Offensive Line
Mike Adams seems to have the left tackle spot sewn up at this point, which is good because a little line consistency might help lessen the loss of Marcus Hall for the year, due to some unspecified schoolwork issues. Both Boren and Browning said he was taking it well considering, although according to Boren his loss "definitely hurts." However, Boren and Tressel were both impressed with the play of Freshman Andrew Norwell, saying there was an excellent chance that he sees the field this year. Boren also acknowledged some pass protection issues that the line had, but vowed that they would be worked out.
Defensive Line
The loss of Nate Williams is a big one, but Tressel did say that Nate was probable for the opener against Marshall, which is a relief. However, a surprising (and incredibly disruptive) Andrew Sweat appeared to take up Nate's Thad Gibson-esque role just fine in relief, and earned high praise from the other players. The defensive line as a whole looked very good against the run, and the first string appeared to have quite a bit of trouble getting anything going against the inside tandem of Simon and Heyward. The pass rush might still need some work, but hopefully the return of Williams might help with that a bit.
Linebackers
No real surprises or changes here, Brian Rolle and Ross Homan are locked in, along with Sabino and Sweat offering up a supporting role. There had been rumors earlier in the year that Sweat might end up being a redshirt if he lost out to Sabino (which I stupidly bought into), and Tressel seemed a little indignant at that suggestion, saying that Sweat is simply "too good to redshirt." Either way, this is a supremely solid unit and they will do exactly what we've come to expect out of OSU linebacking corps. No concerns here whatsoever.
Safeties/Defensive Backs
This one is interesting, because both Chekwa and Torrence were sidelined with minor injuries (a hammy for Chek), so some of the younger guys were rotating in their places. The "other" Corey Brown was active, and Dominic Clarke had an incredible diving pass breakup on Chris Fields.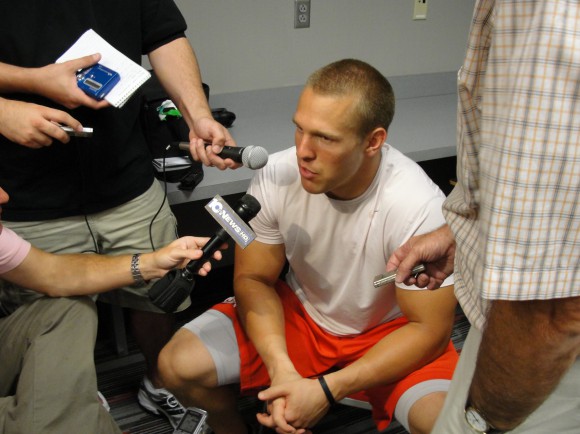 Overall though, the cornerbacks weren't particularly evident, which I'm going to take as a good thing. Orhian Johnson, a safety candidate, had a nice pick in the redzone, but the safeties were much like the other DBs in that they didn't seem to have as much of an impact as the LBs and the D-Line. I have zero problem with this though, because that's more or less how it went last year. As long as these guys can stay disciplined and stick to their assignments (which they should be able to do because they are FAST), we should be okay here.
Special Teams
The kicking battle is still ongoing with no clear leader at this point, but as I've pointed out before I think we'll be fine with either Barclay or Basil. Both have huge legs, although neither can hit that 58 yarder Tress keeps having them try. Tressel said that he expects Saine and T-Wash (edit: my mistake, it's Boom, Saine, and Berry and the addition of Dane and Posey for punts) to be on kickoffs and Jordan Hall and Philly Brown to be on punts, which seems like it will work well as all of those guys are fast as hell. Coverage still seems iffy but hopefully they can get their act together before the season starts. Notes
The double secret practice in Xenia yesterday was something of a history trip, as Tressel wanted to expound a bit on the status of Ohio State as a land grant college. The practice was even held on the site of the Ohio Soldier's and Sailor's Orphans Home. Pretty cool.
Tressel said that one of the main priorities for the next week was getting the team close to 100% healthy, which is something I can definitely get behind as many of the dudes had at least one or two things that were bothering them a bit (Cam with the shoulder, Homan and Chekwa with hammy issues, etc). Nothing major, but  it'd be nice to get everyone feeling good.
Devon Torrence said the fastest guys on the team were probably Philly Brown, James Jackson, Pryor, and Brandon Saine.
Devon also had some interesting ideas about the Michigan game being moved, saying that he doesn't think it would hurt the intensity of the rivalry, and also that in terms of scheduling we should "maybe do both," as in, alternate middle of season and end of season every other year. This is actually a pretty good idea I think, if worst comes to worst.