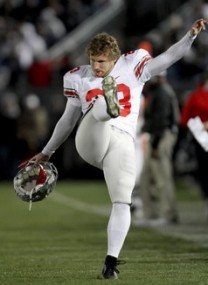 To the casual fan, special teams is an overlooked byproduct sandwiched between the good stuff, like scoring touchdowns and recording sacks. But to the diehards and coaches, it's often the microscopic difference between winning and losing because it encompasses so much more than kicking and punting. No one understands this better than Jim Tressel who will emphasize a rebound of sorts after a poor season that featured inconsistency more than reliability. The spotlight for any special teams unit begins with the kicking game. Devin Barclay is the odds on favorite to win the job after getting plenty of action last year when Aaron Pettrey was bit by the injury bug. Barclay continues the recent trend first established by Ryan Pretorius a few years back of players in their mid to late 20s who discovered place kicking as a new career. Despite being a former MLS soccer player, Barclay didn't show a very powerful leg last year as he struggled from distance. He was 7 of 10 on the year with a long of 39, which happened to come at a most opportune time - in overtime to beat Iowa.
Unit Eligibility (PK/P/LS)

| | |
| --- | --- |
| SR | Barclay, McQuaide |
| JR | N/A |
| SO | Buchanan, Erwin, Dornbrook |
| FR | Basil, Doup, Makridis, Piening |
There is at least one formadible challenger. Barclay is getting a legitimate push from true freshman Drew Basil, who prepped at Chillicothe High School. Known for having a big leg, there's been some scuttlebutt that Basil will handle kickoff duties and longer field goals. Plus, he's had an excellent August camp, closing the ground on Barclay and making life miserable for coaches to name a starter. In the end, though, I think Barclay wins the spot. He has devoted himself in the offseason to improving his distance and we have seen the effects already in the scrimmages where he's shown range beyond 50, which is very encouraging. Eliminating the kicking rotation based on distance should be a top goal for the staff provided one of the kickers clearly emerges. Where there won't be a rotation is at punter. Ben Buchanan has wrapped up the job by default and performance. Much like Barclay, we know a little about Buchanan already, having punted four times last year for nearly 43 yards a pop. He spent the offseason under the tuttleage of former Buckeye kicker, Tim Williams, where they worked on a two step delivery to minimize any potential for blocks. Buchanan seems to have a very strong leg but doesn't hit it solidily everytime just yet. Having that punter to flip the field when the offense stalls deep in our own territory would be a nice luxury.
Unit Eligibility (Returners)

| | |
| --- | --- |
| SR | Saine, Sanzenbacher, Washington, Torrence |
| JR | Posey, Herron |
| SO | Hall |
| FR | Berry, "Philly" Brown |
A major link in both the kicking and punting game is senior longsnapper extraordiaire, Jake McQuaide. A lot of previews don't talk about longsnapping but it's one of my favorite things to watch on special teams. Having a poor longsnapper is worse than having a poor punter because the problems result in more severe consequences. Ohio State has been fortunate to have great longsnappers in the recent past with Kyle Andrews, Drew Norman and now McQuaide. For the stopwatchers out there, the Buckeyes have a goal of snap-to-punt of 1.8 seconds or less.   The flight time, which is from snap-to-catch, should be less than 0.7 seconds (for FGs, it's even less). Couple this with a two step punt technique, it makes for blocking one our punts very difficult. It also can allow the staff to edge up the punter closer the line of scrimmage should they dare. We did this quite a bit back in 2002 & 2003 where the normal 15 yard drop was shortened to 13 on occasion. While we might have been able to stomach the kicking and punting performances last year, the coverage units were downright nauseating. The early part of the season didn't necessarily reveal the flaws but the stretch run most assuredly did with Iowa and Oregon both doing major damage. In both contests, the final outcome shouldn't have been nearly as close if it weren't for those hidden yards. Some of the problems had to do with improper kick and punt placement which sabotaged the coverage team's tactics. Tressel and staff have vowed to work on this during the offseason but also potentially helping the situation could be Basil's leg. If he earns the kickoff duties, then first order of business would be forcing as many touchbacks as possible. An old Chinese proverb says, the best way to minimize big returns is to not allow one at all.
Torch a Dumpster If
Place kicking is so good there's no need for a rotation of any kind. Punting forces an abnormally high number of fair catches and coverage teams return to form.
Avoid Sharp Objects If
The staff has no choice but to rotate kickers. Punts resemble shanks and ducks. Coverage teams continue last year's horrible trend. We lose longsnapper Jake McQuaide to injury.
One way to offset any issues with your coverage is to return the favor to the opposition. In year's past, it has basically been Ray Small doing damage in both punt and kick returns. For all his problems, Small scored on special teams each of the last two years and his departure opens an opportunity for a new player to make a mark. We'll likely see Brandon Saine and Boom Herron handling the kickoff return duties, at least early on. I can envision Jaamal Berry and Jordan Hall getting a shot as the season progresses especially if one of Zoom or Boom establishes himself as the main running back. On the punt return side of the equation, any number of players could be called upon. The leading candidates at this point appear to be Devier Posey and Dane Sanzenbacker. In other words, reliabililty. Devon Torrence did a decent job during the spring game but that experiment isn't likely to carry on the field during the season. If there's one player to watch out for in both punt and kick returns, it's Corey "Philly" Brown. He has been singled out a few times by players and coaches as a guy who has a major burst. As cliche as it may be, the difference between 'another' 10-2 type season and being in the national title game could very well be special teams. Outside of place kicking, the team didn't fare any better than 41st nationally in any of the major special teams categories last year. New faces dot the roster but that may be just what the team needs.