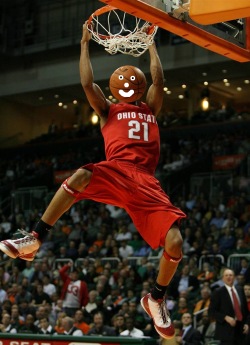 As expected, Evan Turner was just selected with the #2 pick in the 2010 NBA Draft by the Philadelphia 76ers.
The versatile kid who evolved into one of the top five basketball Buckeyes of all time will team with 20 year old Jrue Holiday to form an extremely young but talented Philly backcourt.
It was an absolute pleasure watching The Villain grow from being a slender and sometimes timid turnover machine into a versatile game changing player not afraid to take and make the big shot. Even better, he proved to be an all-star caliber person and teammate along the way and we should all thank him for how amazingly well he represented the university.
What do you think about the pick - was Turner your clear cut #2 choice behind John Wall? Further, how do you see Turner's pro career panning out?