Though we don't know for certain if the Big Ten will stop at 12 or add two to four more teams to the fold, we can be fairly confident that a championship game will be in place by 2011 when Nebraska begins league play. When Jim Delany publicly admits to presuming something, that something is on its way. This is the first in at least a one-part series examining the considerations and consequences of creating a football championship game in the Big Ten.
When the Big Ten moves to implement a conference championship game for football, choosing a host will be at the top of the list of things to do. Not only must the league find a venue that meets geography, capacity and climate requirements, but it needs to immediately begin formulating a strategy on whether the event should rotate locations or bunker down in one spot, like the SEC has done with Atlanta. If you are going to rotate between several cities, you don't necessarily have to hit a home run with the first pick. It just has to be one of the top three or four natural candidates.
The Big 12 used five different stadiums during the first seven years of their championship, but recently announced Jerryworld would remain the host through 2013. At the time of the extension, conference commissioner Dan Beebe went on record saying the anchoring of the SEC Championship game to Atlanta had created a situation in which 30,000 to 40,000 fans would show up for the game regardless of who was playing. Beebe, the Muhammad Saeed al-Sahhaf of the Great Plains, might have been exaggerating just a bit, but I do think there's some truth in that statement.
If the Big Ten wants to anchor the game to a particular city and stadium, they won't repeat the SEC's Legion Field experiment and the first host will reflect that. Weather conditions will also be a factor. Early December in the Midwest can get chilly, but by no means is it too cold for football. Heavy snow, however, could be a problem. The crying will be fierce once the first unbeaten and top-ranked team is upset by an 8-4 opponent due to 15" of snow. The conference will want to be authentic, but won't let that need drive the process. So, who are the top candidates? Let's take a look.
Lucas Oil Stadium - Indianapolis
Though not the region's largest city, Indianapolis is a powerhouse when it comes to hosting major sporting events. The Final Four just passed through Conseco Fieldhouse Lucas Oil Stadium, the Super Bowl is on the way and every February, the NFL Combine comes to town. The city has already thrown its hat into the ring. We Like It
Finished in 2008, the stadium is brand spankin' new and is packed with amenities like outdoor plazas, 137 luxury suites, escalators, 160 concession stands and 1,400 toilet fixtures.
The retractable roof -- the only one amongst venues under consideration -- means the league can have the best of both worlds. If temperature (must be 40° or warmer for NFL games) and precipitation levels cooperate, the game can be played in the elements. Otherwise, the roof is closed and the game takes place in a dry and heated environment.
Outside of Chicago, Indy is the best fit from a geography angle. For Buckeye fans in Columbus, it's a quick three-hour road trip.
There are plenty of hotel rooms and activities to keep fans busy in downtown Indianapolis.
Indy has experience handling large sporting events and if Notre Dame hitches up to the Big Ten, AD Jack Swarbrick's ties to the Indiana Sports Corp. (chairman from 1992-2001) could help the city land the event.
Eh... Not So Much
The baseline seating capacity for Lucas Oil Stadium is only 63,000. 7,000 seats are to be added for Super Bowl XLVI in 2012, and that will likely be a requirement for the Big Ten Championship.
In 2009, the stadium's restaurants and concession stands were hit with health code violations for mouse droppings, live mice, contaminated food and other scary shit.
The realization that you're in Indiana after the game has finished.
Soldier Field - Chicago
If the conference wants to anchor the game to a regional capital, like the SEC, and also play up the "football weather" angle, Soldier Field is a no-brainer. It's Chicago and December, so anything can happen, but highs typically hover in the low thirties to low forties -- by no means too cold. Just in case, there are 30,000 bars in town to help you warm up if needed. We Like It
With the addition of Nebraska, the geographic center of the league now sits just south of the Gary/Chicago International Airport, 30 miles southeast of Soldier Field.
The travel options are among the best of any American city: O'Hare and Midway airports, Amtrak, regional rail and subways all help to get people in, out and around the city.
85,000 hotel rooms help service over 25 million annual visitors. There are plenty of places to stay and plenty of things to do before and after the football game. Did I mention the 30,000 bars?
Beyond fielding eight NFL games every year, Soldier Field has handled more than its share of hyped events, most notably the 1994 FIFA World Cup.
The stadium has a college football history. The 1926 Army/Navy game was held in front of 100,000 fans at Soldier Field and up until 1976 the College All-Star Game was held there.
Eh... Not So Much
Soldier Field is the smallest stadium in the NFL, seating just 61,000. Expanding likely wouldn't even be an option as the Park District-controlled venue is always a political hot potato in town.
The game would be played outdoors on Lake Michigan. While this would satisfy the die-hards, the first juggernaut to go down to a double-digit underdog because of ice or snow will invariably lead to an outcry to move the game indoors.
Delays at O'Hare will eat at your soul.
Should Northwestern ever earn a berth, all of the wealthy alumni that wouldn't be caught dead at Ryan Field will gobble up tickets, driving up prices.
Ford Field - Detroit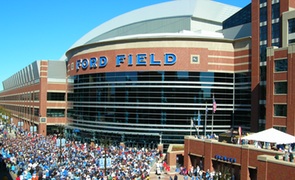 Detroit's Ford Field has hosted a Super Bowl, Final Four and Frozen Four in its brief existence and is a logical choice for consideration to hold a Big Ten Championship. Like the folks in Indianapolis, they are also already interested in hosting the event in 2011. We Like It
Built in 2000, Ford Field features sky boxes and other niceties found in similar new stadiums. Skylights and large windows allow large amounts of natural light to flow in.
The stadium roof means weather will not be a factor.
Venue and staff has experience hosting large events: Super Bowl XL, Wrestlemania 23, the Final Four, etc.
City might earn sympathy from the Big Ten.
You can walk to casinos after the game.
Eh... Not So Much
Chance that stench of Matt Millen may not be completely free of building.
Won't satisfy fans' desire to see the game held outdoors.
Ford Field is in Detroit.
With Ann Arbor just 43 miles away, fans of opposing teams will be subjected to keys being rattled in their face should the Wolverines earn a berth.
Wildcards
Cleveland Browns Stadium (Cleveland): Like Indianapolis and Detroit, Cleveland wants to host the game. With only one Big Ten team in Ohio, it may be a hard sell, but the location would suit Buckeye fans the best.
Edward Jones Dome (St. Louis): Provides a controlled environment, taking weather out of the equation, but might be a little too far west for the league to consider. If Missouri miracles its way into the Big Ten, its chances improve.
Metrodome (Minneapolis): The final domed stadium within the conference footprint would have to be a consideration. However, it should earn automatic disqualification for handing over naming rights to the Mall of America.
Heinz Field (Pittsburgh): The Steelers have proven cold weather football viewing can be fun and it's a newish venue, but it likely won't be considered unless/until Pittsburgh is admitted to the Big Ten.
Longshots
Lambeau Field (Green Bay): For the fun-factor, Lambeau can't be topped and with a capacity of over 79,000 the size requirement is easily met. However, travel to Green Bay can be a chore and while it might fulfill the need to have a cold weather game, this might be pushing it.
Wrigley Field (Chicago): The Friendly Confines will host Northwestern-Illinois this fall and the venue would be another 10.0 in the fun/nostalgia department. The football capacity (46,000) and old-school amenities raise some concerns, though.
As you can see, there are many good options for stadiums to host the inaugural Big Ten Championship game. Whether the conference goes long-term with one of them or spreads the love around will be worth watching over the next few months.