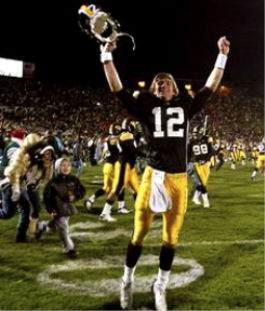 As we begin the countdown to September 2, it's never too early to take an early look at the competition the Buckeyes will be facing in the Big Ten this upcoming year. As we march towards the summer months, better known as the "dead period" in college athletics, we'll start to break down the best of the Big Ten, unit by unit, so that you have ample time to learn the players who stand in the way of the Buckeyes this year as they make their run to a 2010 National Championship. What better place to start than the quarterback position, where legends are made with success and public humiliation is often accompanied with failure. It is a position that is extremely important at Ohio State, as Jim Tressel once told a young recruit
"the two most important people in Ohio are the governor and the quarterback for Ohio State".
With masterful quarterback play, teams can dominate on the offensive side of the ball, a la OSU in 2006 before the MNC game. Coaches are more willing to open up their playbooks with a good signal caller and the rest of the players on the unit feed off their quarterback's confidence when things are going right. On defense, stop an opposing quarterback and the chance of winning the game is better, but let him pick you apart using all his weapons (see: Oregon), and victory is a mere glimmer of hope. The quarterback position can make or break the fate of many of the teams in the Big Ten this upcoming season, so why not start ranking the units from 11 to 1:
11. Indiana
Ben Chappell returns for the Hoosiers, who went 4-8 last year, leaving Bill Lynch on the hot seat in Bloomington for 2010. Lynch's senior signal caller enters this year coming off a 2009 season in which he showed decent growth, throwing for 2,941 yards and 17 touchdowns, but displayed faulty decision making with 15 interceptions. If Chappell were on another team he might have better results in his senior year, but with the Hoosiers' supporting cast, and the loss of his best lineman in Rodger Saffold, I think it will be another up and down season for Chappell and the Crimson and Cream faithful.
10. Northwestern
Dan Persa follows Mike Kafka as the man behind center in the Wildcats' spread attack and received limited playing time last season. In mop-up time in nine games, Persa threw for 221 yards on 20-34 passing with two touchdowns and two picks. He showed that Northwestern ability to scoot it from the shotgun, rushing for 167 yards, and his ability to run and pass should continue to give Pat Fitzgerald's team the same look they've had the past two seasons. Persa and NU could be a surprise this fall, but the unknown leaves them at the bottom of the rankings for now.
9. Illinois
The Eddie McGee era was supposed to begin this season upon Juice Williams' departure, but he's been converted to wide receiver, leaving competition for the starting to be left to Jacob Charest, Nathan Scheelhasse, and freshman Chandler Whittmer. Whittmer is
apparently trailing the two
"veterans", with the belief that
Charest
Scheelhaase is the frontrunner to win the job. Scheelhaase has yet to take a collegiate snap, but the red-shirt frosh shows great promise, as he was recruited by Iowa, Missouri, and Oklahoma coming out of high school in 2009. A tremendous spring performance helped him get a leg up on Charest heading into the summer. The 6-4/220 Charest threw for 382 yards and two touchdowns against two interceptions on 28-56 passing last season, but showed solid poise behind center and the Illini offense actually looked functional with him at the helm. He is looking the second string job right now, but provides a very solid back-up option for the Illini. Either player will give a more formidable passing attack to the Orange Crush this upcoming year, and don't be surprised to see McGee pop back in behind center to add an electrifying wildcat element to the Zooker's offense.
8. Penn State
This is an interesting situation as the Nittany Lion quarterback position has been known going into a season for at least the last 5-6 years. This year is unique, as it will be a
three-man race
to see who gets to run Jay-Pa's Spread HD attack this year. Former Buckeye target, Kevin Newsome, should be the man to get the snaps come opening week, but Matt McGloin and early enrollee Paul Jones are making him sweat it out. No matter who the victor is, they will face a tough test in week two against the defending national champs and the battle for consistency at the position will likely carry on throughout the majority of this season. The future is not now for Penn State at quarterback and the team is likely to rely on Evan Royster to carry them to a respectable 2010 campaign.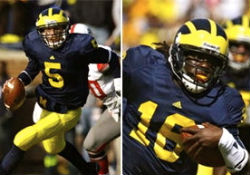 7. Michigan
Yes, for the first time since Chad Henne graced our presence, Michigan has the edge on somebody at the quarterback position. Tate Forcier had Michigan fans clamoring for the freshman to get Heisman consideration after a 4-0 start, but fast forward to spring ball 2010 and the Maize and Blue faithful now want to see Shoelaces aka Denard Robinson run Rich Rod's offense. Add Devin Gardner's early arrival to Ann Arbor and Michigan also has a three man competition. I personally think Forcier deserves the starting job as he showed glimpses of greatness last year, while also suffering the bumps and bruises that a freshman should in the Big Ten. I think many times he showed a great understanding of the offensive system that is needed for success, something that cannot be said about his competition. Robinson is extremely fast, but might be better suited for wide out/wildcat quarterback, and Gardner should red-shirt this season to learn. With a mediocre offensive line and talent that is either very young or average at best at the other skill positions, it should be another rocky ride for the Wolverine lead men.
6. Purdue
Joey Elliott is gone, but Danny Hope receives a gift in the form of University of Miami transfer Robert Marve. I always thought Marve had a bright future for "The U" before he transferred, but nonetheless he walks right into a great opportunity to start this year, while having a full year last season to learn the offense while he sat out in accordance to NCAA rules. Marve has lived up to expectations this spring, but back-up Caleb TerBrush is pushing him hard. TerBrush starred in the
Boiermankers'
Boilermakers' spring game, throwing two touchdowns to go along with 147 yards on 13-18 passing, while Marve wasn't too shabby going 11-22-160-1-1. Marve will have the job locked up come the fall, but TerBrush gives Hope a good option should anything happen to his starter.
5. Michigan State
Kirk Cousins and Keith Nichol are back, giving Mark Dantonio two very solid options to lead Sparty's attack this season. At this point, it seems Cousins is the clear cut starter, but we could see Nichol some at wide receiver like we did at the end of 2009. Cousins went 10-15 for 254 yards and a touchdown in the MSU spring game, looking sharp and taking command of the offense, while Nichol played primarily at receiver, catching 3 passes for 43 yards. Andrew Maxwell saw reps as Cousins' back-up and was 18-34 for 244 yards and a touchdown, but it would interesting to see if he or Nichol would get the nod should Cousins go down. Regardless, this is Sparty's best year at the position since Drew Stanton left and with Edwin Baker, Larry Caper, and a solid receiving corps, this offense should be much improved from last season.
4. Wisconsin
Anyone who watched the Ohio State-Wisconsin game last season knows Scott Tolzien can play. While he did throw two interceptions in that October 10th match-up in the show, I for one came away very impressed with his throwing mechanics and ability to run the play action very effectively. I think Tolzien can build on his 2009 season where he threw for 2,705 yards and 16 touchdowns (against 11 interceptions), and lead the Badgers to an 11-2 mark. With a solid offensive line, a speedy group of receivers, and Big Ten offensive player of the year John Clay all returning, expect big things out of Scott Tolzien and tickle me a little (just a little) frightened for the night game in Madison this year.
3. Minnesota
While Minnesota will likely not see a BCS Bowl anytime soon, but it hasn't stopped them from gathering a solid group of quarterbacks to run their offense. Adam Weber, a three year starter, is the man once again, but had a disappointing spring game in which he completed just 8 of 20 passes. The question is should Minnesota fans start to call for someone else to start after Weber's 2009 season in which he threw more interceptions (15) than touchdowns (13)? I personally think Weber is a very solid player who is trapped in an unfortunate situation, but if the program is to make any progress, he needs to step up in 2010. The players waiting in the wings are MarQueis Gray and Moses Alipate. Gray saw action last year, but was used more frequently for his speed on the ground than for his arm through the air. He completed a 38-yard touchdown pass for the spring game's only offensive touchdown, but it is yet to be seen whether he can overtake Weber for the reps with the first string. I think Alipate will be the best out of the three before it's all said and done, but his lack of experience due to youth will be a main reason you probably won't see much of him this season. He threw just four passes in the spring game, completing two for 14 yards, if that says anything about where he stands in Tim Brewster's mind. The three of these players give Minnesota a talented group of quarterbacks who bring a combination of experience, athleticism, and promise to a Gopher team looking to rise their heads above mediocrity.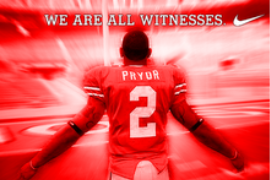 2. Ohio State
I know, I know, you're all ready to pour down on me for putting the Buckeyes second on this list, but I'm trying to be realistic here. I love Terrelle Pryor just as much as any of you and I think the Rose Bowl TP you saw in January will show up more often than not this fall, but until he proves he is a master of Jim Tressel's offense, I cannot subject myself to falling for an inconsistency act. I think Pryor is coming along nicely, albeit slower than we all expected when he signed his NLOI a few years ago, but now is TP's time to shine. He is getting some more freedom to make calls at the line and it seems he has learned how to use all of the field this spring, spreading the ball around to the likes of Jake Stoneburner at tight end and Zach Boren at fullback. The Vest is noticeably opening things up a little and these are all good signs for big things to come, but remember this is a pre-season ranking and we cannot ignore the back half of the season in which Tress clearly didn't trust Pryor to do much of anything with the ball in the air when it counted until the Rose Bowl. I'm hoping that Rose Bowl game was indeed the turn around and I regret ever putting OSU second on this list, but for now TP and the Bucks need to continue the progress.
1. Iowa
America's newest patriot
, Ricky Stanzi, returns to Iowa City this year after leading the Hawkeyes to a BCS victory in the Orange Bowl over Georgia Tech. Stanzi was masterful in that game, throwing for 241 yards and two scores, en route to a more convincing than the score shows win over the Yellow Jackets. He now comes back for his senior season with a healthy leg and on a mission to bring Kirk Ferentz his first national championshop. Stanzi gives Iowa the nod over OSU on this list due to his strong arm, good awareness, pocket presence, and more importantly, his knack for being able to get the job done when it's all said and done. The latter is what Buckeye fans hope Pryor is able to do this year and is what separates the two, just slightly on the list. Speaking of Buckeyes, James Vandenberg did an admirable job in the pseudo Big Ten Championship game at Ohio Stadium last year, going 20-33-233-2-3 in the overtime loss, and provides Iowa with a more than capable back-up should anything happen to Stanzi again. With an offensive line that can block a stable of bulls, an effective running game, a collection of slick receivers, and a defense that continues to keep getting them the ball, the duo of Stanzi and
Jonathan Moxon
Vandenberg are in fabulous shape heading into 2010.