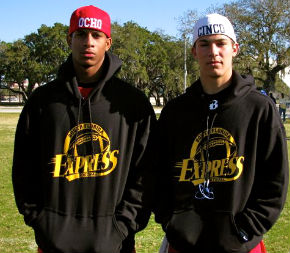 While many of you are elated over the news of the recent
Jeremy Cash commitment
, there is another player in the Sunshine State who is flying a little bit more under the radar. That player is North Broward wide receiver and 7-on-7 teammate of Jeremy Cash, AJ Sebastiano. Sebastiano, who goes by the nickname "Cinco" (thus why Cash has become "Ocho"), was not a well known name on the recruiting front through his first three seasons in high school, but recent success in the spotlight against big named players has put this speedster on the map. Originally from Ohio, Sebastiano has the Buckeyes on his mind and will be making a visit this weekend to Columbus for the OSU Spring Game. Although he doesn't have an offer in hand just yet, the staff has been talking to Cinco lately and pending room in the class and pressure from his friend Cash, AJ might have Scarlet and Gray in his future. We caught up with Sebastiano to talk about the latest in his recruitment, his skills as a wide receiver, where he'd like to play his college ball and more. Highlights showing you why Cinco has caught the staff's eyes follow the interview, so be sure to check that out too.
Your recruitment is now just starting to heat up after some excellent camp performances. Why do you think it has taken so long to get noticed?
Well I know colleges really look at numbers such at your 40-time and your vertical jump and they gage you off that. That's one of the main reasons why (things have been slow), just because I don't have that 4.3 speed and 40 inch vertical. But what people are starting to see is that it flat out doesn't matter, if you can play, you can play…just ask some of those ranked DB's at those past few camps (laughs).
What is your current offer list and who do you expect to offer in the near future? What has Ohio State said to you in regards to getting an offer? Do you have a list of favorites?
I have no offers right now and I'm hoping for that to change real soon. OSU has been talking to my 7-on-7 coach and a reporter friend, and they've been relaying on some nice things to me. A lot of it is that they really want to see me in action before they can offer so I'll be going up to their summer camp and I think they'll be coming for my spring practice. For a list of favorites, OSU, Florida, South Carolina, Boston College, ECU, Northwestern and Illinois are the ones who I've heard from and are excited to potentially bring me on to be a part of their program.
What do you hope to get out of your Spring Game visit to Ohio State?
When I get up there I really hope to get a good feel of the atmosphere, meet the coaches, see the campus, but most of all really get a feel for the school and if I could fit in-see if I'm right for them and if they're right for me.
What do you like most about Ohio State? How did your interest in the Buckeyes begin?
I grew up in Youngstown and moved to Florida when I was 12, so I have been born into a family that bleeds Scarlet and Gray. I just love their passion, heritage, and the whole history of the program. Amazing fans and stadium, and a passion for winning doesn't hurt either.
We've heard some nicknames for you such as "Cinco" and "White Lightning". Any other nicknames people calling oyu these days?
My step dad likes to call me the "Great White Hope" (laughing), but Cinco has been basically my actually name for the last few months now. The confident name such as Cinco matches my swagger on the field because I always compete, so I guess it fits nicely.
What current/former NFL and college players does your skill set compare to?
I've been compared to Robiskie, Wes Welker, and Riley cCoper from Florida, which are all the upmost of compliments in my opinion, but who I strive to be is Jerry Rice. He never was the fastest or jumped the highest, but he wrote the book on route running and competed every single day.
What are you looking to get out of the school you will choose at the end of your recruitment?
My big thing is the atmosphere and passion that a program has. I want a place where everyone, coaches and players, want nothing but winning and will put in the work to make it to the promised land. If I can find a place that has all of that, and great fan support and academics, I'm in.
What current OSU recruiting targets have you spoken to? Do you guys ever talk about possibly becoming Buckeyes together?
My best friend, who is also on my 7-on-7 team, is Jeremy Cash and he has been pushing for an offer for me so we both can go to OSU. He actually got his name "Ocho" after me and we've been "Ocho-Cinco" ever since.
What do you feel are the strengths of your game? What do you feel you need to improve on for the next level?
The strengths to my game are my ability to run perfect routes, be able to make all the catches every time, and most of all, just play football. That's the most important thing because I feel that I have a great football IQ and I know where I need to be and when to get there. Some of my weaker points that I've been improving are my break away speed and quickness. I want to be able to take it to the endzone everytime I catch it.
If you could tell Buckeye Nation, one thing, what would it be?
If I could tell Buckeye Nation one thing it would be that I can flat out play against anyone you're bringing in and anyone your recruiting right now. I don't care about 40s, verticals, or any of that testing, I compete with the best down here in Florida everyday and I know I can play at a national championship level. Oh, and I forgot to mention, I would crawl to Columbus if I had to.
HIGHLIGHTS