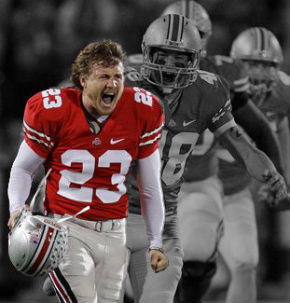 The Buckeyes held their annual spring kick scrimmage this morning at Ohio Stadium and the specialists did not disappoint when it came to suspense. Ben Buchanan (Gray), Devin Barclay (Scarlet), and Drew Basil (both teams) went at it this morning into early afternoon, but it was Buchanan who booted a 40-yarder in overtime that served as the difference maker in the contest won by the Gray team 27-24.
Buchanan, who is also expected to serve as the team's punter this year, was 8-14 on the day with a long of about 50, while Barclay was 8-15 and seemed to struggle with longer kicks, yet racked up most of the shorter attempts. His long was about 45 yards, but he was only 1-7 from outside 40. Basil, a freshman who enrolled early for spring practice, was 1-4 and seemed a little nervous. I would be surprised if he didn't redshirt this season, but his ability to boot the ball deep in the endzone could have him taking over on kickoff duties this fall knowing Jim Tressel's love for winning the field position battle.
Overall the kickers were very inconsistent today and quite frankly, with the emphasis JT puts on his special units, I'm a little nervous heading out of the spring. I know the staff does want Buchanan to handle both punting and kicking duties, but with the way today went, it seems like that may be more and more of a possibility. If nothing else, I would expect Barclay to handle shorter kicks (maybe 35 yards and closer) and Buchanan to take care of the longer boots, as his leg is much stronger from a distance.
As for the rest of the action, Buchanan looked solid punting the ball despite having one kick blocked by walk-on defensive back Nate Ebner. On punt returns, Danze Sanzenbacher, DeVier Posey and Devon Torrence were back receiving and on kick returns, it was Torrence, Jaamal Berry, Boom Herron and Jordan Hall for the two teams. It should be an interesting battle for the return spots this year, but there are a strong pool of candidates and all of them looked fully capable of doing the job. I'm really excited to see Berry and Hall get their crack on special teams in the remaining weeks of spring practice as both are speedy and explosive athletes who can bring a missing element to the unit.
There are exactly two weeks until the Spring Game and practice is just heating up. We'll be on hand throughout the spring sessions to keep bringing you more news and notes from the Woody Hayes Athletic Center.