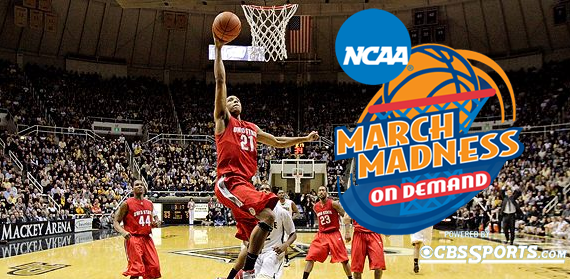 While the NCAA Tournament officially got kicked off with the play-in game last night, the real competition starts tomorrow when BYU and Florida tip-off at 12:20 ET. I don't know if there is a better weekend in the calendar year to be a sports fan than this weekend, where you can watch college basketball in it's most exciting state ultimately non-stopped from Thursday to Sunday.
While the Buckeyes take on the 15-seeded Gauchos of UC-Santa Barbara in what should be a rout, there are many games that will keep you on the edge of your seat this weekend. The excitement of upsets, last-second finishes, 40-minute long battles between to teams fighting for their lives, and other exciting story lines await fans across the nation sitting on their couches waiting patiently for Christmas in March.
While many have you have spent the last 60 hours or so analyzing the brackets in every which way possible, some have simply been focusing on what should be a tough, but possible path for the Buckeyes to reach the promised land. If you are in the latter group you may not be aware of some of the great games you can expect to see in the next couple of days, but fear not you don't have to do the work. Just follow after the jump, as 11W has done your homework for you and brings you a "what games to watch" list for the first two days of the NCAA Tournament.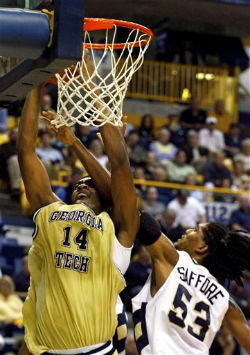 Favors is a match-up problem
#7 Oklahoma State vs. #10 Georgia Tech, Friday 7:15 PM ET We begin our list with a game Buckeye fans certainly need to keep tabs on. The winner of this game will move on to the second round where OSU should be awaiting after what should be a cruise control victory against UCSB. Oklahoma State has an All-American in 6-6/210 guard James Anderson and he could be the difference in this game. Anderson is averaging 22.6 points, 5.8 rebounds, and 2.4 assists per game for Travis Ford's Cowboys and has a nice supporting cast around him. That cast includes five other players averaging at least 7.8 points per game and features Anderson's side-kick in the 6-5/220 guard, Obi Muonelo, and 5-9 point guard Keiton Page. The Cowboys are well rounded and are a dangerous team this March.
The Yellow Jackets will not back away just yet, as they have great momentum after reaching the ACC Finals and losing to Duke by just four points. The Jackets are lead by big men Gani Lawal (6-9) and Derrick Favors (6-10), as well as guard Iman Shumpert. Lawal is averaging 13.1 points, 8.7 boards, and 1.4 blocks per game, while the freshman Favors is posting 12.5 points, 8.5 rebounds, and 2.1 swats per contest. Shumpert, a 6-5 sophomore in the back court, is averaging 10.4 points, 3.5 rebounds, and 4 assists per game while shooting 35% from 3-point range. The Jackets advantage on the inside, coupled with a versatile back court seems to make them a much tougher match-up for the Buckeyes in round two, so be rooting for the Cowboys in this one.
#5 Butler vs. #12 UTEP, Thursday 4:45 PM ET The Bulldogs (28-4) and the Miners (26-6) both bring in impressive records from mid-major conferences and both have a couple of star players I am excited to watch go at it this weekend. Butler brings the more athletic backcourt and a big reason they have an edge in that area is due to Buckeye-killer Gordon Hayward and his teammate Shelvin Mack. Hayward is a big-time star who averages 15.4 points and 8.5 rebounds per game and Mack helps the engine go at 13.9 points, 3.5 rebounds, and 3.1 dimes per contest. Matt Howard runs the paint inside for the Bulldogs with 12.3 points and 5.4 boards per game.
Awaiting Howard in the paint will be Louisville transfer and rededicated big man Derrick Caracter. Caracter has had a successful first year in El Paso and the 6-9/275 power forward is putting up impressive numbers of 13.8 points and 8 rebounds in just 26.4 minutes per game. Caracter gets a breather every now and then because of the solid cast around him including of the 6-7 Jeremy Williams (10.1 ppg 4.7 rpg), the 6-11 Arnett Moultrie (10.1 ppg 6.8 rpg), and 6-0 guard Randy Culpepper who may be the best talent on the team, averaging 18 points per game in 33 minutes per contest. This UTEP team is very versatile and I am predicting them to do some damage to people's brackets this weekend. No matter who wins this game should be on everyone's priority list tomorrow.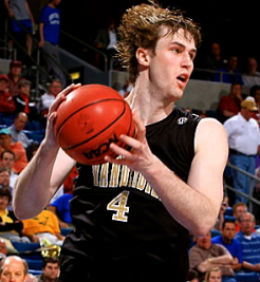 #4 Vanderbilt vs. #13 Murray State, Thursday 2:30 PM ET It seems recently that every year a #13 upsets a #4 and everyone seems to be on the Murray State bandwagon this tournament season. The Racers had a great year at 30-4, but everyone forgets about Vandy, who spent much of the year in the Top 25 and finished the season 24-8 and 12-4 in the SEC. Vandy has four players in double-digits for the year in guard Jermaine Beal (14.7), center AJ Ogilvy (13.4), guard-forward Jeffery Taylor (13.4), and guard John Jenkins (10.9). Their use of the inside-outside game can be a big weapon in the tournament and their use of 9-10 players every game will bode well in this game. Ogilvy is one of those guys who it seems has played for eight seasons and his leadership should help steer the Commodores' ship.
The Racers love playing the role of underdog and one-up Vandy with five players averaging double-digits in points on the year. Their five are forward Ivan Aska (10.6), BJ Jenkins (10.5), forward Danero Thomas (10.4), center Tony Easley (10.4), and guard Isaiah Canaan (10.3). They use a 9-10 man rotation as well and it is clear they like to share the wealth and spread out the scoring. This game will be intriguing as the winner of this takes on the winner of Butler-UTEP in the next round and no matter who the victors are in these two games, fans should be in for a good second round contest on Saturday as well.
#5 Temple vs. #12 Cornell, Friday 12:30 PM ET Temple was so hot coming into Selection Sunday that some had them penciled in as a two-seed and with the way the committee picked this year, I'm surprised they didn't buy into that also. Don't count out Cornell though, as the Big Red was 27-4 this season and had big wins over power conference teams including Alabama and St. John's and has three of their four losses come to quality opponents in games at Kansas (lost by five), at Syracuse, and at home against Seton Hall.
Temple brings their top talent in the trio of Ryan Brooks, Juan Fernandez, and Lavoy Allen to the table, while Cornell counters with its disciplined style of hoops and 6-7 star forward Ryan Wittman who has had big outputs against their big-time opponents this year (24 vs. KU, 19 vs. Syracuse, 24 vs. Seton Hall). Wittman's supporting cast is built of solid players and the Big Red's strength on the inside should keep them competitive for most of the contest against Temple's athletic attack and bring this game down to the wire when it's all said and done.
#8 California vs. #9 Louisville This is the toughest 8-9 game to pick in my opinion because both teams have been so hot and cold this season. Cal had the eighth toughest strength of schedule this season, but didn't perform well in that slate, losing in big games to the Buckeyes, Syracuse, New Mexico, and Kansas and flopping games they should have won against UCLA, USC, and Oregon State. The Cardinals finished 20-12 and a late-season win against Syracuse to close out Freedom Hall helped put them into the field of 65. Rick Pitino's squad had some bad losses themselves this year including flops against Western Carolina and Charlotte at home, but also had some big wins by beating Syracuse twice and posting an 11-7 mark in the Big East.
Cal is lead by four top players in guards Jerome Randle and Patrick Christopher and forwards Theo Robertson and Jamal Boykin. Robertson was out for a chunk of the season, and the Bears are just getting comfortable with him back in the rotation for the last half of the schedule. Louisville brings back stars Edgar Sosa and Samardo Samuels from last season and compliments them with Jerry Smith, Jared Swopshire, Preston Knowles, and Reginald Delk. This game could go either way and both teams have a legitimate chance to knock off a not-so-impressive Duke team in round two.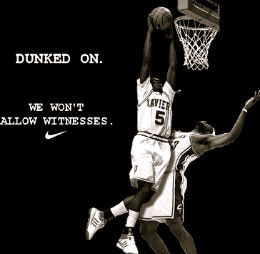 #6 Xavier vs. #11 Minnesota, Friday 12:25 PM ET Last, but certainly not least is the game featuring the Musketeers and the Gophers. Tubby Smith's squad solidified a late spot into the field by reaching the Big Ten Championship Game, but they shouldn't settle just for making the tournament. Xavier is a feisty team who brings a full-head of steam on every play and this match-up between elite mid-major and mediocre power school should be an interesting one to watch.
Xavier's star player is very familiar with Big Ten foes as Jordan Crawford transferred to Xavier from Indiana after his freshman season. The red-shirt sophomore is averaging 19.7 points per game and shooting 39% from 3-point land this year and certainly seems to have taken the momentum from his summer dunk over LeBron and turned it into results in real games. Crawford is helped out by the Musketeers eight man rotation that features major contributors in Jason Love and Terrell Holloway. The Buckeyes had a close look at Minnesota this past Sunday, but don't take that lousy Gopher performance and expect the same on Friday. Tubby Smith is one of the nation's best game planners and will find a way to utilize his star players Ralph Sampson III, Lawrence Westbrook, and Damian Johnson into the game plan. The key for Minnesota could be the outside shooting of Blake Hoffarber and Devoe Joseph. The three-point shot is extremely important in March and these snipers could be the difference in this contest.