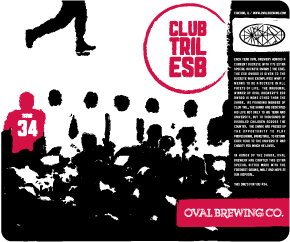 It's not quite an on-campus brewery and the inevitable Les Miles 60ish Minute IPA that would accompany that brilliant idea, but this has to be the next best thing.
Two Buckeyes in Chicago have started a craft brewing operation, Oval Brewing Co. featuring insta-classics like Woody Haze Dunkelweizen, Stiffarm Imperial IPA and 2010 Club Tril ESB (Extra Special Buckeye) Ale.
Unfortunately, the beer isn't for sale (yet), but you might be able to sample it with a strategically sent email ahead of your next visit to Chicago. In the meantime, you'll have to make do throwing down some of your favorite suds not named for The Shark.
(H/T Walt)