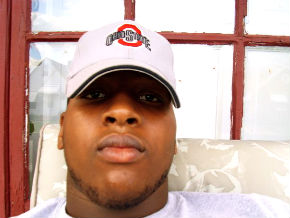 The Buckeyes have had the luck of the Irish go their way this week in terms of recruiting as five players in the class of 2011 announced their intention to don the Scarlet and Gray in a matter of about 36 hours from Monday to Tuesday. The five additions brought the class to a total of seven and created a filled need within the class as the verbals are composed of three defensive linemen, three offensive linemen, and a defensive back.
One of those offensive linemen is Antonio Underwood of Shaker Heights. Underwood, who measures at 6-3/300, played both offensive guard and defensive tackle during his junior year, but was recruited on the offensive side of the ball by Ohio State. Underwood was not known to many Buckeye fans before news of his commitment, whether you follow recruiting or not. In fact he received his offer on Monday while on an unofficial visit to Columbus and accepted Jim Tressel's offer almost on the spot.
Underwood clearly has a desire to be a Buckeye and sat down with us to discuss what it means to him to be a Buckeye, how the recruiting process for him unfolded, what position he'll play in Columbus and more.
Things unfolded pretty quickly with OSU once you got the offer. Can you take us through the process-when you got the offer, when you spoke to the coaches, when you knew you would accept it, etc.? On Monday I went on a unofficial visit to OSU. I got a tour of the facilities and campus. After that was finished, I talked with Coach Jim Bollman for about 20 minutes and he started to draw up on the board my chances of playing. That was the first hint I got that I was going to be offered, but I still had doubt in the back of my mind. After talking with Coach Bollman, I was sent to Coach Tressel's office. My grandad and I talked with him for a while and that's where he told me he wanted me to be a Buckeye. I knew from the get-go that I would accept, but not so soon. My grandad asked coach if he could talk with me alone and coach gave us time. He (grandad) said to me if Ohio State is where I really want to go that I should shake Tressel's hand and accept. When coach arrived back in the room I shook his hand and said, " Coach, I accept your offer to become a Buckeye".
What other schools were recruiting you before you committed to Ohio State? Toledo, Kent State , Akron, Miami of Ohio, Indiana, etc.
What position do you think you'll play at OSU? Guard or center, most likely guard though.
What is the strongest part of your game? What do you need to work on before you get to Columbus Strengths would pass protection and run blocking, though I still can use work there. Things I need to improve on are flexibility and just getting bigger, faster, and stronger.
What are your goals for your senior season both on and off the field? I want to have a winning season and do my best in the classroom.
Have you gotten in touch or spoken to any other members of your recruiting class? So far I have had text message conversations with Kenny Hayes and Derjuan Gambrell, who I met Monday, along with Chris Carter from JFK.
What is so special to you about being an Ohio State Buckeye? There are many people who dream of being a Buckeye and not many people succeed at doing so. I'm just grateful Coach Tressel gave me the opportunity and that God gave me the ability.
What do you hope to study at Ohio State? Right now I am not sure about that
Which current NFL player do you compare yourself to? Which college player do you compare yourself to? I really don't compare myself to anyone, but my favorite players are Joe Thomas and Steve Hutchinson. As for college, I'd have to say the whole "Block O" (laughs).
If you could tell Buckeye Nation one thing, what would it be? That I'm proud to be a Buckeye, and on behalf of the class of 2011 OSU commits so far, and others that will do so later.........WE HERE!!!!!
We're happy to have Antonio on board with the Scarlet and Gray and you can check out his highlight video here, courtesy of Scouting Ohio.