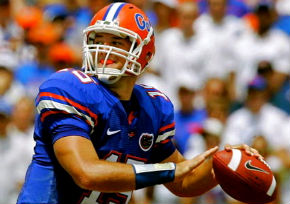 The latest coming from the everyone's Lord and Savior Tim Tebow front has been news that he is adapting his throwing motion to better suit style considered acceptable by the standards of the National Football League. If you're not abreast on the situation stated in the previous sentence, Tebow, college football's most decorated athlete of the last decade and one of the most successful signal caller's in the sport's history, has a tendency to "sling" the ball from his waist rather than the traditional ear-level release seen by the strong majority of professional quarterbacks in today's NFL.
A more than successful product of Urban Meyer's spread offense, Tebow was expected by many to be selected somewhere in the first round, either because of the intangibles he brings to the table that include an above and beyond desire to win, or because of his potential ability to put people in the seats. His current slinging motion was enough to land him two National Championships, a Heisman Trophy, a Davey O'Brien Award, a Walter Camp Award, three SEC Offensive Player of the Year Awards, an AP Player of the Year Award, two Maxwell Awards, two SEC Championships, and three All-America honors, among many other accolades.
Apparently that has not been enough, as league scouts have reportedly asked for more from the do-no-wrong 22 year old who likes to spend his spare time helping orphaned children in foreign countries or assisting in the rehabilitation of inmates who are trying to turn around their lives. It has been determined that the elongated throwing motion that has helped the Florida Gators win so many games over the past four years will enable the extremely fast defensive ends and linebackers of the NFL to get to Tebow before he even has a chance to say "Go Gators". Enter Tebow's new found search for a more pro-style throwing motion, an effort to try and prove to team officials that he is willing to do whatever it takes to be successful at the quarterback position at the next level. You have to applaud the young man, no matter your personal feelings for him, for taking the proper measures to ensure he will be successful in the NFl, but you have to think, should this process even have to happen? And, if it should, who is responsible for Tebow having to "re-learn" how to throw a football?
The answer to the first question is no and as for the second question, while Buckeye fans may want to pin all the blame on Tebow, one has to look at where his talents were cultivated during the time he was a prep star until now, when he is ready to make money playing the sport. Yes, I am talking about Urban Meyer and the University of Florida, the culprits guilty of not performing their duty of preparing the best college player they may ever have to be ready to take the step from college to the NFL. Sure, Tebow came to school wanting to earn a degree from UF in a timely fashion, become a better person off the field, and win National Championships for the school, but, like any top high school athlete, his main goal in playing college football was to be developed properly by his coaches so that he could one day get a chance to play in the NFL. Tebow took care of the degree and championships, and I'm sure no matter what school he was at he would have done good for the less fortunate off the field, but I must say I do not feel Urban Meyer and his staff did all they could to prepare their golden child for the NFL.
Where does this bring us you ask? Recruiting of course. You look at the Tim Tebow rant that took up the previous four paragraphs and it seems all I want to do is rip Urban Meyer a new one. While that is always fun, the point of the previous background story was to bring up an issue in today's college football world that needs to be brought to the attention of recruits everywhere looking to choose where they will play their college football. That issue is that not all college football program's have their players' best interests as a priority.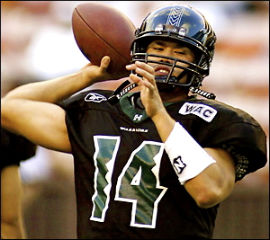 You look at programs like Florida and of course, you can't fault Meyer for what he has done. He took a player like Tebow, who he knew would be a stud in his spread-heavy offense, and developed him within the system to make him the best Urban Meyer system signal caller he could be, and thus compete for National Championships on a yearly basis. While that may be great for the University of Florida, he did not make Tim Tebow the best potential NFL quarterback he could be. If you were a top tier quarterback recruit coming out of high school, and your goal after college was to play in the NFL, wouldn't you look at the situation at UF and think you would be better served attending school elsewhere to achieve your goals?
I think the answer is yes for all of you and it's not just Florida. Mike Leach's Texas Tech, Chip Kelly's Oregon, Paul Johnson's Georgia Tech, June Jones' SMU, and even Brian Kelly's offense now at Notre Dame are just a few more that fall into the same "product of a system" category that doom prospective NFL quarterbacks every year come draft day. I'm not saying Ohio State churns out successful NFL quarterbacks the way they do receivers, linebackers, or defensive backs, but the pro-style taught by JT, coupled with The Senator's placed importance on academics and growing his players as men off the field, not to mention the Bucks' ability to also compete for MNCs yearly, have to seem like more attractive options than these gimmicky systems, right? OK, Bobby Hoying, Joe Germaine, Craig Krenzel, and Troy Smith didn't exactly pan out the way we all hoped for in the pros, but pro-style systems like the one OSU runs have moved plenty of good college quarterbacks to the NFL over the years. Don't believe me? Take a look at programs such as USC, old-school Notre Dame, pre-Rich Rod Michigan, Tennessee (Ok, fine, Peyton Manning U), and others that run the pro-style at the college level and tell me NFL teams aren't happy with what those schools have churned out.
It's time for high school kids to start looking at the facts. Yes, it's fun to play in these spread-option, gimmick offenses that allow less than stellar passers to show off their athleticism, but if you are a true star quarterback prospect, you shouldn't be fooling around with any programs other than those you know can bring you to the promised land. It's certainly going to be tough for OSU to sell this idea to recruits with their lack of success landing Buckeye QBs into starting gigs in the NFL, but if they are able to continue to progress the development of Terrelle Pryor in their pro-style system, Jim Tressel will certainly have himself a successful case study to show the Braxton Miller's of the world that Ohio State is the place to be if you want to develop into a NFL quarterback one day.