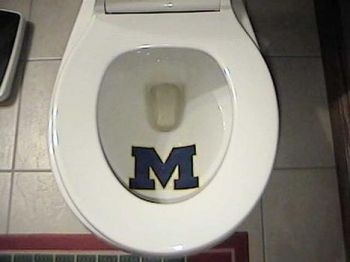 Football recruiting season for 2010 is now mostly completed, which of course means that the rush for 2011 recruits has begun. But recruiting and preparing for spring practice is not all that is on the mind of some Big Ten coaches. In places like Ann Arbor and Champaign-Urbana, assistant coaches are updating their resumes and student newspaper editors are scanning the head coaching landscape for potential heirs to the head coaching position. Since I'm the type of guy who likes looking ahead just as much as looking back, I'd like to present to you my candidates for the hottest seat in Big Ten football coaching for 2010.
Rich Rodriguez
RichRod is the most obvious choice for this honor, since he coaches at a school with a long and glorious history of gridiron excellence, and his teams have utterly failed to live up to that excellence in his two years at the helm. Despite the lack of success on the field, Rodriguez has managed to haul in two above-average recruiting classes the past two years, although his 2010 class is a step down from the stellar 2009 class. But the success in recruiting will probably add even more pressure to perform in 2010, since it would leave him without excuse. He could blame his first year, and possibly even his second, on the notion that Lloyd Carr's players didn't fit his wide-open style. But having personally brought in two pretty good classes in a row, now RichRod must win games on the field.
Another factor that is surely weighing heavily against Rodriguez is his lack of success against Ohio State. The fact that Carr dropped 6 out of his last 7 against the Buckeyes doesn't help either. The fans in Ann Arbor are desperate for a win against OSU, and if Rodriguez cannot deliver this season the calls for his firing will be magnified considerably. With OSU fielding a team that is primed for a run at the MNC, the odds against pulling out a win in Columbus are staggeringly high, which means that he must win 8-9 games prior to the season finale to save his job. For this reason, I would consider RichRod to be the top candidate for the hottest seat in the Big Ten.
Ron Zook
Illinois fans must be getting restless after five seasons with "The Zooker" at the helm. There was much hope and fanfare after Zook's 2007 squad finished 9-3 in the regular season and accepted a bid to play in the Rose Bowl after Ohio State qualified for the BCS Championship game. The 2nd place Big Ten finish, along with the big win over OSU at Columbus when the Buckeyes were ranked #1, earned Zook a lucrative contract extension until 2013. Zook's Illini folded on the big stage of the Rose Bowl, losing 49-17. But the optimism was palpable in Champaign-Urbana because Juice Williams was only a Sophomore and Regis Benn was only a freshman. Surely it would be nothing but glory from that point on.
Needless to say, things haven't exactly worked out as planned. Prior to the 2008 season, the Big Ten Network thought enough of the Illini football team to feature them in an on-going pseudo-reality-show called "Illinois Football: The Journey". Little did they know that the team's "journey" would be more like a drunken stumble. The team limped to 3-5 in Big Ten play and finished 5-7 overall, missing a possible bowl berth as a result of a season-ending embarrassment at Northwestern. Any hopes for improvement in 2009 were lost early in the season as they were crushed 37-9 by Missouri and 30-0 at Ohio State. Despite the presence of 5-star studs Benn and Martez Wilson, the Illini finished 3-9, thus rekindling memories of Zook's first two seasons where they finished 2-9 and 2-10. For this reason, I think Ron Zook's seat is almost as hot as RichRod's.
Tim Brewster
At first glance, this would seem to be a strange pick, since Minnesota's glory days in football are remembered only by nursing home residents. Any coach who has led the Golden Gophers to two straight bowl games should feel pretty safe in his position, since fan expectations are not nearly as high in the Twin Cities as they are in places like Columbus and Ann Arbor. But Minnesota just built a new stadium on campus, and the top brass at the university are surely hoping for a financial windfall from the football program to help them through these lean economic times. Also, Brewster's contract pays him $1 million per year, which is appropriate for a big-time winning coach, but not for a first-time head coach who's running a .500 program year after year.
Brewster is the kind of guy who seems to generate a lot of enthusiasm, but so far has failed to deliver when it counts. While his last two teams have finished 7-6 and 6-7, 7 of those 13 wins have come against weak OOC foes like Syracuse and South Dakota State. In the Big Ten, they finished 3-5 in the last two seasons, and have not won a game in November during Brewster's tenure. It doesn't help that Brewster's immediate predecessor Glen Mason is now a commentator for the Big Ten Network, thus reminding Gopher fans of the 64-57 record he compiled in his ten seasons at the helm. Finally, many fans are still upset about Brewster's 1-11 rookie season, with the 11 losses being the most in program history for one season. Although the university seems content to give him one more season, some fans are already restless and wanting a change.
So what do you think? Is there really any competition for RichRod in this category? Should I have mentioned guys like Bill Lynch and Mark Dantonio?