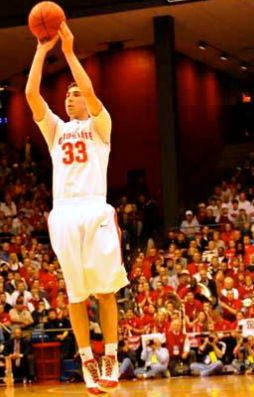 The current Buckeye run of nine straight conference wins has Buckeye Nation pumped up about the possibilities that could occur in March and has put OSU in a tie with Michigan State atop the Big Ten standings. Solid defense, great ball movement on offense, and a team effort on the glass has certainly helped propel the run that we've seen since starting conference play at 1-3, but the return of Evan Turner has put the group in great position to make a run at Thad Matta's third Big Ten title.
Turner may win National Player of the Year and you can say his presence is the most important for this team to succeed come time for March Madness, but it is another player who may be the X-Factor in the tournament. No, we're not talking about William Buford and his elevated-to-the-next-level play that we've seen of late. We're not talking about Dallas Lauderdale and his nasty streak brought to the defensive side of the floor. We're not talking about Captain Lighty and his new found ability to take it to the hole either. Who we are talking about is Jon Diebler, the King of Three, and if the Buckeyes want to actually make a deep run into the brackets this year, they are going to need #33 to show up.
In the beginning of the season it looked like Jon Diebler had turned the corner. In seven of the first eight games, he scored no less than 14 points and was shooting 52% (35-67) from behind the arc. This was the Diebler we all waited for the last two year, you know, that one that averaged 40 points per game during his senior year in high school. The Buckeyes were off to a good start at 7-1, with their only loss at MSG against North Carolina, and things were looking good as Diebler served as a great compliment to The Villian.
But then something weird happened, and as the Buckeyes ran into the pesty defense of the Butler Bulldogs, all of a sudden Diebler lost all the confidence he had built up the past month and a half. In the next five games he averaged under nine points per contest, shooting 8-25 (32%) from 3-point range, numbers that certainly dropped off, especially considering he played the full 40 minutes in four of those games (37 in the other). More importantly the Buckeyes dropped two of those games to Butler and Wisconsin and in the two losses, Diebler scored just 15 points total on 1-9 shooting from downtown and 4-14 total from the field. Yes, Evan Turner was not present for either of those games, but Diebler was clearly struggling to produce when the team needed him the most and the past frustrations of not being able to create his own shot started reoccurring again.
Jonny Diebs finally showed up for two straight games against Michigan and Indiana, scoring 17 and 21 respectively, but fell off the map offensively the next ten games leading into yesterday's game at Illinois. During his ten-game disappearing act, Diebler averaged just 9.2 points per game and 1.8 triples made per game, despite playing no-less than 32 minutes during that stretch. The Buckeyes did lose two of those games, against Minnesota and West Virginia, and going with his M.O., Diebler combined for just 18 points and a 4-15 performance from behind the arc in those games. It was great that William Buford and David Lighty, along with the return of ET were helping the Buckeyes stay afloat as they aimed for the conference title, but clearly the team was missing something from the sniper that they needed in the tough games that came down to the wire.
Enter Champaign and a rejuvenated Jon Diebler arrives. Attacking his opponent from the get-go, Threebler earned his nickname back, shooting 6-11 from three for 18 points. More importantly, he was able to create the shots he wanted when the Bucks needed them most and was smart in choosing his looks. He didn't rush any shots or throw up any frustration bricks trying to get his stroke going like we had seen in previous games. He played within the flow of the offense, a system that seems to work to his skill set perfectly, and the Buckeyes looked like an offensive juggernaut.
The formula we saw yesterday has Buckeye fans believing that this team can do special things this year. They have a special player in Evan Turner and have special pieces in William Buford's multi-faceted offensive game and improved defense, Dallas Lauderdale's tenacious effort, David Lighty's stifling defense and ability to slash, and when he's on, Jon Diebler's ability to bury a team with that deadly three of his. There is no doubt that Evan Turner is the engine that keeps this motor running, but if the Buckeyes want to make a run at not only the Big Ten title, but the National title as well, they are going to need their sniper to step up and help bury their opponents when they need to put games away.
It will be interesting to see which Jon Diebler shows up the rest of the season, specifically the next two games against Purdue and Michigan State when the team needs him most (that is assuming he can actually play). He showed up for the first big game on the road against the Illini, so why not keep the buckets coming? There is no doubt that this team can win games without Diebler having big showings, but there also is no denying the team's level of play is brought to an elite level when #33 is doing his thing. Based on past experience, I have a pretty good feeling that if the man we know as Threebler shows up, Thad Matta will have that big ear-to-ear grin on his face come week's end and the Buckeyes will be in the driver's seat to win the Big Ten title.