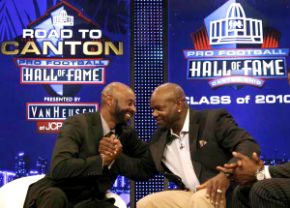 Emmitt Smith, Jerry Rice, Russ Grimm, Dick LeBeau, Ricky Jackson, Floyd Little, and John Randle are all deserving of their recent election into the NFL Hall Of Fame Class of 2010, but one man that without a doubt should be getting inducted in Canton with them this summer is former Buckeye and Minnesota Vikings wide receiver, Cris Carter.
Carter, a victim of a snubbing by the NFL Hall Of Fame for the second third straight season, was not only wrongfully left out of the class, but was eliminated even before a final group of 10 players was decided upon. Why do I call shenanigans on this you ask? Well if you look at the numbers you'll see why Buckeye fans, Vikings fans, and all football enthusiasts in general should be standing up in arms about the recent news that has come down on big Mr. Carter this weekend.
We know all he ever did was catch touchdowns, and he certainly did it well. Carter ranks second amongst receivers all-time with 130 TD receptions in his career, only trailing 2010 Hall Of Fame selectee Jerry Rice. Carter also is second on the all-time receptions list (once again behind Rice) with 1,101 catches, has 11 seasons with 50 or more receptions (ranks 3rd), had 122 receptions in a season twice (ranks 3rd), had eight season with 1,000 or more receiving yards (ranks 4th), was a three-time All-Pro, and played in eight straight Pro Bowls. The numbers are certainly hall of fame worthy as you can see, but that's not all Carter did that is deserving of enshrinement in Canton this summer.
Carter's success off the field is also a great display of the measures of his greatness. Drafted by the Eagles in the 4th round of the 1987 draft (after having to leave tOSU early), Carter became a budding star in Philadelphia for Buddy Ryan's team. It was in cheese steak haven that the famous Bermanism "All he ever does is catch touchdowns" was coined via help of the legendary coach, but Carter's stay on Broad Street did not last too long. CC was let go by Ryan after the 1989 season due to off the field issues (see: alcohol and drug abuse) and his career became a big question mark. The talent was certainly there, but would his head follow with him?
The Minnesota Vikings did not give up hope and signed Carter, who vowed to change his life course, after they claimed him off waivers in September of 1990 from Philly. Carter kept his word on his vow and went on to blossom into a superstar, playing in the Twin Cities from the fall of 1990 all the way through the 2001 season. By turning his life around and going from someone following the Maurice Clarrett path to ideal role model for fans for his work on the field and off, Carter displayed characteristics symbolic of those a true Hall Of Fame Candidate should possess.
Cris Carter is one of the best players in the history of professional football. The numbers don't lie, and for a player of his caliber to be snubbed for two consecutive years is just plain wrong. There are rumblings that the reason his trip to Canton was delayed was due to his unfriendliness with the media during his playing days. If those rumors are true, the voting members of the press should take a long look in the mirror and try to figure out another way to stroke their egos. You absolutely cannot question Carter's ability on the field and if keeping players from getting into the hall has now become a way to get back at players who weren't buddy-buddy with their respective team's beat reporter, then we must look at the selection process as a whole and reevaluate the system.
What the selection committee was thinking this year, I do not know, but one thing that is for certain is that if Carter is not a part of the 2011 class, it will indeed be up there for the worst Hall Of Fame snub of all time in any sport. If that does happen, I hope you're all with me in storming down the doors in Canton next summer.