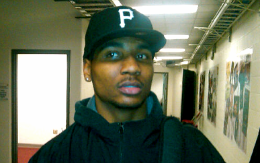 While we usually have a question-answer session printed in these segments, we are spicing things up a little bit for a special player, 2011 QB prospect Braxton Miller, of Huber Heights Wayne High School.
Miller was a participant in the Ohio Scholastic Play By Play Classic at the Schottenstein Center with the Warrior basketball team, marking the second time he was on OSU's campus in the last two weeks (Junior Day last weekend). Miller certainly likes OSU, but has offers on the table from the likes of many of the nation's best programs and will take a little bit of time before deciding where he will play his college football.
Miller was able to give us the latest scoop on what's going on with his recruitment, what schools he's closely looking at, what he likes about OSU, and more in this video.