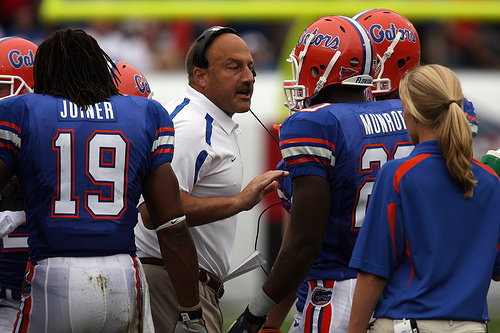 In a story sending shockwaves throughout the college football establishment, Florida head coach Urban Meyer has announced he will be stepping down following the Sugar Bowl citing health concerns. Meyer's Gators beat the pulp out of a lot of teams during his five seasons in Gainesville, including a 41-14 drubbing that sent your beloved team into a big game tailspin.
The release on the University of Florida athletics website generated so much traffic that within 15 minutes the site had crashed. Obviously our best wishes to Meyer on his personal health and let's hope this isn't as serious as the urgency would indicate. More as it develops.
UPDATE: Multiple outlets (Ben Volin of the Palm Beach Post, ESPN's Chris Mortensen, Pete Thamel of the New York Times) are now reporting that Urban Meyer's flip flopped, and in the interim will only officially be taking a leave of absence. Gator haters can take solace that polarizing offensive coordinator Steve Addazio is expected to serve in an interim role while Meyer is out, and recruiting with a nebulous uncertainty to when/if Meyer will return can't possibly help the program. Every man is entitled to change his mind, but the story becomes that much more bizarre given that just this morning, Meyer's wife was quoted as saying "no chance" he does so.