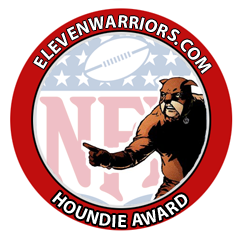 The Houndie is an award formerly known as the Buckeye NFLer of the Week. After 2 years of existence, we searched for a catchier name, so with the help of a well placed typo and the ensuing 11W comments, the current title was created.
As the NFL's fourteenth week came and went, the sheer mental and physical tax of the League's long season began to take its toll on the freshmen Buckeyes still in transition from student athletes to full time professionals. We begin in Atlanta, where Saints rookie DB Malcolm Jenkins continued to see an increase in playing time. The rookie cornerback recorded 4 tackles on the afternoon, and more importantly, Jenkins' Saints moved to 13-0 on the season escaping a plucky Falcons team 26-23. While primarily not lined up against each other except in but a few non-engage situations, recent 11W All-Aughts selection Michael Jenkins capped a brilliant afternoon, hauling in three catches for 82 yards, punctuated emphatically by a 50-yard score.
The rookie drag took its toll on Rams middle linebacker James Laurinaitis as well. While the rookie's been making a bold case for the NFL's defensive rookie of the year award totaling an absurd 104 tackles, JL added just 7 to his resume in a humiliating 47-7 loss to the Tennessee Titans. The 10+ tackles we've come accustomed to will have to wait for next week's contest with 6-7 Houston.
Monday Night Football proved no more forgiving in the win/loss columns for first time participant Beanie Wells. The Akron product had a maximum effort score, finishing with 79 yards on 15 carries. Arizona, however, failed to recognize the weapon in hand, choosing to live and die by the pass before ultimately falling to the 49ers 24-9.
The one notable Buckeye-alumnus-turned-NFL-newcomer who came away a winner on Sunday was rookie wide receiver Brian Hartline. B-Hart's three receptions for 34 yards helped the Dolphins wins the battle for Florida in squeaking past Jacksonville 14-10. Former receiving corp mate Teddy Ginn added one reception for 12 yards, a reverse turned into a 16 yard gain, and three kick returns totaling 66 yards on the afternoon.
The quarterback the receiver-formerly-known-as-TG7 helped find football immortality had a nice afternoon in his own right. Former Heisman Trophy winner Troy Smith threw for 10 yards, rushed for 14, and recorded his first touchdown of 2009 in Baltimore's 48-3 domination of the hapless Lions. Those hoping Baltimore QB Joe Flacco's previous week pedestrian play would continue to help give Troy additional opportunities will be miffed to learn the former Delaware Blue Hen finished 13/20 on the afternoon for 230 and a TD. If Smith's going to get his opportunity, it's going to have to be as a result of an injury or in a new situation.
We move on trying to find this week's Houndie by looking to Silver Bullet alumni. Bobby Carpenter added three tackles to his total for the year, but did so in another frustrating loss for the Cowboys, who fell to the Chargers 20-17. Former partner in crime A.J. Hawk had a more profitable afternoon, matching Carpenter's three tackles but adding an assist in (more importantly) a 21-14 victory over hated divisional rival Chicago. Safety Donte Whitner also had a rather pedestrian day, recording just two tackles and an assist in a 16-10 somebody-has-to-win victory by the Bills over the Chiefs.
So amidst a sea of outstanding mediocrity and an under utilized Beanie, who's left to claim the most illustrious award in sport? Why previous winner Antoine Winfield, of course. Win bounced back from injury, ripped a few pushups despite still recovering him from the physical woes that ailed him, and recorded a ridiculous 9 tackles from the corner position. Winfield shadowed Laveranues Coles all afternoon, holding the former Pro Bowler to zero receptions. As for the Vikings? They handled southwestern Ohio's team, the Bengals, to the tune of 30-10. Another victory, another Houndie. All in a weekend's work for one of the finest corners to ever rock the Scarlet & Gray.