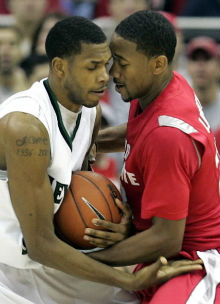 The Blue Hose are back in Columbus, looking to avenge their 87-43 loss to the Buckeyes back in December of 2007. Don't worry, that's not going to happen. Instead the Buckeyes get a chance to devour 3 straight cupcakes at home, before they open the B10 season NYE in Madison.
Last time PC was in town, they were in the first year of a five year transition into D-I basketball and will finally be eligible for the Big Dance in March of 2012. This year they bring the nation's youngest team into Value City arena and are fresh off a 39 point pasting by North Carolina.
For Ohio State tonight, it's all about continuing to find each player's new role and not playing down to the competition.
| # | Name | PTS | REB | ASST | POS | # | Name | PTS | REB | ASST |
| --- | --- | --- | --- | --- | --- | --- | --- | --- | --- | --- |
| 4 | PJ Hill | 4.4 | 1.4 | 1.5 | G | 31 | Chase Holmes | 14.8 | 5.5 | 1.4 |
| 33 | Jon Diebler | 16.0 | 3.1 | 2.3 | G | 5 | Travis Smith | 8.3 | 1.8 | 3.7 |
| 44 | William Buford | 12.1 | 3.4 | 3.2 | F | 24 | Khalid Mutakabbir | 7.9 | 3.4 | 0.8 |
| 23 | David Lighty | 12.3 | 5.4 | 3.0 | F | 30 | Jake Tiroyli | 14.7 | 4.9 | 0.5 |
| 52 | Dallas Lauderdale | 7.5 | 4.5 | 0.4 | C | 54 | Walt Allen | 7.0 | 3.4 | 0.8 |
Opponent
Coach Gregg Nibert knew it was going to be a long process when the Blue Hose transitioned to Big Boy hoops, but his plan of attack has a good chance of paying off in the end. Three starters from a season ago, Al'Lonzo Coleman, Pierre Miller and Josh Johnson, all juniors and 55% of PC's scoring last year, decided to redshirt this season and preserve their final year of eligibility for a chance to play in the NCAA Tourney. In their absence, Nibert rolls in with 6 freshmen, 2 sophomores and a junior to take the obligatory whoopin and fat paycheck.
The Blue Hose come in scoring 59.5 points a game, on 44.1% shooting from the floor and 33.5% from deep. Their lack of height is apparent in their rebounding numbers, snagging just 29.7 a game, while their opponents are collecting 36 and they only dish out 10 dimes a game.
Expect the starting lineup above to change for Nibert before the contest starts, as 8 different players have started games, including Zach Faircloth, Kevin Davis and Jay Reynolds. Faircloth and Davis are both 6'2" guards, but Faircloth will see more minutes, averaging 25 minutes and 6 points in his freshman campaign. Reynolds, another frosh, is 6'10" and plays about 11 minutes a game and snags close to 3 boards.
Freshman Jake Troyli, a 6'9" freshman has scored double figures in 9 of PC's first 10 games and will flash his outside game if necessary, but prefers inside, shooting 47 percent thus far. Chase Holmes, a 6'4" sophomore and son of John, has scored double figures in 6 straight, including a 29 point performance against UNC. He selectively shoots the long ball, but hits an impressive 39 percent from there.
PC has lost to Clemson, Illinois and UNC by at least 39 points and shouldn't pose any type of threat to the Bucks. Ohio State needs to step up the defensive intensity and cause some havoc on the young Hoser squad, creating many TO's and fast break opportunities.
Buckeye Breakdown:
The last time PC was in town, Ohio State shot an astounding 71 percent, marking the second highest single game effort in history, while also setting a record for the Schott. The Buckeyes are still hanging on to second nationally at 52.1% from the floor and should be able to offset their 49% performance at Butler. Their 85.6 PPG still puts them at 6th in D-I, while their 9.7 bombs made per game is good for 9th.
I was naive to think OSU would come out and click on all cylinders in their first game without Evan Tuner. Hill simply can't stretch defenses as well and Diebler has trouble creating his own shot. There is no guarantee Hill will start this game and if he does, Thad will have a short leash on him. Hill played just 14 minutes against Butler and is shooting just 42% from the floor this year. He has a nice 3:1 A/TO ratio, but with Thad trusting Lighty and Simmons to bring the ball up, Hill's minutes could continue to slip. Diebler needs to use his screens more effectively, rubbing shoulders with his teammate and curling to the bucket a few times. He'll be fine over the next three, but the boys in Whisky will hound him more than Butler did and he needs to perfect some head fake/drive combos.
Buford's stroke is coming around and he fought off a back injury on Saturday, but he has to continue to pick up a few more rebounds and assists, while making sure each shot is within the offense. He has a tendency to fire up some ill-advised shots early in the possession. Valuing each and every possession is one of Thad's commandments.
I forgot how much I enjoy watching David Lighty play and he will be the glue that holds this team together through the injury. The scrappy junior has always done the little things and may be one of the top five defenders in the country, but he has increased his offensive production since Turner went down. Lighty has hit 12/24 shots and scored 16 points in each of the last 2, while grabbing 13 boards dishing out 7 assists. If he can continue to take his game inside and set the example for other to do the same, then this team can hold their own while The Villian is down.
It sounds like a broken record, but the Bucks and more importantly Dallas Lauderdale, need to take advantage of the height difference and dominate the boards. Lauderdale knows he needs to be a better rebounder and it would be nice to see a double digit performance in tonight's game, building his confidence moving towards conference play.
OSU won't have any trouble tonight and the only questions seems to be how much they will win by. The Bucks shoot lights out at home, connecting on 53, 46, 58, 63 and 63 percent against the other 5 cupcakes played this season. The hot shooting continues and the defense creates at least 20 TO's, as Thad uses the press a little more and the Buckeyes win 86-51.
Etc
Tom Hamilton and Tony White will work the mikes tonight.
Pay special attention to the energy new coach Jeff Boals has brought to the bench.
Thad is now 32-5 in the month of December at Ohio State.