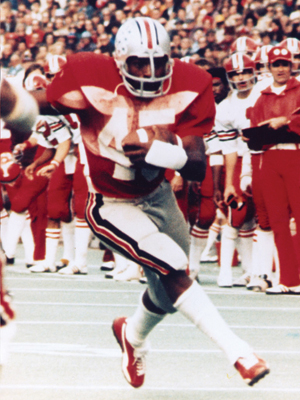 Ohio State is playing in the Rose Bowl for the first time in 13 years. This venue has not exactly been kind to the Buckeyes, or the Big Ten in general, over the past 30 or so years. But there have been some memorable moments that OSU fans can cherish. One of the most prominent among those is the 1974 Rose Bowl.
Most Buckeye fans remember that Ohio State won the national championship after beating USC in the Rose Bowl after the 1968 season. But the 1969 season ended with a shocking loss to Michigan, and the next three seasons also ended with losses. For their part, the boys in blue didn't exactly represent the Big Ten any better during that stretch. They lost to USC 10-3 after the big upset over OSU, and repeated that same set of events in 1971: a win over OSU followed by a loss in the bowl. In between, OSU defeated Michigan in 1970, but then lost to Stanford in the bowl.
In 1972, a freshman halfback named Archie Griffin burst upon the scene and led Ohio State to victory against Michigan, sending them once again to the Rose Bowl. But the Buckeyes were trounced by John McKay's USC Trojans 42-17 on their way to a national title. In 1973, Ohio State and Michigan played to a 10-10 tie. To decide who would go to the Rose Bowl to represent the Big Ten, the conference's athletic directors held a vote. The 4 straight losses weighed heavily on their minds, and they voted to send Ohio State back to Pasadena because Michigan QB Dennis Franklin was hurt and they thought OSU would have a better chance of winning. And so then, as now, the Buckeyes carried the prestige of the conference with them in addition to the usual rabid interest from their fan base.
USC featured many of the same players that had torched OSU the previous season: RB Anthony Davis, QB Pat Haden, and WR's J.K. McKay (son of the coach) and Lynn Swann. USC got the ball first in the game and began by completing 4 straight passes. But the drive stalled and they settled for a 47-yard FG by Chris Limahelu. An interception thrown by OSU QB Cornelius Greene put USC in good position again, but again they stalled and settled for a FG. But this time Limahelu was off and OSU dodged the bullet. OSU then drove into USC territory but they also stalled. As Blair Conway lined up to kick a 36-yard FG, USC went offside and gave OSU a much easier 4th down. Coach Woody Hayes decided to go for it, and Griffin ran 13 yards for a 1st down. OSU scored when freshman fullback Pete Johnson plowed in from 1 yard out for the touchdown.
OSU's scoring drive was not the typical "3 yards and cloud of dust" variety that fans had come to expect. To be sure, there was plenty of Griffin and Johnson. But Greene, the sophomore QB who was adept at running the option, mixed in passes to wingback Brian Baschnagel and tight end Fred Pagac to surprise the USC defense. But USC had plenty of versatility of their own, and a touch of trickery to boot. Another FG trimmed the lead to 7-6, and then as they were driving into OSU territory again, John McKay decided they needed a little something extra to dent the tough OSU defense. Haden handed to Davis on what looked like a typical USC "student body left" play. But as he ran left, Davis suddenly stopped and lobbed a pass into the end zone. The Buckeyes were completely fooled on the play, and a wide open J.K. McKay caught the ball for a touchdown. Then Haden hit McKay for a 2-point conversion and USC was up 14-7.
But Ohio State was undaunted, and they immediately put together a 12-play drive for another Pete Johnson touchdown. In those days, Woody Hayes' favorite goal-line formation was something he called the "Robust T", which was three running backs (at least one a fullback) spread across the backfield centered behind the QB. Combined with 2 tight ends, this formation basically telegraphed the fact that the team would run, but it usually didn't matter because the blocking was what mattered. Both of Johnson's first half TD's had come out of the Robust T. The two teams went into halftime tied at 14, but with plenty of fireworks sure to come in the second half.
Ohio State's defense had been all but invulnerable in 1973. They were ranked #1 in the country in scoring defense, and had given up only 43 points in the regular season. Four times they had shut out their opponents, while on 4 other occasions they gave up 7 or less. But USC had dented them for 14 points in the first half, and they weren't finished yet. After a Griffin fumble ruined a promising drive into USC territory, the Trojans began a long march. 14 plays later, they had driven 84 yards for a touchdown to go up 21-14, and Hayes was going ballistic on the OSU sideline. The Buckeyes needed a spark, and it came from a surprising source.
Ohio State was initially stymied by a holding penalty, but Greene got it going with some nifty scrambling and set OSU up on the USC 44 yard line. From there, he dropped back to pass and hit Pagac deep down the middle for a 40-yard gain. The thought of seeing a long pass to the tight end is shocking to modern OSU fans, and it must have been even more shocking to see it coming from a Hayes-coached team. USC had apparently not recovered from the shock because on the next play Johnson walked in for an easy touchdown behind All-American OT John Hicks. The extra point was blocked, and so Ohio State still trailed 21-20. But that would not last long.
USC was forced to punt, and safety Neil Colzie received the punt at his own 35. From there he cut to the left and scooted 57 yards down to the USC 8. Later, OSU scored on a 1-yard option keeper by Greene after faking to Johnson out of the robust T formation. The extra point was successful and the Buckeyes had a 27-21 lead that they would never surrender.
Later, OSU got the ball back at their 47, and Greene dropped back to pass on 1st down (try not to faint, this is Woody we're talking about) and hit Brian Baschnagel on a long pass to the USC 27. On the very next play, Griffin ran it down to the 3. From there, fullback Bruce Elia scored to make it 33-21. Woody went for 2 and Greene converted on an option after faking to Baschnagel to put Ohio State up 35-21.
USC attempted to rally, but as they started to push into Ohio State territory, they bogged down. A 4th down pass from Mckay to Swann went through the hands of the future NFL Hall of Famer and OSU took over on their own 40. Pete Johnson carried to the USC 47, then on the next play Griffin would give the nation a preview of things to come. As the sophomore RB sprinted through a hole on the right side, he cut to the right behind a block from Johnson, scooted toward the sideline, then cut back to the left and zoomed through the middle of the field as he went past the 20. He got one more block from Pagac around the 10 and then carried a USC defender into the end zone. OSU went up 42-21 and that was the final score.
Greene was named MVP as he finished 6-8 passing with 129 yards. Griffin rushed for 149 yards and a TD, while Johnson carried for 97 yards and 3 TD's. The victory erased the pain of the previous 4 years, not only for Ohio State but for the Big Ten as a whole. The decision of the AD's had been vindicated, and Hayes had gotten revenge on McKay for the previous season's humiliation. Finally, Ohio State fans had discovered a new slate of young stars: Griffin, Baschnagel, and Greene were only sophomores, and Johnson was only a freshman. The future was bright, just as it is for OSU today.