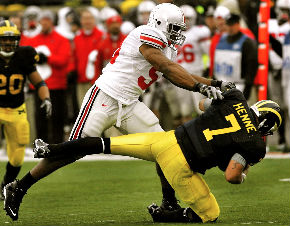 As Jason wrote on Monday, the Buckeyes have been the Big Ten's team of the decade and while the offense has been a big part of the team's success, the defense needs to be credited for the dominance Jim Tressel has enjoyed in the 2000s.
There have been so many good defensive players that it is hard to keep track of at this point, but we did our best to round up the best group of Silver Bullets this decade has had to offer. In our defensive squad we selected two defensive ends, two defensive tackles, three linebackers (position did not matter), two corner backs, two safeties, and a punter. The following team is certainly star studded, but there were so many choices that we must give apologies to those who did not make the cut and give them their due credit in a "Just Missed" category as well.
Defensive Line
This group was certainly tough to pick, especially at the tackle position. There have been so many good linemen at OSU the last decade and this unit has really been the spoon that stirs the pot of the defensive success. That being said, here's how it went:
DE Vernon Gholston (2004-2007)
Big Vern demolished offensive tackles during his time in Columbus en route to setting the record for sacks in a game and in a season in 2007. That same year he was named Big Ten Defensive Lineman of the Year and firs-team all-conference as well. He barely played as a freshman and red-shirted the 2005 campaign with a broken hand, but in his entire career he compiled 87 tackles (30.5 for loss) and 21.5 sacks, before becoming the 6th pick in the 2008 NFL Draft to the New York Jets. He will always be remembered (at least in my mind) for going past Jake Long untouched and rocking Chad Henne in the 2007 Michigan Game.
DT Ryan Pickett (1998-2000)
Pickett is a Cooper player who just bled over into this decade. Another early entry player to the NFL, Pickett played and started in all three seasons at Ohio State and just owned the interior. In three seasons he tallied 109 tackles and 8 sacks, playing both left and right defensive tackle during his time in Columbus. Pickett was a first round pick of the St. Louis Rams in the 2001 NFL Draft and currently plays for the Green Bay Packers.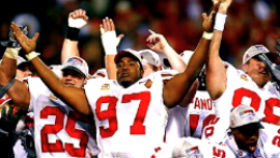 DT Kenny Peterson (1999-2002) This may be the most controversial selection on the entire roster, but Peterson deserves some credit for the way he was able to use his athleticism to play the DE/DT hybrid while at Ohio State. His 84 career tackles, 12 sacks, 1 interception, and 3 forced fumbles were certainly great feats, but his play in helping the Bucks earn the 2002 National Championship may be the greatest of his accomplishments. Peterson has since gone on to be a marginal player in the NFL (and in all honesty a disappointment) where he currently plays with the Denver Broncos. Peterson started the trend of bringing in athletic hybrid linemen and we can thank him for the role Cameron Heyward now occupies in Columbus.
DE Will Smith (2000-2003)Smith is hands down the best in this group, ad he dominated in college and continues to do so with the Saints. His 167 tackles, 23 sacks, 5 forced fumbles, 2 fumble recoveries, and 1 interception as a Buckeye are beastly statistics and go right along with the 4.6 second forty-yard dash her ran for NFL Scouts coming out of school. As a senior, he was First Team All-Conference, Big Ten Defensive Player of the Year, and Big Ten Defensive Lineman of the Year. Simply put, the Fresh Prince of Columbus was a unique talent that has laid the ground of comparison for all Buckeye lineman who enter the school.
Linebackers
Penn State calls themselves "Linebacker U" but if you look at the Buckeyes over time, an argument can be made that their linebacking units have been just as good, if not better than those that call Happy Valley home. There were obviously some great players who have roamed the second-level this past decade, but three stand out to us.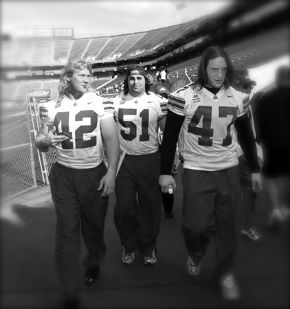 LB AJ Hawk (2002-2005)
394 tackles, 15.5 sacks, 7 interceptions, 13 pass break-ups, 3 first-team All Big Ten honors, 2 time All-American, Fiesta Bowl Defensive MVP, and Lombardi Trophy winner. Enough was said there, but AJ Hawk will go down as one of the all-time great Buckeyes and was a pleasure to watch don the Scarlet and Gray during his time in Columbus.
LB James Laurinaitis (2005-2008)
Little Animal saw action as a true frosh in The Game when Bobby Carpenter went down and never looked back. The only bright spot of the St. Louis Rams' 2009 season, Laurinaitis racked up a mantle-full of awards including the Bronco Nagurski Trophy, Dick Butkus Award, Lott Trophy, 3 All-American Awards, 2 Jack Lambert Awards, and the 2008 Lowe's Senior Class Award. A walking trophy case was the spawn of the Legion of Doom as he went from 3-star recruit to national superstar during his time in Columbus. His career totals were 376 tackles, 9 interceptions, 13 sacks, and 4 forced fumbles, making him one of the all-time Buckeye linebacking greats.
LB Bobby Carpenter (2002-2005)
The Robin to Hawk's Batman, Carpenter wasn't too shabby himself. The current Dallas Cowboy notched 191 tackles, 14.5 sacks, and 3 interceptions while playing the LEO position (hybrid LB/DE) in Columbus. He was named to two All-Big Ten teams as a three year starter for the Bucks and contributed in every game during the Buckeyes 2002 National Championship run. His addition to the defense was critical in the teams' success during the middle of the decade and he was one of three players that made up one of the best linebacking corps in college football history.
Defensive Backs
If Penn State is Linebacker U, then Ohio State is Defensive Back U. There have been so many good DBs to come out of Columbus over the years that it's hard to just name four in this decade that stand out to us, but once again we had to make our picks. While it was tough, this position may have been the easiest out of the units to decipher.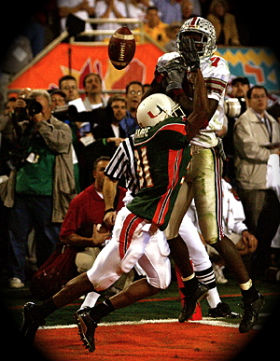 CB Chris Gamble (2002-2004)
Gamble was only a three-year player at OSU, but that fitted suit as he was a three-way player as well. Playing defensive back, wide receiver, and on special units, Gamble was a unique talent that played a pivotal role in getting OSU it's coveted National Championship in 2002. He may have been involved in College Football's most controversial play ever, but he should be remembered for his 65 tackles, 7 interceptions, 40 receptions, 698 receiving yards, 68 rushing yards, 467 punt return yards, and 384 kick return yards. He was certainly a dynamic player while in Columbus and his lock-down abilities at corner easily earn him a spot on this list.
S Mike Doss (1999-2002)
Another member of the National Championship squad, Doss had a stellar career at OSU roaming the secondary. The three time All-American and All-Big Ten selection started 40 out of 50 games in his Buckeye career and had 331 tackles, 6 sacks, 8 interceptions, 8 fumbles recovered, and won a Fiesta Bowl MVP award during his time in Columbus. Doss's most memorable play may have been his interception of Ken Dorsey in the National Championship Game which gave the Buckeyes the lead. Unfortunately Doss has had a tough go of it with injuries in the NFL, but did win a Superbowl ring with the Colts, so he can't complain too much.
S Donte Whitner (2003-2005)
Whitner was the best strong safety of the decade and pushes this unit as the best player overall in terms of talent. That statement can be backed up by the fact that Whitner was selected 8th overall by the Buffalo Bills in the 2006 NFL Draft and, when healthy, has been amongst the league's best at his position. He broke into the lineup early as a sophomore after switching over from corner back to safety and never gave up the position until he departed for the NFL after his junior season. In two years as a starter he compiled 142 tackles, 5 sacks, and 3 interceptions, and was a force with the hit stick for any receivers that dare crossed the middle of the field. Whitner has battled some injuries in the pro ranks, but has made Buckeye fans proud when in the line up.
CB Malcolm Jenkins (2005-2008)
This former 2-star recruit saw action fast and blossomed into the nation's best defensive back last season, winning the Thorpe Award. His career started as a freshman, a year in which he played nickel back (Tyler Everett and Ashton Youboty were the starters), and he started in all of his final three seasons. In his career he racked up 196 tackles and 11 interceptions, despite many quarterbacks refusing to throw to his side of the field during his senior season (although Wisconsin didn't get the memo). He was a three time All-Big Ten selection and two time All-American selection, and parlayed those feats into becoming a first round pick of the New Orleans Saints, where he currently serves as the nickel back. Jenkins served Buckeye Nation well both on and off the field and will go down as one of the all-time defensive greats in school history.
Punter
BJ Sander
We'll make this one quick and easy. Sander won the Ray Guy Award as the best punter in the nation and for that feat alone he deserves a spot on this All-Decade roster. Sander went on to punt in the NFL for the Green Bay Packers, the only Buckeye to ever win the Ray Guy Award.
Just Missed
As mentioned above, there were just so many good players to choose from that it made this article one of the hardest I've had to write since coming on board to 11W. Some players that deserve high consideration and just missed the cut are DT Tim Anderson, DT Quinn Pitcock, LB Matt Wilhelm, LB Marcus Freeman, CB Nate Clements, SS Kurt Coleman, P Andy Groom, and P AJ Trepasso. DL Cameron Heyward and DE Thaddeus Gibson could make the list by the time their careers are over (if they don't leave early), but for now are reserves on the list. There really have been so many good players to come through Columbus this decade and we should all enjoy the success while it lasts, because nothing is forever.