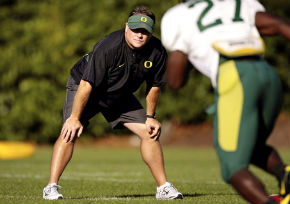 A lot has been written about the unique Oregon offense and it's intricacies, but what about the man behind the madness that is the Ducks spread option attack? That man is first year Oregon coach, Chip Kelly, who has certainly had a major impact on Nike's favorite client since arriving on campus a few seasons ago.
Born and raised in Manchester, New Hampshire, it was only fitting that Kelly went to school at the University of New Hampshire where he received a Bachelor's of Science degree in Physical Education in 1990. Upon graduation, Kelly was hired at Columbia University as secondary and special teams coach for the freshman team. Many assume because of his offensive prowess that Chip was an offensive coach through and through, but it turns it he knew a little thing or two about defense back in the day.
After serving just one season in that position, Kelly was promoted to outside linebacker and strong safeties coach of the varsity team. This was his first true college football coaching gig and he then was able to parlay early career success into a job back home as running backs coach at his alma mater in 1992. He only spent one season at UNH before accepting the defensive coordinator position at Johns Hopkins (surpised you are with defense again).
After realizing the school had more medical personnel than football players, Kelly returned to UNH to retake his duties as running backs coach from 1994-1996, before being moved to offensive line coach for two seasons in 1997-1998. Rewarded for hard work with his offensive units, Kelly was named offensive coordinator at New Hampshire in 1997 and served in that role through 2006.
It was at New Hampshire that Kelly was able to implement the start of his offensive genius in the form of his unique spread attack. During his tenure at the helm of the UNH offense, Kelly was named College Assistant of the Year, named one of American Football Monthly's "college football's hottest coaches", helped quarterback Ricky Santos win the Walter Payton Award (best player in the formerly Division 1AA), and broke countless school offensive records.
Kelly was certainly content at New Hampshire (as was the rest of college football in keeping him there), but an interesting opportunity came along for him when the University of Oregon decided they want to spice up their offense and bring Kelly's unique style to Eugene. Chip accepted the teams offer after the 2006 season and became the head man of the Quack Attack heading into 2007.
Immediate success was in the cards for Chip Kelly upon arriving in "Nike Land". In his first year, the Oregon offense led the Pac-10 in scoring and total offense, while setting team records in both of those areas in the process. A year later, in 2008, Kelly's unit one-upped his '07 team, leading the conference yet again and breaking the previously set records in points scored and total offense. The spread to run attack ranked second nationally in rushing and saw two 1,000 yard rushers in Jeremiah Johnson and LeGarrette Blount.
Kelly rubbed off so well on Oregon that the team named him successor to 14 year head coach Mike Belotti in early December of 2008. The 2008 season turned out to be the last for Belotti as head man of the football program, as he stepped down up to become the school's athletic director. Kelly was named as the team's head coach and headed into 2009 with lots of momentum after the team's Holiday Bowl win against Oklahoma State and returning key cogs of his offense in Blount and quarter back Jermiah Masoli.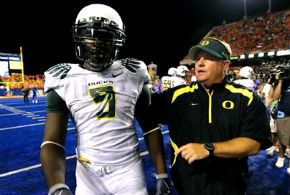 The 2009 season did not start well for Kelly as his team was embarrassed both on and off the field in a 19-8 loss to Boise State up on the "Smurf Turf". Kelly's supposed-to-be explosive offensive was limited to just one late game score and after the game frustrations mounted and the team's star runner LeGarrette Blount went just a "little" overboard. Oregon looked to be on a downward spiral from week one, but Kelly suspended Blount indefinitely and took control of the team and kept them focus.
After their week one blunder, Oregon battled back, riding the success of Masoli and freshman running back LaMichael James to win 10 of their 11 remaining games. They had big wins at home against USC and Utah and on the road against Arizona, before finally clinching a conference title by beating rival Oregon State in the annual "Civil War". The win set them up in their current place for the Rose Bowl in Pasadena against the Buckeyes, as Kelly was given much praise for keeping his team focused throughout the season and for the success that his offensive scheme had despite losing one of its best weapons for most of the season.
Chip Kelly comes into the battle with the Buckeyes as not only one of the most respected offensive minds in the game, but now as one of the most respected coaches in college football. His offensive theories are innovative, and most importantly successful and will certainly give the Bucks their toughest challenge of the 2009 campaign. When named offensive coordinator in 2007, Kelly was interviewed about his new age schemes and how they would work in high level college football. Kelly responded, "My philosophy has been to coach an attacking style of football and stretch the defenses in as many different ways as you can. You have to get the ball into the hands of your playmakers and let them operate in order to be successful." While Kelly certainly has kept to his word and stretched plenty of defenses during his three year run in Eugene, the Buckeyes have a pretty good leader on their sidelines as well, and hopefully old school football can teach new school football a lesson or two come January 1.