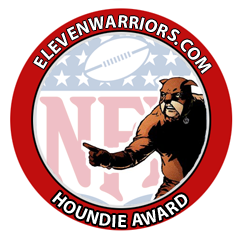 The Houndie is an award formerly known as the Buckeye NFLer of the Week. After 2 years of existence, we searched for a catchier name, so with the help of a well placed typo and the ensuing 11W comments, the current title was created.
This week saw some fresh faces, both veterans and rookies, rise to the top of the nomination list for this week's honor.
Fortunately for Steeler fans, Antoine Winfield had to sit out the game due to his ankle injury suffered last week, while Donte Whitner and Shawn Springs had to do the same in their respective games. In Carolina's 20-9 loss to Buffalo, Chris Gamble had 4 tackles, good for 3rd on the team, while Na'il Diggs chipped in with just an assist on the day. Nate Clements helped hold Andre Johnson to 2 catches and recorded 4 solo tackles, but San Fransico lost 24-21 in Houston.
Down in Dallas, Bobby Carpenter has made the most of his recent surge in playing time, by recording 3 solo stops and 2 assists in the Cowboy's 37-21 win over Atlanta. Carpenter now has 9 stops in his last 2 games, which is one fewer than the first 4 games of the season. Michael Jenkins had his standard 2 catches, this week for 22 yards, as Dallas held Atlanta to just 198 passing yards.
Carpenter's sidekick at OSU, AJ Hawk had one of his best games on the year, registering 7 solo tackles and an assist in Green Bay's 31-3 throttling of the Browns. Hawk was shutout last week, but still ranks second on the team with 31 tackles on the year. Another LB, James Laurinaitis had 4 solo stops as St. Louis lost their 17th straight game, this time a 42-6 defeat to the Colts. Speaking of the Colts, Gonzo is getting closer to his return and could practice this week.
One of the most exciting games was down in Miami, where Will Smith and New Orleans erased a 21-point deficit to win 46-34. Smith only had 1 tackles and Malcolm Jenkins is still battling an ankle injury. But on the Miami sideline, Brian Hartline had his best game as a pro, catching 3 balls for 94 yards to lead the Dolphins in receiving. Hartline's highlight came on this 64-yard pass and catch late in the 3rd, setting up a 4-yard TD run by Ricky Williams to put the Dolphins up 34-24. Ted Ginn was held to just 2 catches for 16 yards and 1 carry for 5 yards.
While Hartline had a nice game, it was in a losing effort and this week's winner could be on the verge of logging more minutes and could have a great second half of the season. Beanie Wells was in the national spotlight and he delivered his best game to date. Wells lead 'Zona in rushing with 14 carries for 67 yards and added 3 catches for another 10 yards. Beanie also scored his first pro TD, a 13 yard scamper to get the Cardinals on the board.
Wells almost had a costly fumble late in the game, but it went rolling out of bounds before the Giants could recover. Beanie is starting to pick up blitz coverages better and Arizona showed with 4 wides and Beanie in the backfield, they have one of the most potent offenses in the league. We can only hope he continues to out draw Tim Hightower in the amount of touches each week, because the NFL needs a quality Buckeye RB.