The Battle for the Illibuck Trophy returns to Columbus this weekend and it certainly has been a battle the last two decades. In the last 18 games of the series, each team has won nine games, and while the Buckeyes have taken 4 of the last 5, Illinois has won 7 of the last 10 games played in Ohio Stadium.
Juice Williams and the rest of the Orange Crush came in to the Horseshoe and shocked the Buckeyes with a 28-21 victory in 2007, at the time bashing any hopes of capturing a second consecutive birth in the National Championship game. Of course teams like West Virginia and Mizzouri didn't take care of business down the stretch and OSU found itself playing LSU in the MNC, but we all know how that turned out, or if you have selective memory like me you don't remember the end of that season.
Last year the Bucks were able to get a little revenge, taking it to Ron Zook's team 30-20. OSU did not really have any problems in the game, that included a Beanie Wells hurdle over Illinois safety Donsay Hardeman. This year, there is no Beanie and the Bucks will have to find a way to keep the offense rolling against a 1-1 Illinois team that is fresh off a bye week.
While the last 18 games have been split evenly, OSU holds a 60-30-4 claim on the all-time series lead and if history says anything, the chances are good for the Buckeyes come Saturday. Juice and the rest of the Fighting Illini will be looking to prove something as they begin a tough three game slate against OSU, Penn State, and Michigan State to begin conference play and will certainly try to redeem a poor start to the 2009 season that included a blowout 37-9 loss to Missouri. Ohio State looks to continue to bounce back from their heartbreaking loss to USC two weeks ago as they start Big ten play looking for their fifth straight conference title. This game, usually played at the end of the season, will certainly be an exciting one to open up the Big Ten Season.
Opponent
Ron Zook comes to Columbus in his fifth season with a 1-3 record against the Buckeyes, but his last trip to his home-state's capital was a successful one. Zook has done a fine job recruiting at Illinois, but it hasn't always shown on the field, as the Illini have made only one bowl game in his tenure, a 49-17 loss in the 2008 Rose Bowl to USC.
This year, Illinois was thought to be a sleeper team by some to win the Big Ten, and while they still have a chance to get a conference title, their early season loss to Missouri leaves many skeptical of how much this team can accomplish in 2009. Juice Williams leads the offense, and has been banged up early in the season, only registering 179 yards through the air with no touchdowns and an interception. He left the game against Illinois State with an injury, but with a bye week last week, looks to be full healthy as he tries to unseat the Buckeyes in their own house for the second time in three seasons.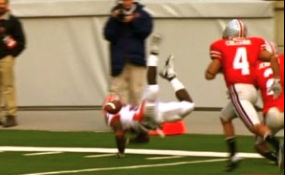 Ever since Rashard Mendenall left after the 2007 season, the Illinois running back position has not seen one player give a consistent effort week in and week out. Daniel Dufrene was supposed to take over the gig, but ended up sharing carries in 2008 with Jason Ford. Dufrene and Ford will tag-up with Troy Pollard and Buckeye-traitor Justin Green to make up the Illini's rushing attack that must be effective if Williams plans on being able to get time to throw the ball to a receiving corps that consists of an injured Arrelious Benn, Florida transfer Jared Fayson, and every announcer's favorite tight end, Michael Hoomanawanui. Benn is arguably the nation's top receiver when healthy, but the aforementioned injuries have limited him to just one catch for 9 yards this year. If he was able to rest up during the bye week, expect him to be targeted early and often on Saturday.
The injury bug has bitten the defense of Illinois as well. Junior linebacker and defensive leader, Martez Wilson, is out for the year with a herniated disk in his neck. Fellow 'backer Ian Thomas has stepped up in his absence with 17 tackles and a sack and is one of those players that is always found around the pile. The secondary faced many questions this year with Vontae Davis leaving early for the NFL, but corner back Tavon Wilson has made the most of his opportunity to see the field, notching 13 tackles in his first two games. Hardeman returns at the free safety position, while Garrett Edwards has impressed at free safety with 15 tackles thus far.
The Illini defense is not blitz-crazy like Toledo was, but they disguise their schemes well and run a very different look than the majority of teams in the conference. They like to take advantage of their athleticism and speed and when they do rush extra defenders, it is hard to read where they come from. This year they have not been able to utilize those strengths well though, as they rank 119th in the nation in passing defense and 102nd in total defense, depsite ranking 18th in rushing defense. Pryor and the line should be able to take advantage of the holes in Zook's defense after facing non-stopped blitzing last week, but expect the Illini to raise their game to the next level as they take on the Buckeyes.
Looking at the Illinois' special teams, Matt Eller returns to handle the kicking duties, while Anthony Santella takes care of punting. Eller is 2/3 on the season, with his long coming from 38 yards. Santella has punted seven times this year, for a less than stellar average of 36.9 and a long of 43. Benn will be back returning kicks this week, along with AJ Jenkins and Fayson will handle punts. Both Benn and Fayson are dangerous return men if they can get the ball in space and it will be important for the Buckeyes to control the special teams game as they usually do.
Buckeye Breakdown
After a lackluster performance in the USC game, the Buckeyes rebounded with a much stronger performance against the Rockets. Jim Tressel seemed to hear his critics following the loss two weeks ago and opened things up offensively a bit last week, even continuing to throw the ball around with a four-score lead in the second half.
Terrelle Pryor may have been the greatest benefactor from last week's game plan, throwing for a career high 262 yards and three touchdowns through the air and adding 110 yards and another score on the ground. Pryor did throw two interceptions, showing that he still has a way to go in terms of his decision making, but his ability to make plays with his feet and his arm in the game against Toledo gave Buckeye fans a glimpse of what they hope to see in the future. Pryor must build upon last week's performance this week against Illinois and help OSU make a statement in week one of conference play.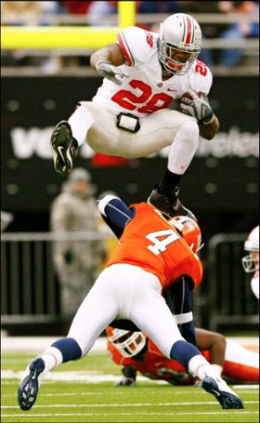 The running game is another area that needs to build up some steam as the Big Ten season begins. Boom Herron has run hard this year, but results have not shown, as he is only averaging 3.2 yards per carry through three games. Brandon Saine has proven to be an effective sidekick to Herron, averaging 5.3 yards per carry and tallying 72 yards on 6 receptions through the air in three games. Jordan Hall got his first live action last week and it would be a big boost if he can even contribute half of the 44 yards he ran for last week on a weekly basis. The running game has been slow to start in 2009, and with Tressel firmly believing in the importance of controlling the ball, look for the backs to shoulder a little bit more of a load this week.
Coming off a shut out against one of the nation's most explosive offenses through the first two games, the Buckeye defense looks to be for real. Cameron Heyward and the defensive line have stepped up big time, getting plenty of pressure on the quarterback, enabling Luke Fickell and Jim Heacock to not have to rush extra defenders on a consistent basis. Thaddeus Gibson and Nathan Williams have been playing with their hands off the ground more often then not, giving the defense kind of a 3-4 look that has been effective in disguising linebacker blitzes.
Speaking of the linebackers, Brian Rolle and Ross Homan have continued to produce at a high level, but Austin Spitler has been a little slow to start. Whether his injury is still bothering him or not, Spitler needs to step up his play or Etienne Sabino will continue to see a lot of time on the strong side, much to the approval of fans.
The secondary has been solid and the pressure from the defensive line certainly helps. This may be the week we see how good OSU's cornerbacks are as they will face a tough test with Benn, Fayson, Jenkins and Jeff Cumberland lining up out-wide for the Illini. Chekwa has proven to be solid thus far, and Amos and Torrence have played their rotating roles solid, but don't be surprised to see more Torrence as the season progresses. Jermale Hines has cemented himself at the safety position opposite Kurt Coleman, and as someone who used to defend Anderson Russell, I can finally say I wouldn't mind if he doesn't see the field for the rest of the season.
Aaron Pettrey was not happy after Tressel did not let him attempt a 53 yarder late in the USC game, but didn't do much to make a case for himself after missing a "gimme" last week. He did make a 47-yard field goal and continues to show a strong leg. If the ball is on or around the 35 yard line I would not hesitate to put Pettrey out to kick a meaningful field goal and it will be interesting to see how Tressel feels the next time a situation like the one he faced in the USC game comes around. Ben Buchanan didn't miss a beat last week, stepping in for Jon Thoma ,who had the flu, at punter last week. Buchanan showed he could punt at the collegiate level, but may have to wait a little longer to claim the starting job as Thoma is expected back for Saturday's game. After Thoma's solid performance against USC, and seeing Buchanan live last week, I am confident with either player handling the most important play in Jim Tressel's playbook. Laamar Thomas continued to give a needed boost to the kick return unit, returning his only attempt for 32 yards against the Rockets. If he continues to play the way he has, I expect him to break one for a score at some point this season and could even come this week. Ray Small has struggled to get back into the swing of things returning punts, but the Big Ten's leading punt returner last year should turn things around as more reps come his way.
Prediction
Illinois has played the Buckeyes tough, especially in Ohio Stadium, but Tressel has done well the last half-decade winning four of the last five games in this rivalry. There are stakes to this game as the conference opener and the Illibuck Trophy are up for grabs, meaning the Buckeyes will be focused for this game, unlike the 2007 game which may have flown under the radar.
Ohio State 31, Illinois 16