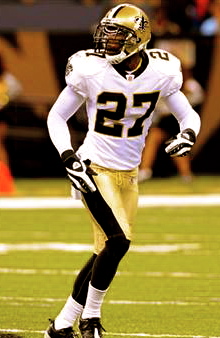 With news breaking yesterday that Brett Favre has officially made his return to the NFL (again) with the Minnesota Vikings, I started to wonder about the impact of a player of Favre's stature on a team that was so needy of a solid player at the quarterback position.
One thought lead to another as the Ohio State Buckeyes came onto my mind and I started to think, "if OSU could add one player that graduated or left last year to it's roster this year who would I choose". You may immediately spit out the names of James Laurinaitis or Chris "Beanie" Wells, but the choice is not as easy as you may make it out to be. Starting positions of need, current depth, injuries, and other factors must be taken into account when making a decision like this.
When I started thinking about last year's players, I acknowledge the star power that could help to push this team over the top, but sometimes on a team it's the little players that make the difference between a Rose Bowl participant or a team that can compete for National Championship glory. Do I choose Malcolm Jenkins or Donald Washington to help this year's secondary out? Do I bring back Brian Robiskie to give this young receiving corps a little experience to grow with? Would I like to have The Animal or Marcus Freeman patrolling a linebacking corps that has taken a hit with the loss of Tyler Moeller? The answer is yes to all of these questions, but if I had to choose one, this is how I would make my choice out of a handful of excellent options.
The Case For Malcolm Jenkins Some think secondary is the biggest concern for the upcoming season, especially the corner back position. Nobody questions the talent of Chimdi Chekwa, Andre Amos, Devon Torrence, Travis Howard, and the three freshmen, but what people do question is their ability to be the number one cornerback in Jim Heacock's defense. This is where Malcolm Jenkins comes in as an obvious choice as a player I would like to have back for the upcoming season and I'm sure many Buckeye fans would agree with me for many reasons.
Jenkins not only has the talent on the field to push this team over the top, but was a vocal and spiritual leader on and off of the field last season. He had the "it" factor so many players aspire to gain and whenever the Buckeyes needed a big play (see: Wisconsin, Purdue), Jenkins came up with it. Malcolm Jenkins was the type of guy you love representing your team and will continue to be with the New Orleans Saints, making him valuable in all facets of a team. He would certainly bring great leadership to this young group and would be a valuable asset at the corner back position, letting Chekwa and the rest of the troops handle the other spots where they are better suited.
The Case For James Laurinaitis When talking about leadership and heart, there may be none better than James Laurinaitis. Add in his 376 career tackles, four Big Ten titles (two shared), two MNC appearances, and good deeds off the field, and you can see why 'Little Animal" was a fan favorite for his four years in Columbus and is categorized by some as one of the great linebackers in Ohio State history.
While recognizing Laurinaitis as a great member of The Ohio State Buckeyes football team for the last four years, I was always one who felt he was just missing something from the greatness that guys like A.J. Hawk, Andy Katzenmoyer, and Chris Spielman had. Don't get me wrong, James was a great player and represented the Scarlet and Gray proudly, but I just felt like there was something about him that didn't scream superstar. He still makes an outstanding candidate as a player I would love to have on this team, but I think with the possibilities of Rolle, Spitler, Homan, Sabino, Klein, Sweat, Bell, Whiting, and others patrolling the middle of the field, Jenkins comes as a more appealing and more necessary piece for the 2009 team.
The Case For Marcus Freeman Like Laurinaitis, Freeman faces the depth at the linebacker position as a challenge to overcome in being the player I would want back to help the 2009 team, but he also brings many credentials that could be valuable as well. Playing both the WILL and SAM linebacker positions during his time in Columbus, Freeman racked up 213 tackles the last three seasons, including a 2007 campaign that included 108 of those. While not being selected as a captain last year, Freeman still was a leader in the locker room and like the above mentioned players, his presence would be well received by this young team.
The loss of Tyler Moeller takes away a player with the ability to blitz, cover a lot of ground against the run and the pass, and play with a control that most players at the college level lack. Marcus Freeman brings all of these things to the table and while he is more of a true linebacker and not a "Star" hybrid-type player like Moeller is, the loss of the dynamics Tyler brings would not hurt as bad. Freeman would benefit from another season in Columbus and the team would too, but I'm not sure if the need is there enough for him to beat out Jenkins as my first choice.
The Case For Brian Robiskie "Robo" is a player who rivals Malcolm Jenkins in this debate the most because of the questions surrounding his position. Coming into this year there are no certainties at the wide receiver slots as Ray Small continues to try his hardest to not make the NFL, DeVier Posey has never proven he can be a number one receiver, Dane Sanzenbacher continually fights injuries (although he is the most certain thing about this unit), Taurian Washington can't break the Spring Game stud label, Flash Thomas is still learning the position, and Duron Carter, James Jackson, and Chris Fields are true freshmen.
Enter Brian Robiskie, the better of the two Brians from last year's unit that was very disappointing in the receiving category (mostly because of the development of the offense under Pryor). Robo hauled in 42 receptions for 535 yards and 8 touchdowns in 2008 after catching 55 passes for 939 yards and 11 scores in 2007. He clearly has the on-field talent to be the best receiver in this year's bunch and as a captain during his senior season, he would also bring some much needed leadership to the team. Robiskie is currently in a battle to be the Brown's starting receiver opposite Braylon Edwards and his precise route running and catching technique that made him a second round pick would be welcomed with opened arms in Columbus this upcoming fall. Wide receiver is certainly one of the biggest, if not the biggest question mark this season for Ohio State and Brian Robiskie, like Jenkins with the lead corner back gig, would certainly sure up a big area of need for this team.
The Case For Beanie Wells Chris Wells is the subject of both praise and criticism for Buckeye fans, but after leaving school as the fourth leading rusher in school history in only three years, he will certainly be missed in 2009. Call him "soft" or "fragile", but 3,382 yards and 30 touchdowns in just three years donning the Scarlet and Gray marks Beanie as one of the all-time greats to play in Columbus, and his production is not replaceable by just one player just a year after his departure to the NFL.
While one player may not be able to make-up for what Wells meant to the Buckeyes, a committee of solid rushers may be able to do the trick. Daniel "Boom" Herron returns as the leading candidate to start, and took care of business with Beanie on the sidelines, rushing for 439 yards and 6 touchdowns as the back-up running back in 2008. Brandon Saine, if he can ever get over injury issues, will bring an explosive player out of the backfield who can both run and receive, giving Terrelle Pryor another weapon to use at his disposal. Throw in Jaamal Berry, the heralded freshman who looks good so far in practice, and the Buckeyes have a three headed monster to make up for the yards Beanie took with him to Arizona. As I mentioned before, Beanie is a one-in-a-kind type of running back, but because of the players who make up the running back unit in 2009, the loss of Wells isn't as great as it could have been had nobody shown they can handle the load at the college level.
After much deliberation of these five players, as well as the likes of guys like Donald Washington, Brian Hartline, Nader Abdallah, and Alex Boone (just kidding), I got it narrowed down to Jenkins and Robiskie. Both players would fill an area of need in my opinion and both have the on-field skill and off-field leadership to be a big part of the 2009 team. I feel a little less confident in Chekwa to get the job done against opponent's best receivers than I do with Posey, Small, Sanzenbacher, and Company to get the job done against opponent's safeties and corners, thus I choose Malcolm Jenkins to be the player I would most want back in 2009.
Which player would you want that departed in 2008 as part of the 2009 team? What is more important-on field skill or off the field leadership? Do you want a star player back (Beanie) or a guy that helps fill needs of depth (Freeman)?