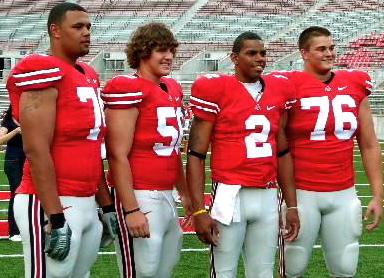 With training camp coming around the corner next week, it's time to take a look at what to expect from your Ohio State Buckeyes on the offensive side of the ball this season. While no official depth chart is truly set in stone for the 2009 season, we can speculate as to what players we will most likely see on the field come September 5 when the Midshipmen invade Columbus.
As history always repeats itself, there will be plenty occurring throughout camp that will disappoint, please, and surprise Buckeye fans as they prepare for a new era in Ohio State football, one led by youth and athleticism that has never before been seen in the Tressel era. Coming into the 2008 season, fans expected the veteran leadership of Todd Boeckman, James Laurinaitis, Malcolm Jenkins, and company to power an OSU offensive attack, leading the Bucks back to national championship contention. Instead, an injury to Beanie Wells happened, blowing up the season before our eyes and catapulting this young group of players that we will see this year into the starting line-up and limelight of college football.
What better way to head into this year's camp than to look back to 2008 and see how things are shaping up as we enter the 2009 campaign. This is certainly a different look Ohio State Buckeyes team than you are used to seeing and the coaches will certainly (we hope) have fun utilizing their skills and abilities to help the team have another successful season. The time has come for Ohio State football to gain back it's national reputation as a force to be reckoned with and while players are still battling it out to see who will get the chance to lead this team back to the promised land, we can look at what we have this year, what we had last year, and see how we shape up heading into this new year.
Quarterback: 2008 Todd Boeckman vs. 2009 Terrelle Pryor
Coming into the 2008 season, Buckeye fans were very high on Mr. Boeckman. Coming off his first season as a starter in which he threw for 2,379 yards and 25 touchdowns while leading OSU to the MNC, Boeckman was thought to be the guy to get this team over the hump. After a stellar performance against Youngstown State, things suddenly unraveled for Boeckman though, as the loss of Beanie Wells combined with a poor offensive line contributed to a sub-standard game against Ohio and a two interception performance against USC, all but handing Terrelle Pryor the keys to the driver's seat. LiC stepped in from there and hasn't looked back, heading into his sophomore season as pre-season Big Ten Offensive Player Of The Year, a Davey O' Brien watch list member, a Heisman Trophy watch list member, and the hands-down best athlete in the conference, and possibly the nation. Pryor will improve on his 1,311 yards and 12 passing touchdowns and will be sure to add plenty with his legs as well. He lead the conference in passer efficiency as a true freshman last year and looks to do the same in 2009. There is no confidence issues as to who is the #1 quarterback this season, making things a lot for easier to swallow for the offense in this year's camp. EDGE: 2009 Terrelle Pryor
Running Back: 2008 Chris Wells vs. 2009 Daniel Herron and Brandon Saine
You can say what you want about Beanie's toughness factor, but nobody can question his skill and importance the 2008 season. If it weren't for a mystery foot injury in the first game of the season, Wells may have been on his way to claim the Heisman Trophy whether his participance in the USC game would have had a factor or not. Boom Herron did a solid job filling in for Wells last season, rushing for 439 yards and 6 touchdowns, after Brandon Saine was banged up throughout the year. Herron and Saine return in 2009 and have freshman Jaamal Berry to join them, and while they can be very effective in a new look offense, they are still not Beanie Wells. This one is a no-brainer and for anyone to argue this is just plain stupid. EDGE: 2008 Beanie Wells
Full Back: 2008 Brandon Smith vs. 2009 Jermil Martin and Adam Homan
This position is really insignificant as it is used mostly as a blocker in Tressel's offense, but it is on the depth chart so we must make mention of it. Brandon Smith moved over from tight end and had a nice season, snatching 8 receptions for 79 yards, while doing a nice job lead blocking as well. Jermil Martin red-shirted last year and Adam Homan is a true freshman, but impressed many during spring practice. The word out of OSU camp is that the full back will not be used as much this year as in year's past, but either way the players Tressel plugs in here get the job done year after year.The rambling stops here. EDGE: PUSH
Wide Receiver: 2008 Brian Robiskie and Brian Hartline vs. 2009 Dane Sanzenbacher and DeVier Posey
The Brians came into 2008 with much hype around them after very solid 2007 seasons filling in for Ted Ginn Jr. and Anthony Gonzalez. While neither of them put up gaudy stats, they both had nice seasons, despite what you may think about Hartline's decision to leave for the NFL and in-season struggle to accept the fact that Todd Boeckman was no longer the quarterback. Robo did his thing as usual, making big catches, dropping some easy ones, but Hartline actually impressed me last year with some big time catches, like this one against Michigan State. Both are now gone to the NFL, leaving DeVier Posey and Dane Sanzenbacher as the recipients of most of the playing time coming into camp, especially with Ray Small's status up in the air. Sanzenbacher, while fragile, had a nice year last season, showing the ability to make catches through traffic and playing with a toughness much needed in this unit. Posey is a sophomore who at 6-3, 205 is the big time target the Bucks can use in the red zone. As a fellow member of the 2009 recruiting class him and Pryor should have nice chemistry in their second year working together. This is a tough decision, but in the end you had to like knowing what you had with the Brians rather than just Hype with Posey and Sanz. EDGE: 2008 The Brians
Tight End: 2008 Rory Nicol and Jake Ballard vs. 2009 Jake Ballard and Jake Stoneburner
If Tress actually decides to use the tight end this year this argument definitely will go to 2009. Nicol was a three year starter at Ohio State and served well as what some like to call "the sixth lineman", while Ballard's pass catching abilities were clearly underused. Both players combined for just 11 receptions for 133 yards and 2 touchdowns, leaving John Peterson unhappy as both tight ends coach and recruiting coordinator, as top-tier tight end recruits continued to be scared away of Columbus. Ballard, a potential captain, returns in 2009 and is on a mission to make something of the position as he teams up with the recently converted Stoneburner. A Dublin-Coffman product who stands at 6-5, 230, Stoneburner should cause match-up nightmares for opposing linebackers. Now all it takes is the ball to be thrown their way. The athleticism and potential outweighs the lack of use here. EDGE: 2009 Ballard and Stoneburner
Left Tackle: 2008 Alex Boone vs. 2009 Mike Adams/Andy Miller
This is the toughest position to determine because of the combination of the high expectations and poor results of Boone and the mystery behind both Mike Adams and Andy Miller. Boone came into the 2008 season as a potential first round draft pick, but left Columbus as an undrafted free agent after a bad year and continued off the field issues with alcohol. His play was inconsistent and he displayed trouble against elite pass rushers, most likely due to his slow feet and lack of killer instinct. Speaking of killer instinct, this is the one thing supposedly holding Mike Adams back from being the next Orlando Pace and possibly a starting position in 2009. Adams is being pushed by red-shirt junior Andy Miller who came to Columbus as a tight end, but has turned his 6-6 height into 280 pounds. Adams and Miller will battle it out in camp, but no matter who wins the job, they will be more athletic and consistent (we think) than Boone was last year. EDGE: 2009 Adams/Miller
Left Guard: 2008 Ben Person vs. 2009 Justin Boren
Person, who battled some injury and inability understand the concept of a fault-start penalty, was a major contributer to a poor performance by the 2008 offensive line. There's not much to say here as America's most famous walk-on takes his spot at left guard and brings and intensity and swagger much needed for Jim Bollman's troops. Justin Boren will be a breath of fresh air and hopefully teach a thing or two to his teammates this year. We expect him to be a member of the All-Big Ten team at year's end and possibly get All-American consideration. EDGE: 2009 Justin "Lichter is better than Barwis" Boren
Center: 2008 Jim Cordle vs. 2009 Mike Brewster
Another tough decision as Cordle was a very good center for the Bucks and Brewster could be a great one this year. Cordle used his versatility to his advantage, moving to guard last year and this year moving to tackle, while Brewster has emerged as one of the best young linemen in the country. Cordle was as smart as they come for centers, making all the line calls while in the middle and helping out a young Brewster while at guard. Brewster is as hungry as any player on the roster and you know he worked hard both mentally and physically this off-season. Until Brewster shows something more, which I think he eventually will this year, I can't put him below or above Cordle coming into last season. EDGE: Push
Right Guard: 2008 Steve Rehring vs. 2009 Bryant Browning
Two players with tremendous size who, through the writing of this post, really have done nothing significant or noteworthy in their careers in Columbus. Rehring got injured in the USC game and never truly bounced back, while Browning struggled at right tackle in his first season as a starter (remember this?). Browning moves to the inside where he should be able to take more advantage of his size and doesn't have to worry about his speed as much on most plays. Overall, we think Browning is the better football player. EDGE: Browning
Right Tackle: 2008 Bryant Browning vs. 2009 Jim Cordle
While we haven't seen much of Cordle at right tackle, just look at the above picture and you can see why this is such an easy decision. Not even looking at what Browning does or does not bring to the table, Cordle's athleticism and intelligence make him the much more obvious choice as to who will bring better and more consistent play to the offensive line. Consistency will be the difference in this year's line compared to last year's and Cordle is a big part of that. EDGE: 2009 Cordle
Looking at all ten position categories, the 2009 unit gets the nod with a 6-2-2 edge. This is good news for Buckeye fans as many are worried that the team will not be as solid or productive without stars such as Beanie Wells, Brian Robiskie, and Brian Hartline. I actually happen to believe just the opposite and feel that with an improved offensive line and a more seasoned and confident Terrelle Pryor, the rest of the pieces can fall right into place making the offense more well rounded while not as star studded. DeVier Posey, Dane Sanzenbacher, Jake Stoneburner, and others may not be known now on the national level, but by season's end that can all change. The offense should have a new look this season and bring more consistency and production than what was shown in 2008. I, for one, am excited to see what The Vest has in store for 2009 and although fans can't and shouldn't expect the phantom Pistol or Pony formation rumors that continue to float around, I think most of Buckeye Nation will be pleased with the changes this season will bring.