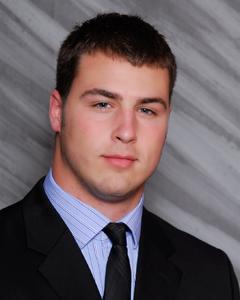 With so many new contributors this season, we're taking a closer look at some of them. Today's subject is tight end tackle Andy Miller, who is trying to take advantage of a huge opportunity.
Andy Miller
OT / #55
6-7/295 - JR (RS) - Trinity High School (PA)
When word recently broke that Mike Adams was running with the third team offensive line, most of us were left scratching our heads. This was the guy that was supposed to be the franchise left tackle for the Pryor era and he was getting beat on the depth chart by a former tight end. When we found out why Adams was buried, we breathed a sigh of relief as it didn't appear to be talent-related.
Adams will be back soon and in all likelihood, he should challenge for that spot on the line this season. But in the interim, the converted tight end, Andy Miller, will most likely be the starting left tackle for the opener against Navy, and quite possibly the following weekend when the Trojans come to town. While it's nice to hold out high hopes for Adams, it wouldn't be fair if we didn't credit Miller for seizing this opportunity.
Miller starred at Washington (PA) Trinity high school, where as a tight end, he caught 11 passes for 270 yards and four touchdowns as a senior. The Rivals three-star recruit possessed good size and speed and schools were split between offering him as a tight end or as a tackle, where some projected him to grow into. The 3.99 student was named first team all state and All-WPIAL1 at tight end and by the time the Buckeyes got around to offering him in early December of his senior year, he already had offers in hand from Pitt, West Virginia, Illinois, North Carolina State, Northwestern and Indiana.
The Pitt offer and the mustache that stood behind it would be the Buckeyes' primary competition for Miller's services as they were local and also the school Miller was thought to have favored early in his high school career. Ohio State was recruiting him as a tight end, while Pitt was looking at him as a tackle and though he stated that the position wouldn't be a deciding factor in his recruitment, you couldn't help but wonder if it was a small one. He visited the Buckeyes on 12/16/2005 and followed it up with a visit to Pitt shortly after on January 6th. Two days before his Pitt visit, Tressel stopped by the Miller household for one last Buckeye pitch.
After thinking things over for a week, Miller committed to the Buckeyes on January 13th, 2006, becoming the 15th commitment in the '06 class and joining Jake Ballard as the second tight end in the class. Like most recruits, Miller spoke very favorably on Tressel and his approach to life.
True to what he'd been recruited as, Miller spent his freshman season at Ohio State working with the tight ends. He was redshirted that year, but like most redshirted players, saw considerable action on the scout team.
At the start of his redshirt freshman season of 2007, the staff moved Miller to tackle. After making the announcement on his weekly call-in show, Tressel mentioned that Jim Lachey had recommended the position switch to the staff2. As such, he surrendered his #82 jersey, switching to #55 after the Washington game and freeing up his old number for Small to put on once he emerged from one of his early doghouse sessions. He saw his first minutes of the season at tackle against Northwestern when he was in for seven minutes towards the end of the 58-7 blowout. Three weeks later, he saw more late action against Kent State.
Miller earned his first letter during his redshirt sophomore campaign last season. He saw action in 12 games with a high of 12 minutes coming against Youngstown State in the opener and four minutes against the Trojans while spelling an injured Steve Rehring. Just ahead of the Wisconsin game, Tressel announced that Miller would be switching his jersey number again (to #83) and would see time as a third tight end while Rory Nicol was injured. At the end of the season, he was earned Big Ten all-academic honors, displaying versatility on and off the field.
It should be noted that Miller was getting reps at first team left tackle since spring football began -- presumably before Adams was in any type of trouble. He stood out in the spring game doing a number on Cam Heyward (including a pancake on the game's opening play) and he's carried his play into the fall where he was still battling Adams for the job.
There are some that are worried about having a former tight end lining up at left tackle against USC, but it's not exactly unheard of for tight ends to blossom into great tackles. Eric Winston of Miami and Robert Gallery of Iowa come to mind, so I don't think it's outside of the realm of possibility for Miller to play well enough to hold Adams (and Shugarts) off for the rest of the season3. If that proves to be the case, in Miller and Cordle, the Buckeyes will have two tackles that are quite a bit slimmer (and hopefully more agile) than what's typically seen in Columbus (both tackles checking in under 300 pounds). The Buckeyes have been beaten badly on the edges at times the last few seasons, so maybe slim and quick will be the right mix4.
1 Miller also made both of the awesomely named Pittsburgh paper squads: The Post-Gazette's Fabulous 22 and the Tribune Review's Terrific 25.
2 Lachey knows a thing or three about playing tackle. We're also going to assume that Lachey was impressed with Miller's footwork and frame.
3Though I wouldn't bet on Miller holding onto the job all season, either.
4 Especially with all the reassurances of how the run-blocking will be in good shape.