With camp in session and hearts a flutter with the pitter patter of practice cleats, the 11W gang holds a summit to tackle the hot button issues cable news just doesn't have the guts to tackle: who deserves the bulk of the load at the vacant tailback position, how do you think Jimmy Cordle takes to his new role, and can the d-line live up to the hype this season?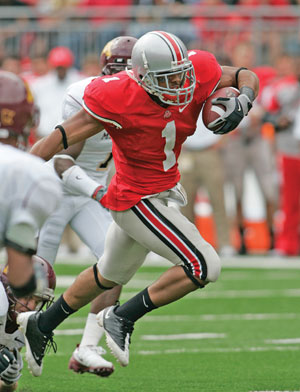 Luke: Dan Herron certainly looked the part in a bit of understudy capacity last season, where as Brandon Saine drew much of the attention this past spring. Both were 4-star recruits coming out of high school, both Ohio products, but which back should get the majority of the snaps in order to maximize potential offensive success this fall?
Corey: I think Herron is going to wind up getting most of the carries, based off his performance last year in spelling Beanie. Saine obviously had a good spring, but he still has to get through fall camp and prove it in real game situations.  He has been a non-factor for over a year now and his confidence will have to be built back up before we see him get more than 10 touches a game. Boom also put on 10 lbs. in the offseason and is ready to carry the load right now.
Jason: As much as it pleases me to hear of Saine's performance in the spring (and he did run pretty well in the spring game, going for 55 on six carries), Boom earned the right to be the number one guy down the stretch last season.
After returning from a concussion, he averaged 5.7 YPC and scored 5 TDs over the final four games of the year.  This included an 8/80 day with two scores against the Wolverines (continuing the fine tradition of setting up the heir apparent with monster Michigan games).  He ran well against Texas and his 15 yard TD with 2:05 remaining was a hair away from being a game-winner.
Saine will definitely get touches, but Herron will be the clear cut starter.
Luke: I think a mix of logic and loyalty makes me side with Jason, though my desire for the home run ball keeps it a bit of a toss up in my mind. I don't want to downplay Herron's speed by any means, but Saine certainly seems to have that 6th gear very few backs his size do. I think at the end of the day, Herron's slight experience edge gives him the nod in my mind, though given his ceiling, I won't be surprised if "Zoom" Saine's the proverbial guy by late November.
Alex: Seeing is believing and Brandon Saine just has not done anything besides one wheel route to show me he deserves to start this season. Herron has to be the guy this year and if Saine can prove to be a capable running back at this level who can stay healthy, give him some work to keep Herron fresh. If Berry is half of what they say he is he should be able to do some things too, giving OSU a three headed monster. I like Herron and don't think he's All-American caliber, but for now he HAS to be the #1 guy taking the load because he's proven he could do it, especially in big games.
Joe: Alex is right: seeing is believing.  What I saw in the spring game was that Saine was not just running fast, he was running strong.  Not only that, but I saw a one play in particular where it looked like Moeller had him dead to rights, but Saine made a cut to the outside and turned on the speed so that he beat Moeller to the corner.  I don't need to tell any of you that it's not easy beating Tyler Moeller to the corner when he's got the angle on you.  But it wasn't just the speed that impressed me but the vision, because this is what was mostly lacking last season and the reason why Herron passed him in the rotation.  I'm not trying to downplay Herron at all.  I agree with Jason that Boom will definitely be the starter... at the beginning of the season.  I just think that he's playing at the top of his game already, whereas Saine can improve a lot more.  I think Saine has the potential to be an elite back.  That's why I think he will ultimately pass Herron in the pecking order. 
Chris: I'm not banking on Saine to be an every down, every game back until he proves he can handle it. I don't want to come across as a hater but I refuse to get overly excited about what we saw/read in the spring until it translates to fall. I may not see him as the HUGE question mark I had him pegged as before spring, but I'd rather stand up and say he fooled me two months from now than jump on his bandwagon at this point. I've seen far too much of the tentative, no-shimmy Saine to be wowed by a scrimmage.
Luke: That's Boom 5 - Zoom 1 for those keeping score at home. Both sides raised valid points, though I think it's safe to say none of us would be opposed to a Bush/White-style co-existence.
Now, with Jim Cordle transitioning into his 3rd starting position in 3 years, how do we see the transition to right tackle treating the senior?
Alex: I think he's better suited inside, but if he gets the job done at RT, which I think he can, it's fine, as long as the best 5 guys play. Whether that is Browning at RG and Cordle at RT or Cordle at RG and Shugarts at RT is what camp will be for.
Chris: I agree with Alex. To be honest, I've never been that high on Cordle - I saw him as better than some of the junk we lined up last year but nothing to get excited about. I think I wrote about how annoyed I got with Bollman and even Cordle himself always talking about how versatile he was when in fact most great lineman aren't made to be versatile because they are too good at one spot to move elsewhere. Still, I'm man enough to admit I know very little technically about what makes great o-line play. I just go on what I see and I see Cordle as best suited for the inside. I'm very nervous/anxious/excited to see what this year's line looks like. I just hope Bollman can find a formula and stick with it meaning if there are no injuries, let's get a lineup and stick with it so they can try to gel.
Luke: I will say the one attribute I think Cordle isn't lauded anywhere near enough for is his football smarts. While the Brew Crew'er-in-Chief gets the accolades for having the maturity beyond his years to man arguably the most intellectually demanding position on the offensive as a true freshman, Cordle took the honors as a sophomore, succeeding one of the greatest centers in Ohio State history in Nick Mangold. I think whatever physical shortcomings he may have at right tackle can be made up for with a commanding knowledge of his playbook and a vast memory of different looks over the past 3 seasons.
Corey: I'd like to see Cordle emerge as the vocal leader of this offensive line.  Over the last couple of seasons, it seems this line has lacked a true vocal leader, the guy that gets in teammates faces and demands a better cohesive performance.  Cordle seems to be a quiet type, but this is his last hurrah and regardless of what position he plays at, he needs to be vocal and lead this unit to their best season in the last 3 years.  The weapons are in place, but it comes down to which type of line shows up this season and Cordle will be a huge cog in that machine.
Luke: Finally, during the '07 BCS Championship Game run, it was widely recognized the interior line was the weak spot on an otherwise stout D where as now, especially given the buzz surrounding Doug Worthington, many are saying it could be the strength of the defense (if not the team). Do you think the '09 interior defensive line can succeed in shutting down the run as well as help a younger linebacker core in transition get pressure on opposing passers?
Joe: I am confident that they will be the strength of the team.  There's a lot of depth there in case of injury, but assuming everyone is healthy they should be dominant.  Whether they shut everyone down really depends on how strong the rest of the league is this season.  It might be difficult to really throttle the Illinois offense if they're running on all cylinders, even with a dominant d-line.  But all other things being equal, I'll think they'll be very solid. 
Alex: To be honest, I'm really not as convinced that the defensive tackles are going to get the job done. I like our ends, obviously, but our guys at tackle are the same guys we have had for years and I don't see how the improvement will be that vast. We don't have any space eaters that can take on two blockers at once to free up the linebackers who will certainly need it early in the season as their experience is not great. Worthington (who came in as a DE) isn't wide enough and is very slow in pursuite, Denlinger is always hurt, Larrimore is ok and could be the best in the group, and Goebel, Simon, and Bellamy are unproven. I think Heyward should stay at DE, but with the depth there (Wilson, Williams, Thomas, Wells), I think you'll see him and Rose (if he's on the team) moving inside on passing downs. One more year in the weight room and one more off-season makes this a smarter unit and certainly a stronger one, but once again, until I see it I am not sold that they will be as good as some think.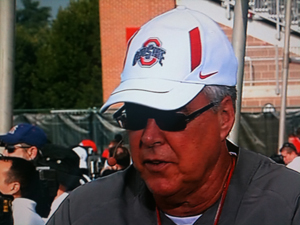 Jason: I hope the inside of the defensive line makes a leap this year, but I'm going to have to agree with Alex: it will be the ends that cause the most havoc on the front.  I think Heyward is an obvious wildcard here.  If he plays inside (which he probably will), then that could boost the group and Larimore and Denlinger have both been around for ages, so you have to like the experience of the group, but none of the three are what I'd call elite DTs.
Chris:
Moving to D-tackle, I see depth but not overwhelmingly great returning players. I truly hope Heyward moves to the inside full time. I understand Alex's point to the contrary but I think Heyward and Worthington can get some things done. I think it's plausible DW can emerge with Heyward lined up next to him, then speed on the outside with Thaddeus Maximus, Wilson, Williams etc charging from the end. I think Heyward's versatility is actually a lot more real than Cordle's and being able to put him at tackle helps me feel a lot better about the interior run stopping ability. Denlinger has never stood out to me while Larimore has done some things here and there. All this assumes Rose is still learing how to read.
Corey: I think this is the year the line breaks out and puts constant pressure on the QB.  I agree with Alex, the tackles haven't been that impressive over the last couple of season, but like Cordle, this is the last chance for a few of these guys and a successful season can erase the recent memories of big game collapses.  Don't be surprised to see Garrett Goebel make an impact this season in giving Worthington and the crew a breather.  Also, there is the chance we will see more of a 3-4 lineup, which could help the effectiveness of the linemen, by confusing the opponent's O-Line.  If the rotation can stay 8-10 deep, this line should be their best late in the games.  
Luke: Without further splitting hairs, I second Chris, and really feel that Cam Heyward's versatility is the potential lynchpin in making this good defensive line an elite unit. I've been waiting for Dexter Larrimore's all world wrestling game to translate to the gridiron for some time now and at this point have pretty much given up on Rose's potential, but Goebel and Johnny Simon could add a new mean streak to this group. I'll throw my hat in the optimistically cautious ring, and we'll wait and see if last season's national leading rushing team can be contained in any meaningful way September 12th.